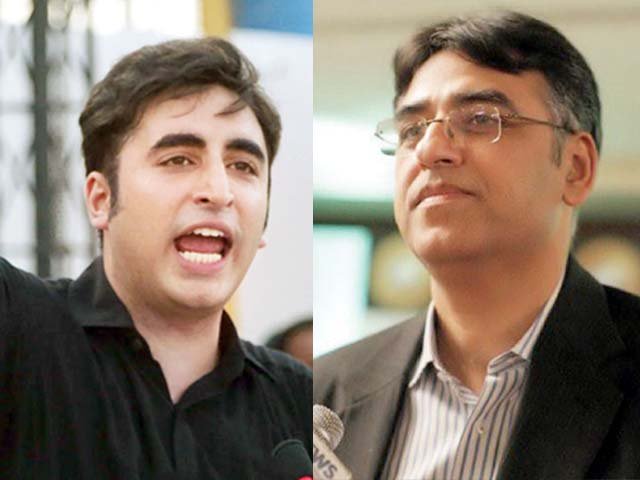 ---
Asad Umar mocking Bilawal Bhutto is a new low, even by Old Pakistan standards
Bilawal feels comfortable addressing in English, just like Jinnah did. Did that undermine his credentials in any way?
---
A few days ago, Bilawal Bhutto Zardari addressed the National Assembly in the English language. I did not see it at first and in fact, my attention was drawn to it after hearing Finance Minister Asad Umar's rebuttal, which was tweeted by PTI's official Twitter account:
Finance Minister @Asad_Umar reminds Mr @BBhuttoZardari of how a grassroots worker beat PPP in its own heart of Lyari, and how his speech in English today toeing India's narrative was postured for a specific international audience whose bidding he does. #PTI pic.twitter.com/fKYaHhiUWa

— PTI (@PTIofficial) March 6, 2019


In his rebuttal, the finance minister first mocked the PPP chairman for adopting his mother's family name. He 'reminded' him that he is a 'Zardari' and implied that adopting his mother's name won't make him a 'Bhutto'. He followed this up by criticising Bilawal's decision to deliver his speech in English, alleging that since majority of Pakistanis are not as fluent in English, he 'purposely' delivered the speech for international audiences.

He called Bilawal 'unpatriotic' for peddling the Indian narrative and also taunted him for his loss in Lyari, calling the winner from that seat a 'nur ka bacha' (a man's son).

I could not believe what our finance minister was saying, the man who is often considered to be the 'brain of PTI'. For years, I have heard his praises from PTI supporters who primarily belong to the educated urban middle class. I have repeatedly been told by them that PTI is better because it has decent and highly successful former corporate professionals like Asad in it. The first word which came to my mind after hearing that speech was 'petty', in agreement with some liberal journalists voicing the same opinion:


Such a petty speech! https://t.co/hZMZHrWWFV

— Maria Memon (@Maria_Memon) March 7, 2019


Asad's rebuttal was parochial and unwarranted for several reasons.

Firstly, mocking Bilawal on his decision to take his mother's family name was quite disappointing. Was Asad trying to say that it's wrong to adopt his mother's family name? His views and tone sounded that of a traditional male who thinks that men are superior and therefore the only lineage you can claim is that of your father. So is the mother an unrelated person?

His mother was a brave woman, the daughter of Pakistan, and Bilawal has every right to adopt her name.

And if it brings the finance minister any peace, he should be aware of the fact that Bilawal has adopted both his parents' names.


ماں سے زیادہ انسان کی شخصیت میں کسی کا کردارنہیں ہوتا۔
ماں کا نام اپنے نام کے ساتھ لگاناقابل فخرتو ہوسکتا ہے، مگر باعث شرم نہیں۔ ایسے بیانات کی توقع فیاض الحسن چوہان جیسے لوگوں سے تو کی جاسکتی ہے، اسدعمر سے نہیں pic.twitter.com/3LgUzNgynM

— Shahzeb Khanzada (@shazbkhanzdaGEO) March 7, 2019


Secondly, another related misogynistic remark was calling Bilawal's opponent, Lyari's current MNA Abdul Shakoor Shad of PTI, a 'nur ka bacha' (a man's son).

Given the fact that the MNA elect's gender is male, why did our finance minister have to use such terms? It was nothing but typical glorification and masculinisation. Masculinity has become associated with bravery, intelligence and a kind of superiority, and thus each time we want to appreciate some individual's perceived qualities, we call him a 'real man'.

Third, his criticism on Bilawal's choice of delivering his speech in English and thus for an international audience was as senseless as it could be. Bilawal feels more comfortable speaking in English, though lately, he has also improved his Urdu a lot. May I remind Asad that the founder of Pakistan, Muhammad Ali Jinnah was not fluent in Urdu and preferred to address the public in English simply because he felt more comfortable doing so. In fact, Jinnah's famous August 11, 1947 speech was also in English. Did that undermine him or his credentials in any way?


Live: Chairman #PPP @BBhuttoZardari is addressing the press conference at Committee Room, Sindh Assembly. CM Sindh is also present https://t.co/zAgUspjmOp

— PPP (@MediaCellPPP) March 13, 2019


But the far more serious (and perhaps sinister) allegation Asad had levied on Bilawal was that he was peddling an Indian narrative and bidding for his international masters. I watched Bilawal's speech after Asad's speech as I became intrigued by the latter's allegations.

In his speech, Bilawal thanked the Armed Forces for their bravery, criticised Indian highhandedness in Kashmir, called Modi the 'butcher of Gujarat',  lamented the world's apathy towards the plight of Kashmiris and lauded Imran's sensible response to the Indian prime minister's warmongering attitude.

How can any of the aforementioned be termed an 'Indian narrative'. Yes, Bilawal did question the National Action Plan's progress, particularly with respect to the banned organisation. But how is that even peddling of the 'Indian narrative'? That is something that pretty much every Pakistani would want to know as the entire nation wants to rid the country of terrorism.

By that accord, one can even say that the PTI government is also trying to please the 'Indian narrative' with its recent crackdown on proscribed organisations.

Right now there is a consensus that we must get rid of such organisations, especially since we are facing scrutiny from the Financial Action Task Force (FATF). It is only natural to raise questions about the extent to which we have made progress. Bilawal is right in his candid approach. We must show real progress, because failure to do so will only compound problems for Pakistan.

Nevertheless, I am not surprised by PTI's official response which mirrors the pettiness of their finance minister:


Curious Mr @BBhuttoZardari how you are toeing the Indian narrative line so close to the country's meeting with FATF. It seems you are determined to keep Pakistan closed to the world because an open Pakistan means weaker lobbies for you.

— PTI (@PTIofficial) March 13, 2019


Sprouting phony patriotism and questioning the patriotism of the opponents has become a way to deflect criticism, a strategy which the Bharatiya Janata Party (BJP) of India has also adopted. I think PTI and our finance minister should refrain from treading on that path and concentrate instead on improving the economic performance and governance, areas in which their performance is quite mediocre.

And yes, despite his young age, Bilawal has shown himself to be a highly mature leader. I am glad that the future of Pakistan is in saner hands.
Facebook Conversations
COMMENTS
Comments are moderated and generally will be posted if they are on-topic and not abusive.
For more information, please see our Comments FAQ