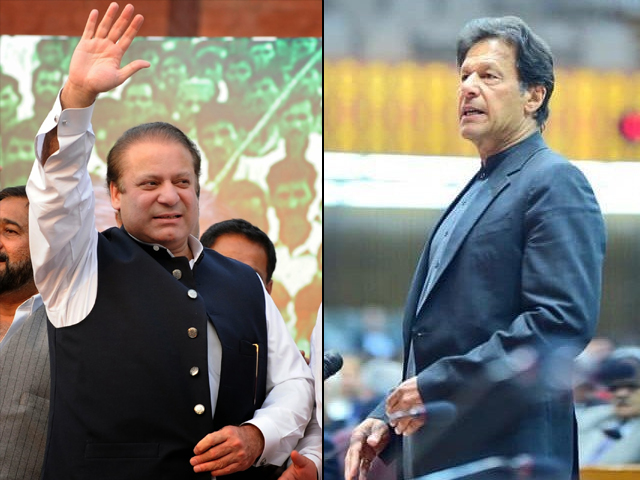 ---
Alive on a political ventilator, can the PTI government really gamble with Nawaz's life?
Nawaz may be risking his own life, but he is smartly putting tremendous pressure on PTI to engage in damage control
---
There is no question that Nawaz Sharif's health is rapidly deteriorating. Even a board of doctors at the Jinnah Hospital advised him to get an angiography, which he of course refused. Apart from heart-related problems, Nawaz also has diabetes and kidney problems. His personal physician, Dr Adnan Khan, has told this writer on many occasions that Nawaz immediately needs intensive care, and will perhaps need to go under cardiac catheterisation and possibly a coronary intervention.

However, Nawaz's refusal to be shifted to any hospital is a sign he is not ready to trust the Pakistan Tehreek-e-Insaf (PTI) government again. After all, Nawaz has continuously been mocked for his illness by the PTI leadership and their followers. Every time Nawaz has been taken to the hospital, he has been criticised by members of the sitting government for staging a drama. They keep claiming he is fine, and is only staging his ill-health to get out of jail.

Twice now Nawaz has been shifted to the Jinnah Hospital and Services Hospital, but he has not been kept in the Punjab Institute of Cardiology (PIC) for long. It doesn't take a rocket scientist to determine that he should have been treated at the PIC from day one, given the precarious condition of his heart.


Being a 3 times Prime Minister & leader of biggest political party & of millions of people, this is the least he deserves.

— Maryam Nawaz Sharif (@MaryamNSharif) March 8, 2019


It is important to note that Nawaz is not being stubborn by refusing to be treated at local hospitals, nor is he trying to go abroad under the guise of ailing health. No, this is Nawaz's way of protesting how he has been humiliated by PTI stalwarts for his illness, and how the sitting government has moved him around from one hospital to another without giving a reason.

So is this really a ploy to go abroad? Anyone familiar with Nawaz knows he would not commit political suicide by leaving the country. Despite his disqualification and subsequent imprisonment, Nawaz is still very much in the game, while the Pakistan Muslim League-Nawaz (PML-N) still boasts of a vital support base that can once again bring the party into power. Thus, it is evident that going abroad will be the last thing Nawaz would want if he is to maintain a legacy and future in politics.

Even if one buys the theory that he wishes to go abroad, knowing Nawaz's style of politics, he would have requested international players to intervene and get him out of Pakistan. And yet he did not do that, simply because he knows the game of power still hangs in the balance, and this way the sympathy wave among his vote bank in Punjab is growing in his favour with each passing day. By lamenting the government's treatment of him and refusing to go to any hospital, Nawaz may be risking his own life right now, but he is simultaneously (smartly) putting tremendous pressure on the PTI government to engage in some damage control.


I have asked the Punjab CM to ensure that every health facility in the country is made available for Nawaz Sharif to get the treatment of his choice. The federal govt will assist wherever required. I wish him good health.

— Imran Khan (@ImranKhanPTI) March 9, 2019


One wonders, can the PTI government withstand the fallout if Nawaz's condition worsens in jail, or worse? A government that enjoys a very thin majority in the centre and in Punjab cannot afford the political consequences if anything does happen to Nawaz. In fact, Nawaz's party has organised an event in front of Kot Lakhpat Jail on March 23rd to show solidarity with him, and if the government does not tread with caution, this could turn out to be the beginning of an agitation movement.

Perhaps the non-serious attitude of the PTI government is its own worst enemy. Not only did they seem callous as they made fun of his illness, they also gave Nawaz the chance to stay relevant in the game by consistently blaming him for all the ills the country is facing. But all of us remember how the late Kulsoom Nawaz too was mocked for her battle against cancer, and she finally had to die to prove she was really ill. If the same happens in Nawaz's case, the government will not be able to handle what comes next, particularly as the issues faced by Pakistan keep piling up.

Thus, it looks like it is the PTI government that has the most to lose if anything happens to Nawaz and the best treatment is not offered to him. One needs only a little political acumen to assess the situation and address it in a serious manner, but PTI's history of trolling people's adversity means it is now treading on a suicidal path. If only its leadership had promptly taken the matter seriously and stopped the insensitive commentary on Nawaz instead of trying to settle political scores, the situation could have been vastly different right now.

On the contrary, seven months into the government and PTI is only speaking about Nawaz with regards to his alleged corruption. Imran Khan's immature cabinet needs to realise that time changes very quickly in politics, and how the PTI behaves while in power will determine how it is treated when it is not. The government must also realise that Nawaz enjoys popular support in Punjab, and with the economy in shambles and a war-hungry neighbour on the eastern border, only an incompetent and inept government would let Nawaz's health become another issue to highlight its failures.

After all, the opposition is united in its support to Nawaz, from Bilawal Bhutto Zardari and Khursheed Shah to Maulana Fazlur Rehman and Asfandyar Wali Khan. They are all of the same view that if anything happens to Nawaz, the incumbent government will be held responsible. Ultimately, while Nawaz may be a prisoner, he retains his right to appeal against the accountability court verdict. Until his appeal is not rejected by the Supreme Court like Jahangir Tareen's, he cannot be declared a convict with full conviction.

Nawaz has nothing to lose: if something happens to him in jail, he will become a political legend like Zulfikar Ali and Benazir Bhutto, and even his grandsons will grab votes on the basis of his name, just like Bilawal. The ball is now in PTI's court: the party needs to step up its narrative and take Nawaz's illness seriously. A good step would be for the prime minister to visit him in jail as a goodwill gesture, in an attempt to ease the hostilities and divisions surrounding our political culture for the last few years. After all, Nawaz too went to visit Imran at the hospital when he fell off the ladder during his 2013 election campaign.

The PTI government is alive on a political ventilator right now and Nawaz's illness is not something it can gamble on, for no matter what the outcome, the PTI is the only party with a lot hanging by a thread.
Facebook Conversations
COMMENTS
Comments are moderated and generally will be posted if they are on-topic and not abusive.
For more information, please see our Comments FAQ