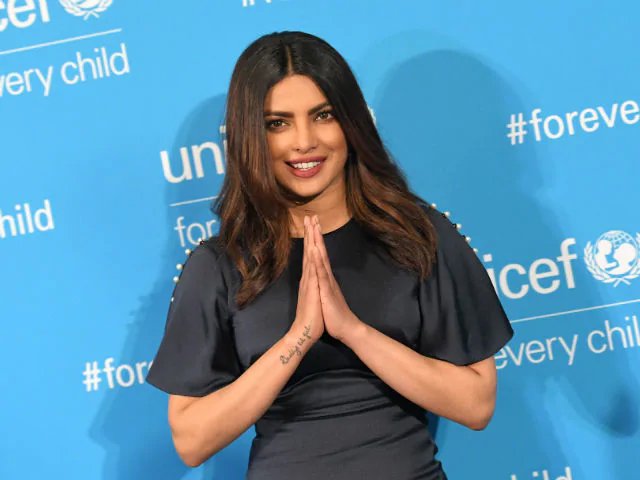 ---
Priyanka Chopra literally had one job to do – promote peace – and she failed
After witnessing refugee camps and results of war, how can she be so reluctant to call for peace but keen to laud war?
---
Bollywood celebrities are loved by Pakistanis and treated as their own, which is why it was particularly disheartening to see many of them quickly join the nationalist bandwagon in the aftermath of the Pulwama attack and encourage military attacks against Pakistan. In no way was this more disappointing than it was in the case of Priyanka Chopra.

Chopra is now a global celebrity, having won the Miss World competition, worked as a Bollywood and Hollywood actress as well as her brief stint as a musician. Being an international celebrity gives one the power to influence and inspire people all across the globe, but Chopra set this aside to offer her support to the Indian army and cheer for war in the subcontinent.


Jai Hind #IndianArmedForces 🇮🇳 🙏🏽

— PRIYANKA (@priyankachopra) February 26, 2019


However, what made Chopra's warmongering worthy of international outrage was her official role as the United Nations International Children's Emergency Fund (UNICEF) Goodwill Ambassador. To see an individual literally appointed as the global ambassador for peace blatantly take sides and cheer for war is shameful and disturbing to say the least. As someone who used to be a fan of Chopra and enjoyed some of her work, my anger was followed by disappointment as I lost respect for yet another Bollywood celebrity.

But Chopra has perhaps always been a controversial figure. Her admiration of Narendra Modi, after all, extends to the extent of him attending one of her many wedding receptions. I believe Chopra's support for the Indian Air Force (IAF) was yet another form of pandering to the growing nationalism and anti-Pakistan camps in India. She was clearly trying to play to the gallery but didn't realise she was actually playing with fire. After all, how could she have known the situation would ultimately end up de-escalating and not result in World War III?


You know something is wrong with @UN when their goodwill ambassador applauds a blatant line of control violation by @IAF_MCC that can potentially lead to a war between two nuclear powers

— Kanza Azeemi (@kanza_azeemi) February 27, 2019


I understand that Chopra may prescribe to the same school of thought as Modi and enjoys a good rapport with him, but should her role for UNICEF not take precedence during a conflict? Even if she did not wish to call for peace, isn't maintaining neutrality or silence the very least Chopra could have done?

Another major factor that reveals Chopra does not deserve to be the Goodwill Ambassador is that after Prime Minister Imran Khan made the announcement for the Indian pilot's release, Chopra did not praise this peace gesture. Even after the pilot returned to India safely, Chopra did not acknowledge it or the need to maintain peace in the region. Why is it that this 'Goodwill Ambassador' is so reluctant to call for peace, but is keen to laud war?


Are or were you really Unicef goodwill ambassador? I really don't know how an artist can praise military actions and especially while being an ambassador of UN. I don't think this world could ever see peace when peacemakers love wars. #NoWar #PakistanIndia

— Atif Tauqeer (@atifthepoet) February 26, 2019


It should be noted that UNICEF was created by the UN General Assembly in 1946 to provide food and healthcare to children in countries that had been devastated during World War II. UNICEF is also actively working to help Syrian refugees and children who have been displaced due to the Syrian Civil War. Strangely, Chopra visited a refugee camp in Jordan last year which was apparently a very "emotional" experience for her. Let's look at some of Chopra's statements after she visited some refugee camps to further shed light on the hypocrisy that is at display here. She visited a Rohingya refugee camp in Bangladesh in May 2018 and gave the following statements:

"There is still so much more support needed. The kids I met were smiling but I could still see sadness in their eyes that reflected the carnage and horror they witnessed."

"No matter where a child is from or what his or her circumstances are, every child is the future of this world."

"Be compassionate for the sake of the humanity."

In 2017, when she visited a Syrian refugee camp, she gave the following statements:

"The world has seen the pain war has left in Syria but the resilience and joy and hope in spite of it is so inspiring to me."

"The anger and agony I felt seeing these beautiful hopeful children ravaged by war was so raw."

How could she get emotional while seeing children displaced by war and not realise the impact an Indo-Pak war would have on the children in the subcontinent? Even after witnessing the consequences of war first-hand, how can Chopra not feel for the children of Pakistan and India who would suffer the same fate? More importantly, how can she maintain any credibility in her title? The next time she visits a refugee camp or talks about the ills of war, are we expected to take her seriously? She literally had one job – to promote peace – and she failed. How can she remain a Goodwill Ambassador when she has lost all goodwill?

https://twitter.com/adnikalove/status/1100503559584530439

https://twitter.com/Rattanamol/status/1100813590053830656

In light of this, a petition has been addressed to UNICEF to remove Chopra from this role, and while this should happen, it is unlikely. There have been certain problematic ambassadors in the past that have faced action after a scandal in order to maintain the United Nations' (UN) credibility, such as Maria Sharapova's suspension after she failed a drug test in 2016. In 2011, Aisha Qaddafi was fired from her role as the National Goodwill Ambassador amid the revolt against her father, Muammar Qaddafi. The same happened in 2017 to Robert Mugabe, former president of Zimbabwe, after public outrage at his appointment.

But there have been cases where the UN has also turned a blind eye to controversies, such as when Angelina Jolie came under fire after the casting for one of her films exploited impoverished children and played "psychological games" with them. The UN did not take action and Jolie continues her role as a Special Envoy to this day.


Submitted resolution in PA requesting @UN to revoke @priyankachopra of her @UNICEF goodwill ambassadorship. She praised India's military on crossing of LOC & celebrated an attempt of war against Pakistan. We need to Stop war supporting celebrities from representing the UN!!

— Hina Parvez Butt (@hinaparvezbutt) March 2, 2019


So while Chopra should definitely be fired after her remarks, as the uproar is mainly coming from Pakistan, any action on their part is doubtful. After all, the UN has an ongoing trend of turning a deaf ear to what Pakistanis have to say, proven by the lack of action when it comes to the insurgency in Indian-occupied Kashmir.

As an Indian, Chopra can do whatever she wants, just as other Bollywood celebrities have done, no matter how it makes Pakistanis feel. However, as she continues to remain UNICEF's Goodwill Ambassador, her choice to become a warmonger and her silence on the subject of peace will not be forgotten.