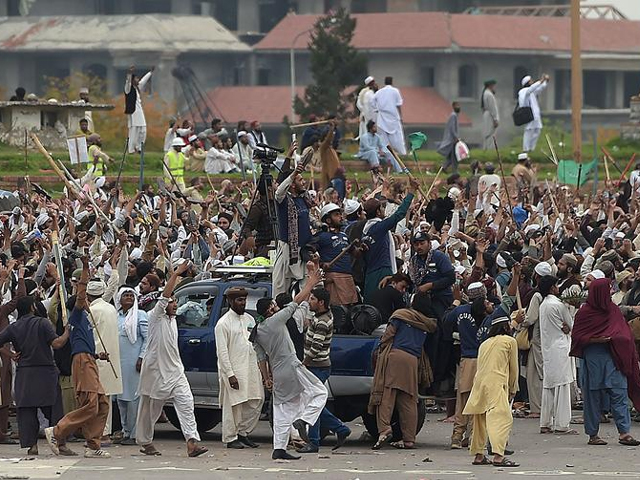 ---
Why must Pakistan wait for international pressure to mount to tackle extremism?
If we still pick out good extremists from bad ones, we can't eradicate extremism and will be stuck in global...
---
The state has finally come out of a long slumber and has launched an operation to eliminate the religious extremist groups who are allegedly using Pakistan's soil to create disturbances in India, Iran and Afghanistan. In the wake of the rift between Pakistan and India, this can be termed as a positive development since Pakistan is now keeping its word and investigating these non-state actors.

According to Minister of State for Interior Shehryar Afridi, 44 people affiliated with extremist organisations, including Masood Azhar's son and close relatives, have been arrested. The matter is under investigation and further action will be taken as more evidence comes to light.

Even with these arrests, Pakistan needs to be cautious about every move they make. It will be very hard to eliminate extremist outfits like Jaish-e-Mohammed (JeM) and Lashkar-e-Taiba (LeT), who have deep roots in our country. These groups are active in society and have numerous sympathisers. Going against them and eliminating them will require unconventional ways, perhaps the same tactics that were used to eliminate non-state actors who were challenging the writ of the state. This might prove to be more difficult than Operation Zarb-e-Azb, primarily because these organisations have become a part of our social fabric over the years.

After a long time of being grey-listed by Financial Action Task Force (FATF), Pakistan has finally been issued an ultimatum. Pakistan's stand in the global community has seen a fall because of the country's inaction against the United Nations (UN) designated terrorists and groups residing in the country. From Donald Trump telling Pakistan to 'do more' to India pointing fingers across the border after the Pulwama attack, there is no option left but to address the elephant in the room. However, the question remains: why do we have to wait for international pressure to mount in order to tackle these extremists groups, which are a threat to our own existence and peace?

Pakistan has time and again stated that it does not support extremists to fulfil its strategic goals. The world, however, is not ready to accept this narrative anymore. Our country has for so long stayed silent on this matter because these groups have not wreaked havoc in Pakistan, while we have tackled other groups in the mean time. The video of JeM, where the organisation claimed responsibility of the Pulwama attack, has already pushed both Pakistan and India to the brink of war. If these groups can allegedly launch attacks on foreign soil without any help, one can only imagine their reaction when the state takes action against them.

This could have been done much earlier and we could have avoided these groups spreading their narrative and becoming stronger. Just like the Army Public School (APS) attack shook us out of our 'good Taliban, bad Taliban' mindset, we need to understand that there are no good extremists or bad extremists. Masood Azhar and Hafiz Saeed enjoy the backing of the masses; even some renowned celebrities have voiced their support for them, mainly due to their anti-India agenda. This should not be the criteria to consider an extremist harmless. Pakistan needs to act against extremist groups who use religion and patriotism as shields to carry attacks anywhere.

If we adopt half measures while still picking out 'good extremists' from bad ones, we will not only be unable to eradicate extremism from our country but will also be stuck in global isolation. The state and the society need to decide whether they want to create ideas of Stephen Hawkings and Steve Jobs or they want to preserve the teachings of Saeed and Azhar.

It was only a matter of time that the powers that be realised these narratives will hurt us in the end and it is truly commendable that we are finally taking a step in the right direction. However, if the state is serious about eliminating extremist groups then there needs to be a consensus between the political and military leadership. Therefore, this time around, there needs to be a clear and agreed resolution to get rid of these rotten narratives and extremist outfits once and for all.

Pakistan doesn't have a choice anymore and in order to survive in the modern world and still have the support of the international community, it needs to clean its own backyard. As of now, Pakistan has taken control of 182 seminaries and mosques and detained around 121 people who are under observation. While we are cleaning our house, there are hopefully measures in place to counter any protest or retaliation from the supporters of these groups. For the sake of this country, let's hope it doesn't come to that.
Facebook Conversations
COMMENTS (1)
Comments are moderated and generally will be posted if they are on-topic and not abusive.
For more information, please see our Comments FAQ