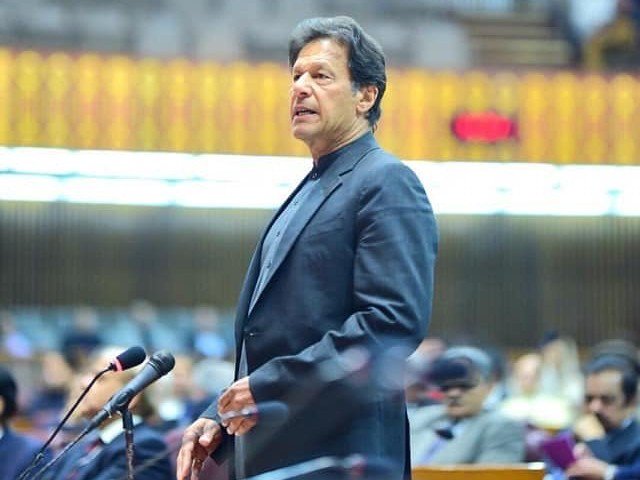 ---
Despite his achievements, Imran Khan does not deserve a Nobel Peace Prize
A week of good statesmanship does not merit a prize, or a nomination, particularly when the crisis is still brewing.
---
A few days ago, a resolution was moved in the National Assembly requesting nomination of a Nobel Peace Prize for Imran Khan. The resolution, which comes after Pakistan Tehreek-e-Insaf (PTI) government's decision to release the Indian pilot, argues that Imran has "played a sagacious role in reducing recent tensions between Pakistan and India which were created due to the warmongering attitude of the Indian leadership". It further states that Imran averted possible war by "deft handling" of the crisis.

After the news of the resolution broke out, the entire media erupted. The resolution has led to fierce debate, both in electronic and particularly social media. Many PTI supporters, as expected, are gloating and supporting this resolution, with some of the supportive tweets elevating Imran to an unbelievable level. This is ironic, given the fact that the same lot has never accepted the Nobel Prize for Malala Yousafzai and in fact continue to troll her to this day.


Luv u khan❤️❤️ #NobelPeacePrizeForImranKhan pic.twitter.com/nJ8A14vTCY

— shahid shabbir (@shahidshabbir80) March 1, 2019
I truly feel that i am the most luckiest person in the world because i am Pakistani and this person is my PM #NobelPeacePrizeForImranKhan pic.twitter.com/Wah6UgcK2f

— Zuni #10BillionViews (@Zuni62534285) March 1, 2019


Even more ironical is that the same lot has always referred to Nawaz Sharif as "Modi ka yaar" (friend of Modi) for his efforts to have greater peace with India. On the other hand, Indian media is mocking this resolution and their social media trolls are actually having a ball. This resolution has also led to hilarious memes and tweets on social media.

https://twitter.com/AsYouNotWish/status/1101968218673967104


After Imran Khan said that he is not worthy of the Nobel Peace Prize, KRK has also refused to take Oscars.

— Krishna (@Atheist_Krishna) March 4, 2019


According to Alfred Nobel's will, the peace prize shall be awarded "to the person who has done the most or best to advance fellowship among nations, the abolition or reduction of standing armies, and the establishment and promotion of peace congresses."

Since 1901, the Nobel Peace Prize has been awarded 99 times, to 133 laureates: 89 men, 17 women and 27 organisations. During the early years, this prize was largely awarded to pioneers of peace movements. However, since World War II, this prize has been awarded to recognise contributions in the following: arms control and disarmament, peace negotiation, democracy, human rights, and work aimed at creating a better organised and more peaceful world.

So, does our prime minister deserve this prize? Have his efforts been significant enough regarding establishing peace in the region to merit such a price? Have those efforts materialised?

As per the resolution, the main reason for nomination is Imran's role in reducing current tensions with India. Let's analyse Imran's role and see whether it has exerted the required impact.


This Nobel Peace Prize thingy is getting out of hand.

I demand to be nominated for the peace prize as well. I make excellent biryani. That should count for something.

— Mahwash Ajaz (@mahwashajaz_) March 3, 2019


Right now, there is no doubt Imran's government is facing its biggest foreign policy challenge as the tensions with our neighbour have been high since the Pulwama attack. Since it's election year in India, coupled with the fact that Indian media is extremely sensational and jingoistic, Modi's government is under a lot of pressure to 'avenge' the attack. Although India has already launched airstrikes, Indian media, and for that matter a large part of the Indian middle class, clearly wants more.

Given these circumstances where the adversary is bent on some sort of military escalation, due to internal pressure from the electorate, Imran's response has been very mature and sensible. His first speech (after the Pulwama attack) was measured and composed particularly given the hostile tone of political leadership in India. Rather than chest-thumping and warmongering, Imran tried to give legitimate reasons as to why Pakistan had nothing to gain from such an attack. His speech won laurels from many.

Despite his speech, India decided to launch airstrikes. Pakistan retaliated by launching a counterstrike and in the process were also able to shoot down a MIG 21 and capture its pilot. Imran's speech on February 27th was again very rational. He informed the nation about the counterstrike and of the capture of the Indian pilot. He told India that the counterstrike was just to show our will and capability. Following that speech, he addressed a joint session of parliament in which he again took a conciliatory approach and further conveyed Pakistan's decision to release the captured pilot as a "gesture of peace".

The decision to release the pilot was in some ways a diplomatic masterstroke, as it won laurels from the international community and also gave Pakistan an upper hand from a moral perspective. It gave an opportunity for de-escalation of tensions and for the peace process to at least initiate.

There is no doubt that in the war of optics, Imran has perhaps outdone Modi and in the process also proved himself to be a good statesman, drawing appreciation from the  international community, press and even from fierce critics. Imran deserves accolades for statesmanship in the handling of this crisis.


This man is growing into becoming a polished statesman in leaps and bounds. Let's hope he stays the course and completely leaves the besieged container rhetoric and mindset behind. The ball is now in India's court. https://t.co/wwBDEkNAIB

— Nadeem Farooq Paracha (@NadeemfParacha) February 28, 2019


However, does this performance of one week merit a Nobel Prize, and for that matter even a nomination? I must completely disagree with the resolution and the insane hero-worship of Imran by the impressionable PTI fan club. No, Imran does not deserve a Nobel Prize just based on this single performance. In fact, nominating him is merely causing embarrassment. I personally think it was an exercise in sycophancy and glorification of an already cult-like status of Imran. Unfortunately, the behaviour of PTI ministers, from Faisal Vawda to Fawad Chaudhry, is thoroughly sycophantic and embarrassing.


Those trending Nobel Award for Imran Khan are shameless and insensitive. Do they think #Kashmiri blood is collateral damage? Imran Khan's soft position especially in return of the pilot has cost us much blood. Is this the peace he gambled for?

— Nafisa Shah (@ShahNafisa) March 2, 2019


Nobel Peace Prize is given to individuals who have performed groundbreaking work in achieving peace and have something concrete to show. It is true that at times, it has been awarded to "undeserving" people like Henry Kissinger but even he had the Paris Peace Accord which ended the Vietnam War to his credit. One can find flaws with literally every winner in some way, but they have some concrete achievement or a lifetime of struggle for peace. One week of good statesmanship does not make you a deserving candidate, particularly when the crisis is still brewing. In fact, there is a valid argument that releasing the pilot, while definitely a good gesture, may have emboldened India to put even more pressure on Pakistan.

Perhaps one day Imran will become a deserving candidate, if he stays on course and is able to make some concrete breakthrough in resolving the Kashmir issue. In fact, he has himself rightly pointed out that he does not deserve a Nobel Peace Prize as the person worthy of this would be the one who solves the Kashmir issue and paves the way for human development in the subcontinent.

And I fully concur.


I am not worthy of the Nobel Peace prize. The person worthy of this would be the one who solves the Kashmir dispute according to the wishes of the Kashmiri people and paves the way for peace & human development in the subcontinent.

— Imran Khan (@ImranKhanPTI) March 4, 2019
Facebook Conversations
COMMENTS (10)
Comments are moderated and generally will be posted if they are on-topic and not abusive.
For more information, please see our Comments FAQ