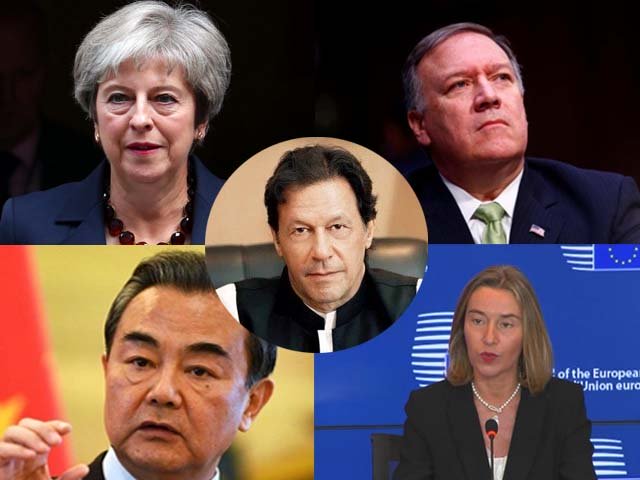 ---
Why did 'concerned' nations call for 'restraint' only when Pakistan retaliated?
No such calls for 'restraint' or 'de-escalation' were made when India threatened and actually attacked Pakistan.
---
In light of the recent Pakistan-India escalation, there have been calls for "restraint", "de-escalation" and "peace" from all corners of the world. US Secretary of State Mike Pompeo said that in his conversation with the foreign ministers of both Pakistan and India, he "expressed to both ministers that we encourage India and Pakistan to exercise restraint, and avoid escalation at any cost".

British Prime Minister Theresa May said that the United Kingdom is "deeply concerned about rising tensions between India and Pakistan and urgently calls for restraint on both sides to avoid further escalation".

It would serve May well to simply read some news reports and realise that she doesn't need to ask "both sides" for restraint. Pakistan has been repeatedly making calls for peace and urging caution and restraint.

France too claims to be concerned with the "deteriorating situation" and "calls on Pakistan and India to de-escalate the situation". France too can save itself some time and call on only one party for restraint: New Delhi.

Similarly, Russian president's press secretary Dmitry Peskov called on "India and Pakistan for restraint in connection with the border incident".

The European Union's High Representative for Foreign Affairs and Security Policy Federica Mogherin urged for both states to "exercise utmost restraint", while the Chinese Foreign Minister Wang Yi said that "as a common friend of India and Pakistan, we hope that the two sides can find out the truth through dialogue, control the situation, solve problems, and jointly safeguard regional peace and stability. China is willing to play a constructive role in this regard".

Statement after statement and calls for de-escalation and restraint by "concerned" nations around the world make it sound like Pakistan and India have an equal role in this latest skirmish.

Yes, both are equally capable of destroying each other, but a simple reality slips through the cracks and gets completely ignored – that no such calls for restraint were made when India accused Pakistan of the Pulwama attack, threatened and actually attacked Pakistan.

All the calls came when Pakistan, acting in self-defence on its own side of the border, shot down two intruding Indian planes. More importantly, India started this escalation after blaming Pakistan for the Pulwama attack, which was in fact a product of Indian aggression in Indian-occupied Kashmir (IoK).

Prime Minister Imran Khan has repeatedly called for peace between Pakistan and India, both before the Pulwama incident and now again, even after an Indian soldier has been captured on Pakistani soil.

I am not aware of any "concerned" nation urging India to show restraint and take the peace offer that Pakistan has been continuously extending. No conversation between New Delhi and some foreign secretary of a western nation, no tweet from any celebrity.

When the Pulwama attack happened, India made threats against Pakistan such as "we will give a befitting reply" and "it's time to repay Pakistan in its own coin" and other such belligerent and irresponsible statements became a ritual during those few days. No calls for restraint and patience came other than from Pakistan.

Then the Balakot attack where India claimed that the Indian Air Force (IAF) had stayed in Pakistani airspace for a few minutes before they were chased away by the Pakistan Air Force (PAF). India claimed that they destroyed a Jaish-e-Mohammad(JeM) terror camp in the Balakot region and killed over 300 people inside Pakistan, and even boasted about it. The Indian attitude was so aggressive that they didn't even want plausible deniability. Again, no calls for restraint came any international leaders.

Then came another Indian attack where Indian planes were shot down by the PAF. Now that an Indian pilot is in Pakistani custody where he is being treated humanely and with respect, suddenly everybody is adding peace credentials to their resume. Nations and celebrities are calling on both states to de-escalate, emphasising that war achieves nothing.

There is more hypocrisy in these calls for restraint and de-escalation by much of the world community than I can possibly remember. Every American professor I have taken a class with, almost every American journalist and author that I have read and talked to, interestingly harbours an anti-Pakistan bias.

I also used to view the Musharraf-controlled Army in a negative light. But my perception changed after I could not find one person in America who wanted to say something good about Pakistan.

Many Pakistanis living in America see it as a sign of intellect to criticise Pakistan and its Army. But there is more to it. Most of these people want to be acceptable in the larger American society. Not to mention, many believe that they will get their green cards and citizenship by sounding agreeable with what the respective state and society at large holds to be true.

Yes, wars do not solve anything. I also understand that wars create more problems than can be foreseen and that wars are horrible. But just like criticising Israel doesn't imply being anti-semitic and criticising drone strikes doesn't imply being a Taliban sympathiser, similarly, criticising the hypocritical calls for restraint also doesn't imply having a belligerent and anti-peace mindset.

Because interestingly, and for the millionth time since nobody else is saying it, the calls for restraint started emanating from all circles only after Pakistan shot down Indian planes and captured one Indian pilot named Abhinandan Varthaman, not before that.

Now, Imran has decided to even allow the captured Indian pilot to go back to India. Imran's urges for peace are not illogical. The purpose of these urges is to focus his and his nation's energies toward achieving a better economy for Pakistan.

It is, however, the international calls for restraint that make me want to throw up, because these calls reek of hypocrisy and double standards.

I apologise but I am not going to join the bandwagon and add peace credentials to my resume because I see things differently. I am not going to say popular things just to jump on the bandwagon, so that others can think of me as a positive-minded gentleman. These calls smell of a rotten hypocrisy we have seen for far too long now and it needs to stop.
Facebook Conversations
COMMENTS (22)
Comments are moderated and generally will be posted if they are on-topic and not abusive.
For more information, please see our Comments FAQ