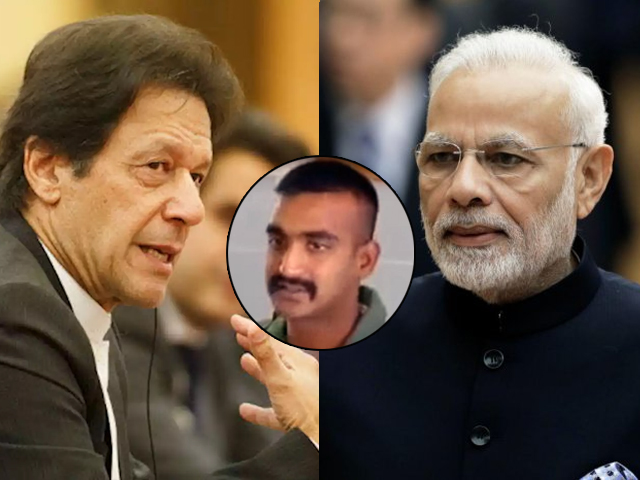 ---
Will returning IAF pilot Abhinandan stop India from attacking?
This diplomatic masterstroke has left India in a catch-22 situation and also proves Pakistan only wants peace.
---
It seems that the situation between Pakistan and India is gradually settling down, as Pakistan has agreed to return the captured Indian Air Force (IAF) pilot to India as a goodwill and peace gesture. Addressing the parliament yesterday, Prime Minister Imran Khan announced that he will be sending Abhinandan Varthaman home on today and also made it clear that Pakistan's desire to deescalate should not be mistaken as weakness.

This move has been welcomed by New Delhi, who had been calling for their pilot to be returned to them safely. Many from the international community have also commended the decision, including United Nations (UN) Secretary-General Antonio Guterres, former chief minister of Indian-occupied Kashmir Mehbooba Mufti, and Navjot Singh Sidhu. Even our very own veteran journalists Mazhar Abbas and Zahid Hussain appreciated Imran's decision.

This move from Pakistan is undoubtedly a diplomatic masterstroke since it has not only left New Delhi in a catch-22 situation, but it has also given the world a message: Pakistan is not interested in further escalation and only wants peace.


My statement on the recent developments. https://t.co/PLajxxeyIz

— Mehbooba Mufti (@MehboobaMufti) February 28, 2019
@ImranKhanPTI Every noble act makes a way for itself... your goodwill gesture is 'a cup of joy' for a billion people, a nation rejoices...
I am overjoyed for his parents and loved ones.

— Navjot Singh Sidhu (@sherryontopp) February 28, 2019


In all of this, Indian media has not ceased to disappoint, literally. Right after Imran announced Abhinandan will be released, Indian media celebrated like they had won the war. They claimed that Imran was 'brought to his knees' and is returning the wing commander back to India under pressure. Imran's decision wasn't hailed as a sensible and peace-loving move; it was highlighted as Pakistan's defeat to India. But then what can you expect from a media that promoted war-hysteria to gain a few TRPs.

https://twitter.com/Mughirah_Hashmi/status/1101144684569784322

There are also those who have claimed that Imran had no choice but to follow the Geneva Convention that requires prisoners of war to be sent back to their country. Even if we move past the fact that India and Pakistan are not in a state of war (thankfully) at the moment, we need to realise that upholding this law makes Pakistan a very responsible state. Given how India treats people in IoK and does not adhere to the Geneva Convention or any other human rights laws, Pakistan could have easily done the same. But the difference is, Pakistan does not want further bloodshed and it has been saying this from the start.


After Pakistan's capture of Indian pilot, Indian media is giving lessons on Geneva Convention. Why was it ignorant about the convention when Major Gogoi had tied a Kashmiri civilian to the bonnet of an army Jeep? Adding insult, BJP spokie Bagga making money selling its T-shirt.

— Ashok Swain (@ashoswai) February 28, 2019
2/2 Under international law provided in article 118 of third geneva convention obligation on the state to return pow triggers only upon cessation of hostilities. Whereas, despite no legal obligation - Prime Minister Imran Khan has taken a bold decision.

— Faisal Javed Khan (@FaisalJavedKhan) February 28, 2019


However, there are those who have doubts about releasing the wing commander without any guarantees of a ceasefire. Will returning Abhinandan stop India from attacking Pakistan?


There is no guarantee that if we return the captured pilot India will de-escalate. Therefore his release should be conditional upon a ceasefire. Releasing him without a guarantee is foolish.

— Ayesha Ijaz Khan (@ayeshaijazkhan) February 28, 2019


In all honesty, there is no guarantee that India will not strike back, especially considering how Indian reports suggest that their military has been preparing to attack. However, there are reasons why India shouldn't strike back unless it wants its name to be written in history as a warmonger. This decision has put Narendra Modi under international pressure because now if he orders his forces to strike Pakistan, he will be blamed for not heeding to peace calls and putting the region at risk of a nuclear war. On the other hand, Modi who initiated the escalation also has to answer to his hyper-nationalist vote bank, who has been calling for war and the destruction of Pakistan.

Yesterday, Imran mentioned that there was a missile attack threat on Wednesday night, however, the situation was diffused. Despite of that, if he still took the decision to release the pilot. He should be appreciated for gambling for the sake of peace.

The ball is in India's court now and whatever decision it makes today will go down in history. Previously, Indian media had been accusing Imran of lying when he talked about peace, but now his actions are speaking louder than words as he lets Abhinandan return home to his country and to his family. Indians are even hailing Imran as the true 'Man of Peace'.


Prime Minister @ImranKhanPTI Sahab:

Please accept my heartfelt kudos. You have proved to be a Man of Peace.

My prayer - Now You and PM @narendramodi ji can, and should, together make it WIN-WIN for both New India and Naya Pakistan.#WelcomeBackAbhinandan#SayNoToWar pic.twitter.com/Pr6We13UKI

— Sudheendra Kulkarni (@SudheenKulkarni) February 28, 2019


Seeing this, Modi will probably not strike back because of the growing global pressure but he will also not be interested in real dialogue process that can help both countries resolve problems. This is evident from the fact that PM Imran tried to contact Modi thrice yesterday to give him the news of Abhinandan's release but Modi being Modi did not respond.

This means we will still remain at the edge of war or further proxy wars in the near future as well. However, after this initiative, the world community should intervene and convince New Delhi to come to the table. We cannot live in threat and fear forever.

If New Delhi has any proof of Pakistan's involvement in the Pulwama attack, it should bring it forward. On the other hand, PM Imran too needs to lay down a strategy and get rid of past baggage like Lashkar-e-Taiba (LeT) and Jaish-e-Mohammed (JeM), as they have become a liability for us.

Despite the fact that India violated our airspace, the world still points fingers at us due to the presence of non-state actors on our soil. This would create an ideal scenario for Pakistan and will further alienate Modi's Bharatiya Janata Party (BJP) government in the diplomatic world.

It is time to give peace a chance as the ultimate casualties of war are truth and humanity. Those who consider Imran's move an act of cowardice, should send their own sons to battle so they understand that war only brings destruction and increases the number of widows and orphans on both sides of the border. It is peace that creates solutions and guarantees no waste of precious human lives. One hopes that Modi has learnt his lesson by now that the world is not run on jingoism and warmongering and to put the peace of an entire region at risk for the sake of elections is an insane strategy. For the sake of this region, we really hope that he has.