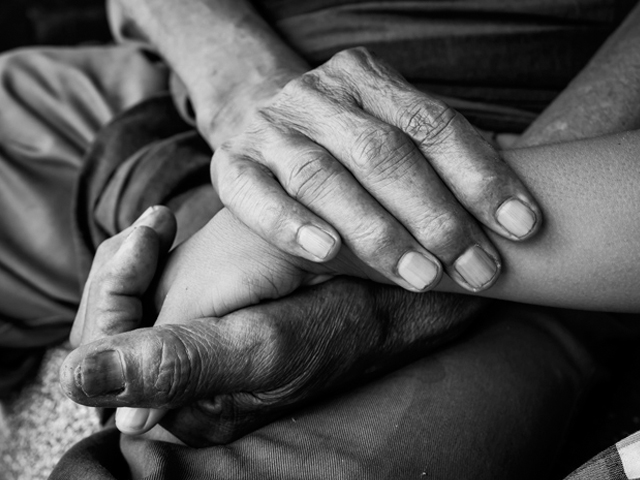 ---
Always remember
I watch as first you give up your laughter, then your listening, then your talking, then yourself.
---
"What's my name?"

"My beti."

"But what is it, really?"

"My pyaari beti."

"Do you remember me?"

I can almost hear you reply – only vaguely.



I watch you every day,

In that same seat that you always occupy –

With the sun glinting off your bald head.

I watch as first you give up your laughter,

Then your listening,

Then your talking,

Then yourself.



As I sit across the room,

And become heavier and stronger,

I watch you become weaker and smaller.

I watch your appetite shrink,

And the only food you truly want

Is kept away from you, near the sink.

It's meant to protect your health,

To ensure you don't get confusions or even possible delusions.



Delusions of bugs crawling over your body,

Biting at you,

And picking away at your already waning strength.

I watch you scratch your scalp,

Trying desperately to remove what's not even there –

You're panicking,

Saying it's in your hair.

And this time, we're confused as you pick away at only skin.



Your body is shrinking with time,

Like your memory –

And your smile.

It rarely shows now,

Because you're always in pain,

And you've forgotten your own name.



You used to tell me stories,

Of India and your wife.

Stories of my father as a bratty child,

And my phuppos, mischievous and wild.



I used to sit by you,

With your arms around me,

Lying on your round belly,

Telling you my school stories.

And you would cater to my childish pleas,

Of another biscuit or sweet.



I remember this one time,

You watching TV –

Telling me about this cricketer, who lost us the game.

You were so passionate,

About the sixes and wickets –

So invested in each and every inning.

Now I see you

Stare blankly at the screen –

Only aware that people are moving, running, jumping, hugging –

And I'm not even sure if you know why.



I watch you wither, and I watch you fade.

Every single day,

I pray to god

To make you okay.



I miss you and who you used to be,

I know you miss it too.

I love you always,

Even as you forget my name,

Even when you'll forget my face.



And that's what makes it okay,

That's my silver lining to the grey –

That I love you, and I will love you for every single day.
Facebook Conversations
COMMENTS
Comments are moderated and generally will be posted if they are on-topic and not abusive.
For more information, please see our Comments FAQ