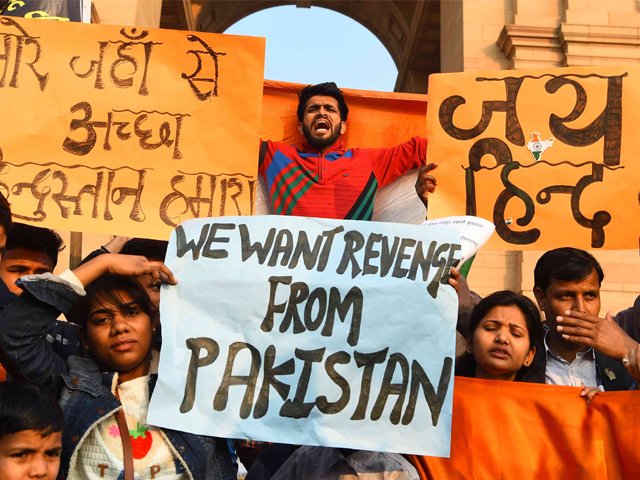 ---
More sinister than meets the eye: Connecting the dots behind the Pulwama attack
Connecting these dots is all it takes to fathom what really happened here, for what purpose, and what lies at stake.
---
Every time a state is attacked by some non-state actor, the main casualty after the number of lives lost is the truth, which is usually the case when a lot of noise is made after an attack to find an easy target to blame for one's own mistakes.

Realities are subtle. In India, every ill of the society, every negative result of their foreign policy and military adventurism can just be dumped on Pakistan. These laughable tactics are too old, too boring, and have the least substance, just like Bollywood movies.

This time blaming Pakistan is not just to sanitise India's own flaws and weaknesses. There is a more sinister cause lurking in the shadows, behind the flame and smoke. It is a multipronged strategy to achieve multiple aims. Some of these factors, which are playing a role in the background, will become clearer once the dust settles. I will briefly highlight some of them.

Kulbhushan Jadhav and the ICJ

It is too much of a coincidence that the Pulwama attack happened just days before the trial of Indian spy Jadhav at the International Court of Justice (ICJ), which starts today. Jadhav has confessed to stirring anti-state violence inside Pakistan after he was caught by Pakistani security forces in Balochistan in 2016.

Before the Pulwama attack, the only trump card India had was to highlight the denial of consular access to Jadhav, which New Delhi contends is a violation of the Vienna Convention on Consular Relations, 1963, as well as the denial of a fair trial with access to proper legal representation.

Enter the Pulwama attack. India can cash this victim card and subsequently influence the decision of the ICJ. Now, victimhood will trump the previous trump card.

Election and Narendra Modi

Nothing is more cashable than electoral victory, and Modi knows this better than anyone. Years ago, the US State Department had banned Modi from entering the United States for a decade because of his failure in stopping the killing of over 1,000 Muslims in Gujarat, when he was its chief minister. After he won the election, the Obama administration removed that ban and politically baptised him in Modi's signature awkward hug.

Thus, Modi knows what winning an election can do. Not only does it bring power inside India, but those who are the absolute judge of nations' characters and who give out certificates of good and bad and friend and foe will flush out your crimes down the Orwellian hole.

For winning the upcoming election, Modi wants to resurrect his unique selling proposition: his anti-Pakistan identity and his anti-Pakistan credentials. The strategy is to resurrect the enemy in the eyes of the public and present himself as the fighter and the saviour who can punish the enemy. It's like an antivirus company creating the virus itself, spreading it, and then presenting its own software for people to buy in order to help their computers fight that virus. If a nation can be made to feel angry at the enemy and rally around the flag, the sky is the limit to what leaders can do to their own populace. After all, the very same ability empowered the American leadership to convince the American people to agree to limit their own liberties by agreeing to the Patriot Act for surveillance after 9/11. The usual yet bizarre view that emerged in America could be summed up as,

"I got nothing to hide, so why should I care?"

India has indulged in its quintessential cheap tactics. The coverage of the Pakistan Super League (PSL) has been blocked. T-series has taken down Pakistani songs, which Indians used to be very fond of; now it wouldn't be shocking if they jailed people for singing Atif Aslam's songs. India has suspended a bus service between Muzaffarabad and Srinagar. The Cricket Club of India has also removed Imran Khan's portrait. I wonder if tomorrow they'll be deporting Dilip Kumar, Shah Rukh Khan and the entire Kapoor family to Peshawar?

Modi knows he cannot attack Pakistan because heavy snow blankets the mountains of Kashmir and this, along with the disputed border, makes an attack logistically impossible. More importantly, Modi knows that attacking Pakistan would mean embarking on a path which leads to the guaranteed destruction of India as well, because both nations are nuclear powers and slight skirmishes can potentially trigger a nuclear war, which would mean mutually assured destruction (MAD).

Modi only wants to put up a little fight to make Pakistan the number one issue in the upcoming elections, as well as prove his anti-Pakistan credentials by stating that the Indian security forces have been given full freedom to respond, making statements such as:

"We will give a befitting reply; our neighbour will not be allowed to destabilise us."

However, Modi is playing with fire, because the saffron-scarf wearing loyalists of Modi's Hindu nationalist party make only one demand as they pump their fists in the air: "Attack Pakistan! Crush it!"

American withdrawal from Afghanistan

The United States and Pakistan have a shared interest now that the former is exiting Afghanistan. Marathon talks and negotiations have been underway, with Zalmay Khalilzad at the centre of it all. India is strongly opposed to American withdrawal from Afghanistan because that eventuality guarantees the rise of the Taliban as the powerful party ruling over Afghanistan, which means the demise of Indian interests there. Those interests primarily are to manage subversive activities inside Pakistan and to deny Pakistan the 'strategic depth' it needs in the event of an Indian attack from its eastern border.

The American leadership is engaged with Pakistan to find a face-saving negotiated settlement in Afghanistan, and Pakistan is on top of it. A slight hint of Pakistan's utility for Washington makes New Delhi sleepless. This attack in Pulwama resurrects the 'bad Pakistan' and 'terror sympathiser Pakistan' rhetoric back into the mainstream media. The Pulwama attack has killed over 40 Central Reserve Police Force (CRPF), but it is aimed at achieving much more for New Delhi.

Connecting these dots is all it takes to fathom what really happened here, for what purpose, and what lies at stake. What India needs to do is shed its cunningness and focus on the whack-a-mole strategy it has employed in Indian-occupied Kashmir (IoK), a gruesome example of which is the use of pellet guns.

Ultimately, it is India's brutal actions in IoK that create people such as Aadil Ahmad Dar who willingly give their lives to attack the monster they see in India. Instead of taking comfort in raising the accusing finger at Pakistan, India should look inward for a change.