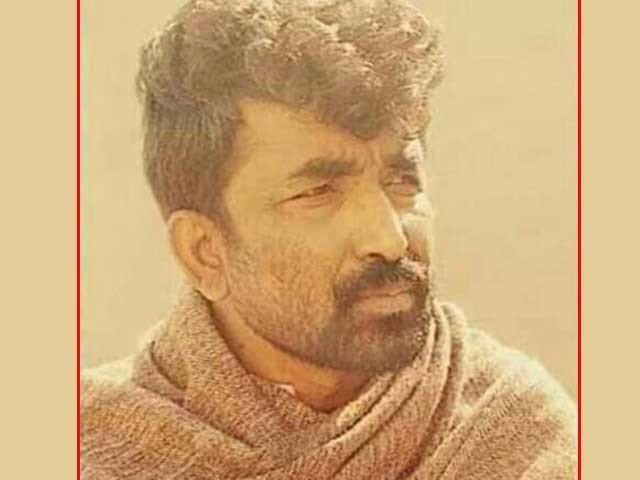 ---
Will we get #JusticeForIrshadRanjhani or will his killer get the Rao Anwar treatment?
How will Shah pay the price for Ranjhani's murder when he's charged for denying medical help and not for shooting...
---
The entire nation is by now familiar with Irshad Ranjhani's name. He was the Karachi President of the Jeay Sindh Tehreek (JST), and was shot multiple times by Rahim Shah, the Union Council Nazim of Bhains Colony who also belongs to the Pakistan Muslim League-Nawaz (PML-N).

A video that surfaced on digital and electronic media on Friday showed Ranjhani lying in a pool of his own blood on the road in broad daylight. He was still alive then, but instead of taking him to the hospital and helping him, most of the bystanders were busy making videos and taking pictures. From there, contradictory narratives have emerged that made this case a new mystery for the nation to solve.

Initially, the only narrative that spread was Shah's, according to whom Ranjhani was a mugger (accompanied by an accomplice) trying to rob the Nazim, who shot him twice in 'self-defence' with a licensed gun, while the accomplice escaped. The Sindh police endorsed this story, claiming Ranjhani had a criminal background. However, Shah could not clarify the holes in his story.

At what point did Ranjhani stop him to try and rob him? If he was trying to rob him along with his accomplice then why did they not open fire at Shah first? And even if this was self-defence and Ranjhani was trying to rob him, why was he left to die? Why was he not taken to the hospital, as was his right as a citizen?

Later, members of the JST clarified Ranjhani's identity as a political worker, and also claimed he was alive when he was taken to the Shah Latif police station, where he was allegedly shot eight more times. Further, according to Ranjhani's family, he lived in Dubai and was visiting to see his family and friends. This also raises the question why a man living in Dubai would commit a street crime in Karachi?

There are so many possibilities of what could have happened that day. Ranjhani could have had a personal rivalry with Shah, given that they were both involved in politics. Or perhaps Shah could have been mistaken and fired at Ranjhani out of fear, lying to the police later on. Then how could the police not conduct a detailed investigation into this matter?

The JST thus rejected the version offered by the police, resulting in some of the biggest protests Karachi has seen as of late. It is now in the open that Ranjhani's killing was not only a cold-blooded murder, but is yet another instance of an extrajudicial killing in Karachi.

Sindh's provincial minister has already ordered a judicial inquiry into the incident, while Shah has been arrested by the police on charges of halting attempts to take Ranjhani to the hospital after he was shot. The FIR against him does not include a murder charge, only penalising him for denying the victim medical help and not following the recently introduced Amal Umer bill.

Firstly, it seems like a mockery of the killing of an ordinary citizen that his murderer is only charged with the offence of creating a hurdle for the people trying to help save his life.

Secondly, just like the Sahiwal shooting, the police reached its own conclusion within minutes, that Ranjhani was the culprit while Shah was only trying to defend himself. Even if one buys this narrative, under which law did Shah shoot Ranjhani in front of an audience and then leave him to die? The law dictates everyone is innocent until proven guilty, then how can Shah unilaterally decide Ranjhani was guilty and deserved death? What gave Shah the right to be the judge, jury and executioner? Are people in authority going to keep getting away with such extrajudicial killings without the public seeing any real justice?

Thirdly, Ranjhani bleeding to death is also proof that Karachi remains an outcast when it comes to the national conversation. In any civilised society, our current situation would be alarming and a cause for immense concern. It was simply unbearable to watch Ranjhani bleed to death, and yet we did not see the same level of national coverage that we did during the Sahiwal shooting. It took a large protest in Karachi and for #JusticeForIrshadRanjhani to trend on Twitter in order for the media to even report his killing. Is the life of a less privileged Sindhi national worth less than someone living in Punjab? Also, why are some quarters of the media reporting Ranjhani was a dacoit when we only have one side of the story, the murderer's side of the story? Since there has been no trial and the victim is not alive to present his narrative of events, why is Shah's story being believed and followed?

Fourthly, this case brings with it a direct reminder of Naqeebullah Mehsud's killing by Rao Anwar a year ago, or even the recent Sahiwal shooting. Anwar offers a direct parallel with Shah, as both killers were in positions of authority, both murders were committed in Karachi, and both killed innocent people in cold blood. It was quickly determined that Mehsud was innocent, and yet despite being declared guilty, Anwar is a free man. It seems that like Mehsud, Ranjhani has paid the price of being an ordinary citizen in a land where power trumps basic human rights.

Shah, being an influential person, has enjoyed patronage from the Sindh police. A police department already surrounded by the Anwar controversy and Mehsud's fake encounter, and even the recent Sahiwal shooting, would have ideally acted better, and yet from Sindh's officials to Sindh's police, everyone has disappointed by their inaction. In any case, it seems as if our law enforcement agencies have not learned the lesson from their past mistakes.

It is likely that Shah will quickly be freed under some pretence, and will never pay the price for Ranjhani's murder; a murder he has not been charged with. No one seems to find it disturbing that Shah was standing there watching a man he shot bleeding out on the road, stopping people from helping him. It is inconceivable that we are not getting this killer examined by a criminal psychologist to determine his state of mind, for he is clearly not free to roam free in civil society.

Most importantly, this is yet another case that proves how Pakistan's lawlessness has become a norm. The growing incidents of fake encounters, extra-legal killings and taking the law in one's own hands are an indication that not only is our society more accustomed to violence, we are also increasingly losing faith in the justice system. It is time we end the attitude of accepting violence and start seeking justice. Ranjhani's case is a test for the Sindh government: let's see if Shah will be a case of actual justice delivered, or like always, he will roam free once #JusticeforIrshadRanjhani fades away and people's attention diverts from this case.
Facebook Conversations
COMMENTS
Comments are moderated and generally will be posted if they are on-topic and not abusive.
For more information, please see our Comments FAQ