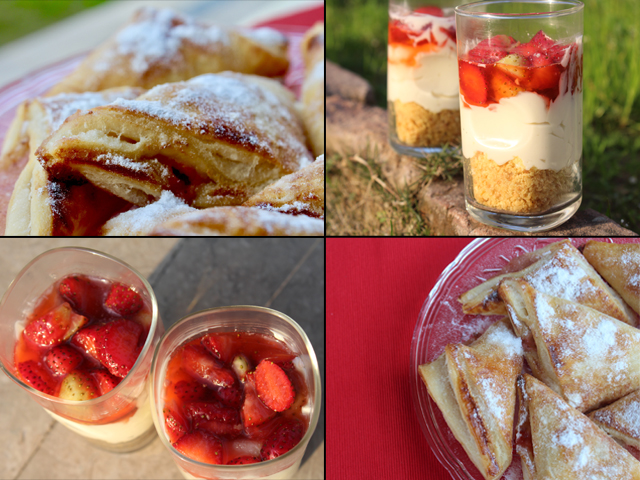 ---
Ditch the chocolate cliché this Valentine's Day and reinforce your love with these berrylicious desserts!
Because nothing says "You're special" better than some homemade strawberry turnovers and parfaits sprinkled with...
---
Tomorrow is February 14th. Love is in the air once again, and so is the product placement. My cell phone has been buzzing constantly with Valentine's Day offers, be it on clothes, food or even from Careem!

I remember during my school days (I didn't have a uniform during A Levels) there were certain colours we all avoided wearing on V-Day. Red, obviously, the other being black. The former because Pakistan prefers celebrating Sister's Day on Valentine's Day, and the latter because for many teens back in the day, black was associated with heartbreak.

That changed in the following years, with every restaurant decked in red and heart-shaped balloons. The prices of flowers reaches an all-time high – just the other day a kid was selling a single rose bud for Rs100! Everywhere you look you are bombarded with red roses, chocolates and messages telling you to buy things in order to tell people you love them.

Nevertheless, it is always nice to receive something on this day, whether from your partner or even from a friend. However, I've always felt that homemade gifts are the best, as the personal touch really goes a long way to tell your loved ones how much you really care. Handwritten cards accompanying homemade goodies and a bunch of flowers go a long way in sending a message and making someone feel special.

And what says homemade like cooking for someone? So this time around, I've prepared two extremely simple yet delectable desserts you can make at home without much fuss, but will really show people how much you care. While Valentine's Day is stereotypically associated with chocolate (yes, my phone has been buzzing incessantly with messages of chocolate gift box offers too!) I feel that is too mainstream. In a previous blog, I mentioned the significance of the strawberry emoticon for me. Hence, coupling the berry season and V-Day, I present two dishes that reinforce that love.

Strawberry cheesecake turnovers

There is nothing better than biting into a flaky, buttery, impossibly light turnover. And it is an amazing tea time snack to boot!

It does not have to be strawberry season to make this dessert, but with the extremely high prices of strawberries this time around, it is good to be prudent.

Ingredients:

Readymade puff pastry sheet: 250 grams (makes six)

Strawberry jam: 5 tbsp

Cream cheese: 3 tbsp

Lemon juice: 1 tsp

Egg: 1

Fresh strawberries: ½ cup, diced

Method:

1. Preheat the oven.

2. Mix the jam, lemon and cream cheese together and beat until a smooth paste forms.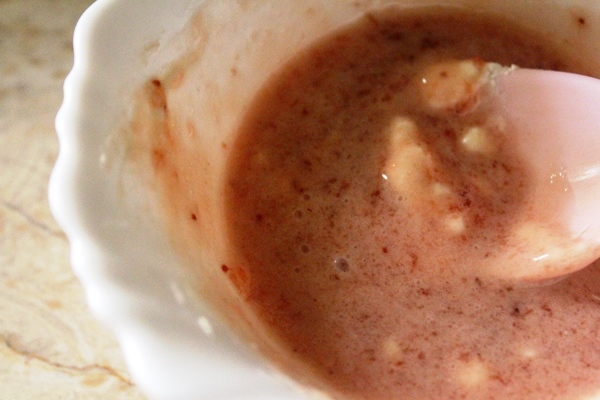 3. Roll out the puff pastry and cut into six, even squares.




4. Place half a tablespoon of mixture in the centre of each square and top with diced strawberries.




5. Moisten the edges with egg wash, then fold the pastry in half diagonally and press around the edge using your fingertips or a fork.




6. Transfer to a pan and bake for 20 minutes, or until golden brown and puffy.




7. Serve warm with ice cream, whipped cream, powdered sugar, or as is!




Strawberry cheesecake parfaits

While many desserts require baking, this great dessert requires no heat at all. Also, when it comes to digging your spoon into a tall glass of deliciousness, there's no party quite like a cheesecake parfait party.

These individual desserts are both, an eye-pleaser and a sweet indulgence as well.

Ingredients:

Note: This recipe serves six to eight people.

Fresh strawberries: 1 lb

Granulated sugar: ¼ cup

Fresh lemon juice: 1 tbsp

Marie biscuit: 1 packet

Unsalted butter: ¼ cup, melted

Cream cheese: 2 (eight-ounce blocks), softened

Sweetened condensed milk: 14-ounce can

Vanilla extract: 1 tsp

Method:

1. Cut the strawberries into bite-sized pieces.

2. Place in a bowl along with sugar and lemon juice. Stir well to combine, then let it sit for 15 minutes.




3. In the meantime, place the biscuits into a food processor and pulse until grounded into fine crumbs. Mix in melted butter and stir until the crumbs are moist.




4. In a large bowl, whip the cream cheese, sweetened condensed milk and vanilla extract together with a hand mixer until the mixture is smooth and combined.




5. To assemble the cheesecake parfaits, place the biscuit mixture in the glass, then add in the cream cheese mixture and top it off with the strawberry mixture.




6. Chill the parfaits for about an hour in the refrigerator before serving.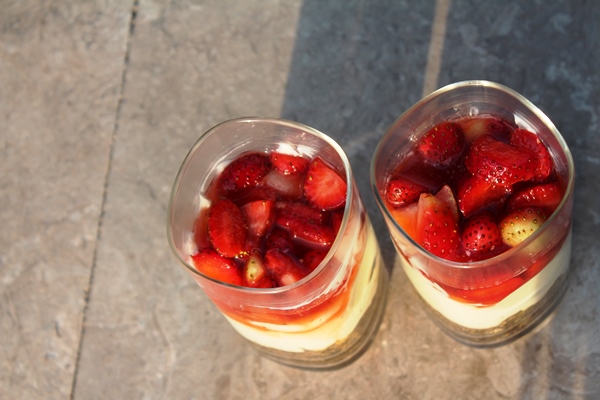 Enjoy, and happy Valentine's Day!

All photos: Arhama Siddiqa
Facebook Conversations
COMMENTS (15)
Comments are moderated and generally will be posted if they are on-topic and not abusive.
For more information, please see our Comments FAQ