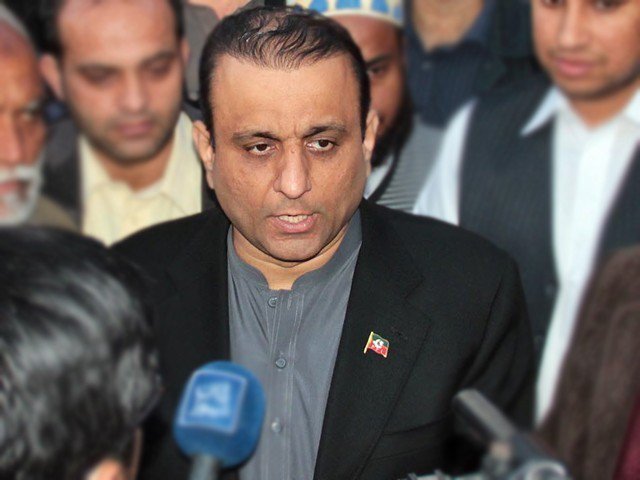 ---
50 shades of politics: In the end, PTI will be a graveyard of resigned politicians
Aleem was being investigated by NAB even before the elections. But this did not stop PTI from utilising his wealth.
---
Politics is a particularly nasty creature. Even for social science, it's an art form very few can master. The rest just try to rock the boat. To make it easier to understand, one can say that everyone is trying to do the right thing, but what the right thing is and how to do it is where all the division happens. At the core of it all, unfortunately, nothing much changes, because the people who put every crook, criminal and elite into power essentially do not change.

No matter how moral or ethical we want to see our politicians, we ourselves remain immoral and unethical, trying to find the shortest route to every destination without the fear of any consequence. It is just you and me that we see in the assemblies, not anyone else, and it is ourselves we do not like. Correction – we don't like ourselves in power because if we were in their place, we would probably do everything they did to get there as well, if not more.

Why these politically correct, morally high-grounded words of wisdom? Well, because as of this moment, another politician from the Pakistan Tehreek-e-Insaf (PTI), Aleem Khan to be exact, has been nabbed by NAB (see what I did there? Nabbed by NAB). The National Accountability Bureau (NAB) not only arrested Aleem, it also managed to secure the remand of the PTI politician and former provincial minister. I say former, because PTI has formally announced the acceptance of Aleem's resignation so that he can face the charges on his own accord.

On face, value this may seem like an honest approach, but if one was to look at this politically, it was the only chance PTI had to save face. After all, this is not the first time this is happening. Our inability to prohibit convicted people or people of unknown means to invest in politics has led to the downfall of this nation, amongst other things.

Jahangir Tareen was investigated and barred from politics, but that didn't stop him from using his massive wealth – for which he was barred by the Supreme Court (SC) in the first place – to finance and secure the election for his buddy Imran Khan. So what if he doesn't have a seat? He gets to play kingmaker, despite being labelled 'dishonest' by the verdict of the SC. One might argue that this was due to an omission in his nomination papers, but if he knew he had omitted something from his declarations, he should have been more careful.

Then there was the curious case of Prime Minister's Special Assistant Zulfi Bukhari. The SC persisted in prosecuting him for his dual nationality, going as far as to defy the "tabdeeli" PM himself. In one of the last hearings on the case, former Chief Justice Saqib Nisar went on to say that,

"If appointments are made on the basis of nepotism, then the court will interfere."

This means the government is being nepotist as well. Then there was the case of PTI's Azam Swati overstepping his boundaries, which lost him his seat. Another resignation was tendered and accepted with gratitude.

It seems as if every member of the PTI who will be found guilty of something will be tried in court and will end up losing their seat (and perhaps even their membership). If this is the case, Imran should be ready to dig a lot more graves for all the former members of his party – key members like Aleem, whose wealth has bankrolled the prime minister's election campaign. Aleem used to be a member of the Pakistan Muslim League-Quaid (PML-Q) for those who didn't know this fact, while Swati belonged to Jamiat Ulema-e-Islam-Fazl (JUI-F) before switching ranks.

Now for some political psychology to spice it up. The ruling party's primary modus operandi while dealing with any opposition party was to create the clear distinction of good versus evil in the minds of the masses. PTI being anti-corruption was good, while every other party which has been in power before was bad (due to the corruption they had been involved in). As this narrative took hold in the masses, numerous rich and influential politicians jumped ship and joined PTI – Aleem and Swati included. As soon as they joined PTI, the political corruption or evil they used to be involved in was automatically forgiven.

To be fair, this general phenomenon is found everywhere, not just in the PTI. This cleansing of past deeds just by accepting another position of power within the same system has no parallels; except for one perhaps. Most religions view other religious adherents as outsiders, 'unclean' and 'uncouth', attributes which are washed away as soon as they convert. This changing of attributes is of course done at the behest of religious edicts and a sense of forgiveness espoused by a deity. When these politicians switch sides, they bring over their resources, power and influence, laying these at the feet of their new leader. The forgiveness or washing away of past deeds in a way deifies the leader, whose whims are considered unquestionable by lesser mortals.

The biggest problem with this of course is that in the physical world, past deeds tend to stick around in terms of events, transactions, court cases and bank accounts. Aleem was being investigated, if not a full blown suspect of financial irregularities, even before the elections and had been frequenting NAB courts during the tenure of the Pakistan Muslim League-Nawaz (PML-N). This fact did not stop the PTI from utilising his wealth for its own good.

This leads us to our current conundrum. What is a party like PTI to do? If the premier thinks he hasn't got any bad eggs in his basket, he is sadly delusional. If he knows he has bad eggs in his basket, we are all sadly delusional that we are about to witness the change of a corrupt system. We unfortunately are not.

By the end of this term, a lot more seats and a lot more resignations will be in the offing. Reason being that the fundamental nature of a nation or a people does not change over the course of one election. At the end of the day, PTI will look like a graveyard of resigned politicians unless they induct brand new people into the mix. And by brand new, I mean no sons, daughters, nieces, nephews or friends of former politicians. Brand new politicians in brand new starched white shalwar kameez… now I'm just being sarcastic.