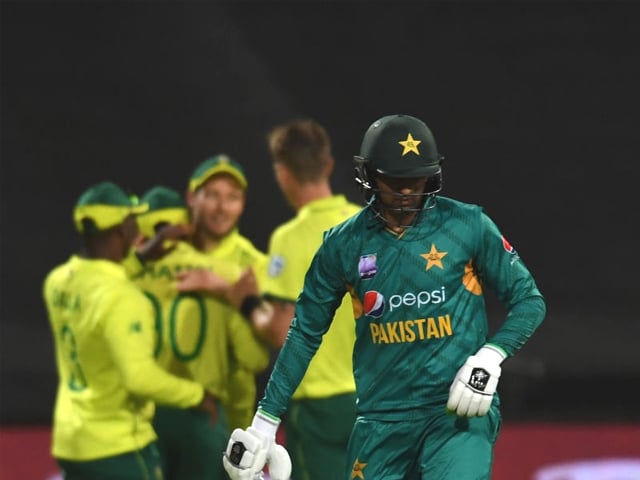 ---
#PakVsSA: After losing all three formats, is there an end to Pakistan's 'bad luck' streak?
Pakistan shouldn't worry too much; this is just one defeat in a format where we have regularly done well of late.
---
As another game on this tour of South Africa passes by, another series has been lost by Pakistan, this time exactly where it hurts – the T20 format.

The most frustrating part about this tour is that Pakistan has been competitive throughout the series; it was just at the key moments that Pakistan ended up losing the game.

The second T20 against South Africa is the perfect illustration of this.

Initially, our bowling was decent; all the bowlers bowled relatively well, besides Usman Shinwari. On a pitch where slower balls were required, Shinwari conversely tried to increase his pace with every delivery. His performance revealed a lack of cricketing acumen; something Shinwari has shown repeatedly and consistently in his short international career. It seems as if Shinwari is only capable of either blowing the opposition away or blowing his own team's chances of winning.




Despite Shinwari's terrible bowling performance, Pakistan were still in the match with a shot at winning the game, largely due to the amazing innings played by Babar Azam. Azam controlled the innings brilliantly, and whilst he was there Pakistan seemed to appear the favourites to chase the target.

There are many who have blamed Hussain Talat for the loss in this game; however, I believe the main culprit was Asif Ali. The situation he walked in was tailor-made for a finisher. Instead, Ali got out playing the short ball twice. The first time he luckily escaped due to the ball being declared a no-ball, however, the second time around he had no such luck. Time and again, Ali has failed to deliver for Pakistan. Barring one innings against Zimbabwe last year, what else has Ali done at the international level?


One of our batsmen was too slow for T20 and our bowlers could not bowl slower balls

— Dr. Arif Alvi (@ArifAlvi) February 3, 2019


Many will disagree, but I feel the best man for the role of the finisher in Pakistan is Umar Akmal. This Pakistan team needs Akmal in it, and I hope he has a good Pakistan Super League (PSL) because I feel that is his only chance at making a comeback.

Circling back to Talat, he played well initially; it was just towards the end of his innings that he began to falter. Talat clearly lacks the powerful game to become a successful T20 batsman, and I feel this is the wrong format for him. If you want to try Talat in international cricket, T20 cricket is not the right format. To me, Talat seems more of an ODI batsman, but even in that format I continue to see flaws in his game.




For the kind of role Talat plays in the playing 11, I feel Pakistan have much better options. The likes of Saud Shakeel, Saad Ali and Saif Badar are much better selections, to name a few .

Despite losing this T20 series seeming like a big defeat, Pakistan shouldn't worry too much. This is just a defeat in one series in a format where Pakistan have regularly done well of late.

However, I would argue that drastic changes need to be made for the upcoming series. These would include bringing in Mohammad Hafeez for Talat, Akmal in to replace Ali, and of course, Sarfraz Ahmed to replace Mohammad Rizwan. If the right measures are taken and these changes are made, Pakistan will progress well and will have a fighting chance when competing in the upcoming T20 World Cup.
Facebook Conversations
COMMENTS (4)
Comments are moderated and generally will be posted if they are on-topic and not abusive.
For more information, please see our Comments FAQ