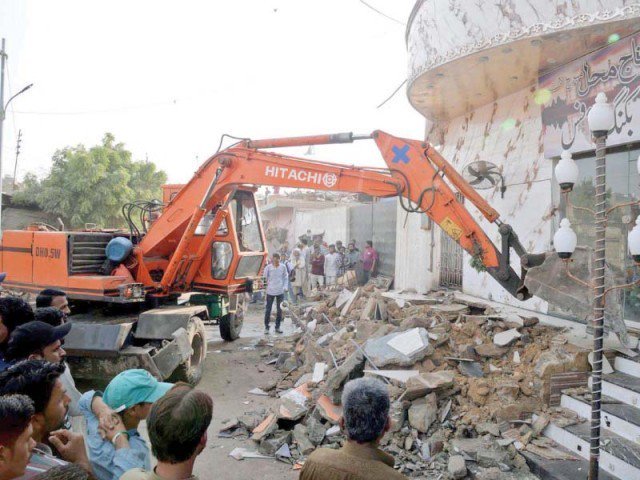 ---
First Empress Market and Burnes Road, now wedding halls – Karachi is falling brick by brick
Without any alternatives, people will erect tents outside their homes to carry out their wedding festivities.
---
The courts have given their verdict. Encroachments will have to be removed and Sindh Building Control Authority (SBCA) has already started issuing notices to property owners throughout the city. The current drive is against two different types of irregularities: a) individuals or businesses that encroached upon government land; b) usage of residential property for commercial purposes.

If we look into the socio-economic dynamics of this issue, Karachi has been home to job seekers and entrepreneurs from the entire country. The influx of migrants from other cities and provinces is still going on with the same volume and pace. People are heading for this city to secure jobs as daily wage earners, setting up tea or tandoor shops, garment stalls, electronic shops or just working as street vendors. Due to an absence of proper planning and lack of checks and balances on part of the SBCA, these businesses sprout sporadically throughout the city.

By the time the government takes notice of the situation, the business owners have already employed quite a number of people and are serving a sizable number of customers on a daily basis. Anti-encroachment drives, therefore, affect the livelihood of a big chunk of the society (business owners, their employees and customers).

Recently, the move against wedding hall owners turned ugly when they turned towards the streets and lodged protests outside the Civic Centre (home to SBCA). These protests were in response to SBCA cancelling all its previous regularisation orders and issuing notices to proprietors to end commercial activities on residential plots in three days, by January 28th which was in line with the Supreme Court's January 22nd order.

Their stance is a valid one. After paying hefty sums in lieu of regularisation to the concerned authorities and taking the legal route to secure permission for carrying out commercial activities on their piece of land, they are now being asked to shutdown their businesses and instantly cause mass unemployment.

These wedding halls provide an entire range of options when it comes to marriage venues. Those with a limited budget can opt for a venue with lesser facilities, one that is closer to their homes and conveniently located. The judgement by the honourable courts also mentions commercial activities being carried out within the premises of the armed forces. That again may affect a number of people as the most sought after marriage venues in the city are located within the safe confines of military-managed clubs, bases and museums namely PAF Museum, Maritime Museum, Bahria Auditorium, Global Marquees, DHA Golf Club, Karsaz, and so on.

Without any alternatives, if the government shuts down all the marriage venues being run on residential plots and inside military premises, people will be forced to erect tents outside their homes to carry out their wedding festivities. That will eventually result in mass blockades throughout the city. Therefore, a more rational and pragmatic approach is needed to address this crucial issue. If the government can regularise katchi abadis, illegal settlements in the city, why can't these businesses be regularised too? And who would take notice of those thousands of settlements on the mountains?

The Supreme Court, in its judgement, also asked for recommendation to re-instate Karachi to the city it used to be four decades ago. This, however, won't be a walk in the park. In order to go back 40 years, dozens of buildings will have to be dropped to the ground, major business hubs will have to demolished resulting in thousands of people being jobless and homeless.

The city used to be a well-planned one with proper business districts, residential areas and a dedicated neighbourhood that was to house the capital of the country. The decision taken by General Ayub Khan to shift the capital from Karachi to Islamabad had put the entire plan in jeopardy and the city hasn't been able to recover since then. Katchi abadis, encroachments, unplanned apartments and portions and so on have all contributed to the slow destruction of the city.

This city has already lost some wonderful socialising hubs in the name of 'anti-encroachment drive'. The eateries that were a part of our childhood memories are no more. If the government wants to keep the city from losing its charm and glory, the Burnes Road eateries and similar businesses will have to be re-instated by providing them with a planned space that is in line with government bylaws.

At a time when jobs are scarce and young boys are turning towards the world of crime, the government must come up with a structured program to provide security and confidence to business owners who are playing a major role in keeping the society in equilibrium by providing jobs. Efforts must be made to provide them the confidence and strength they deserve. Encroached land must be retrieved, however, businesses being run on residential plots must be regularised to keep the economy of Karachi from collapsing.