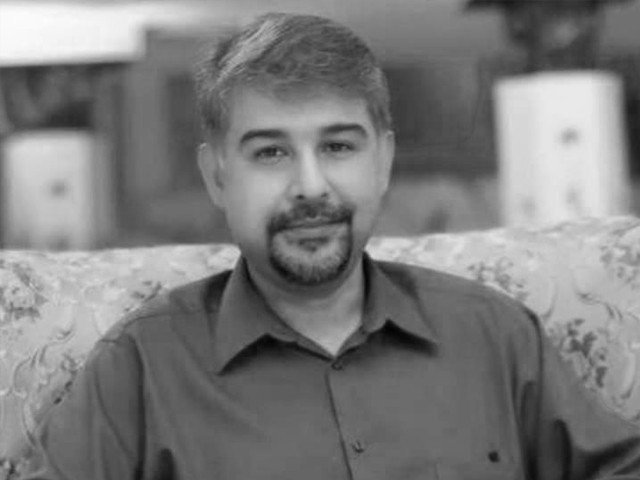 ---
Karachi will never be able to fill the void left behind by Ali Raza Abidi
He wanted Karachi to be inclusive, where the identity of being a Karachiite trumped ethnic, social, political barriers
---
I woke up to a text message from my mother on a lazy Wednesday afternoon on Boxing Day, December 26, 2018, advising me not to react after receiving the news of what had transpired in Karachi. I did not quite understand what my mother meant, until I swiped to the next message from my uncle asking me (and presumably a number of other people in his WhatsApp group) to recite something for the 'late' Ali Raza Abidi.

Only then did it dawn upon me what my mother was talking about. The first thing I did after that was to go to his WhatsApp chat and check his last seen, and that did not do me any good either. I started making calls, not just to Karachi but to people all over the world who were close to Abidi and could assure me the news was fake and that he was alive somehow – but this was not to be.

It was strange that instead of feeling enraged or even extremely sad, I just did not know what to say or do – I had no words to offer on this tragedy. All of my friends and acquaintances who had met Abidi were posting pictures with him as a tribute, and as I dug deep into my phone and my cloud to find a photograph with him, I realised that I never took a selfie with him. Probably because I had never imagined he would go so soon, and in such a horrific manner. Even though everyone around him feared for his safety, I suppose we never expected it would happen so suddenly and in such a manner.

I had worked with him (and learned from him) on so many occasions that I can honestly say that  despite being an overwhelmingly busy man, he never had any air of arrogance or rudeness about him.

I first met Abidi back in 2012 at Azizabad along with a few other people for a casual meeting. As a political official, he immediately impressed me. He was the diametric opposite of what the Muttahida Qaumi Movement's (MQM) public image was at the time – soft spoken, well-educated, rational and tolerant.

As I was a concerned Karachiite who came from an Urdu-speaking family, I wanted MQM to honour the mandate handed to it by the people of Karachi by serving the metropolis. Abidi was often all ears to my suggestions, and even my rants at times. I know I was not the only one who was always in his ears, and yet despite this he always remained patient and responded to everyone with kindness.

Of course, there were times when he would disagree with you strongly, but his expression of disagreement was in the most un-Pakistani of ways. He would articulate his disagreement so politely that not only would his point come across, but the other person would also find it difficult to hate him for carefully deconstructing their argument.

This is precisely the reason why Abidi had people from all ethnic backgrounds and political parties coming to his restaurant and having a chat with him regarding different issues. It would not be a lie to say he knew a majority of his customers personally, who would crowd his restaurant to get his opinion on some social or political matter. Abidi's restaurant, Biryani of the Seas, had become a hotspot for people who were even slightly interested in the betterment of Karachi as a city and Pakistan as a country, including journalists and TV personalities as well as common political workers.

Abidi came to prominence in the MQM in the mid-2000s as one of the pioneers of its social media department, and it was his early involvement that saw MQM's social media team compete against the strong social media groups of the Pakistan Peoples Party (PPP) and the Pakistan Tehreek-e-Insaf (PTI). He was widely followed on Twitter (with 145,000 followers) and Facebook, and this made him a popular leader among the youth of the metropolis.

As Abidi was highly educated, he strongly opposed politics of violence and arm-twisting and was a very straightforward man. It was perhaps his honesty and forthrightness that made people hate and like him at the same time, and also why he was not liked by a few old hands in the party. His rise as an energetic, compassionate, level-headed and young leader was also not enjoyed by the same, and this got him suspended from the party, although he never disassociated himself from it and returned to become an MNA and an important part of MQM's cadre.

Despite his calm demeanour, Abidi was scathing in his criticism of PTI and PPP on certain issues. He was perhaps most critical of the political establishment of the country, and this would often result in him becoming the target of below-the-belt campaigns by some social media activists. This irritated him at times, but he never preached violence nor intended it at any level, even to those who mocked his family on Twitter. I know there have been some instances where Abidi lost focus – he was after all a human being like the rest of us – but I always found him brave enough to accept that he could have done things in a better way, and that is one lesson I learnt from him that helped me in my corporate career as well.

My bond with Abidi did not weaken even after I left Pakistan, for I kept in touch with him. Such was the humility of the man that he would answer my calls even during his election campaign. He genuinely cared about Karachi and Pakistan, and my last conversation with him – three months before his untimely death – slightly excited me. From what I understood, Abidi wanted to make Karachi a city like New York and London, where the sense of belonging to the city and the identity of being a Karachiite was bigger than the ethnic, social or political background you came from. He wanted to forge a culture of inclusivity where the sense of being a Karachiite would trump the social and political ills of the city.

In this regard, perhaps it was fitting that one of the first articles to rue his death was written by a Pakhtun scholar. I believe it was his capability as someone who could unite the youth of this city beyond ethnic, religious and social bounds due to which he was martyred in cold blood by people who do not want to see this city thrive. I can easily say that in Abidi, our people have lost a concerned son, a capable future leader, and a citizen who genuinely cared and could have done something about the country, had he been left alone by the people who have no stake at all in the future of Pakistan.

Rest in eternal peace, Ali Raza Abidi. Your city misses you deeply.
Facebook Conversations
COMMENTS
Comments are moderated and generally will be posted if they are on-topic and not abusive.
For more information, please see our Comments FAQ