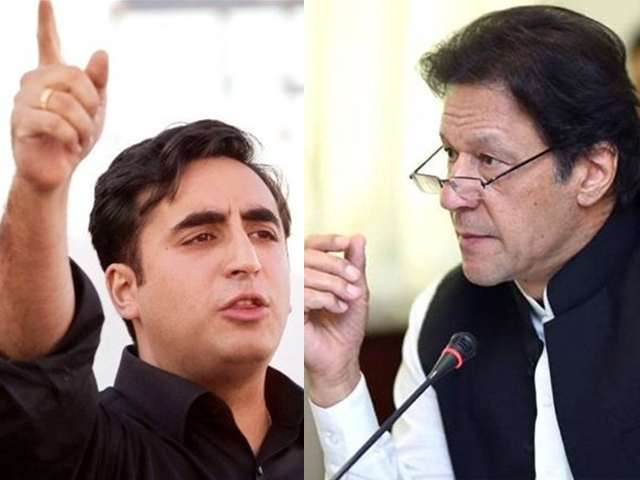 ---
The ECL fright: 'Freedom of movement' or a history of politicians 'getting sick' abroad?
This is about 'freedom of movement of cash', and when that is disrupted, comes the 'freedom of movement to...
---
They say an artist uses lies to tell the truth. Pakistani politicians, or may be politicians in general, use the truth to tell a lie. Prime Minister of Pakistan Imran Khan recently tweeted, questioning politicians on why they find being on the Exit Control List (ECL) so upsetting. He was responding to the critique over placing Pakistan Peoples Party (PPP) politicians' names on the ECL.
Why are some of our lawmakers so scared of the ECL? Why are they so keen to go abroad? There is so much work to be done by politicians in & for Pak - the land they claim to love but some cannot wait to take frequent trips abroad & lawmakers have iqamas or residencies abroad.

— Imran Khan (@ImranKhanPTI) January 17, 2019
Can anyone explain this strange phenomenon to those of us who would be quite happy to remain in and work for Pakistan because we actually love Pakistan. https://t.co/9mYZG4qHhl

— Imran Khan (@ImranKhanPTI) January 17, 2019


Let's call a spade a spade. Imran has been succumbing to pressure, suffering from indecision, and jolted each time less by bad decisions and more by not standing firm by his decisions. Most of his critique is about his propensity for U-turns, which in my humble view, he defended rightly. The real problem with his administration is that things are done hastily. And guess what haste always makes?

While the decision to place 172 suspects on ECL may have been the work of 'haste' as Foreign Minister Shah Mehmood Qureshi admitted, however, Bilawal Bhutto Zardari being on the list left many flabbergasted. How could the innocent born leader make the list? Innocent because he is entitled and willing to inherit his father's wealth and politics but not the stain and responsibility of corruption. Bilawal in reply to the prime minister's tweet called him a "selected PM", basically questioning the country's democracy, which he calls "the best revenge". I call him a born leader not because he is a leader born with leadership skills but rather a leader because of which family he was born in.


Obviously selected PM doesn't understand the concept of human rights or freedom of movement. Funny it's only the opposition members on ECL, government members are busy travelling. Including PM who despite promising not to travel for 1st 6months has made more than 7 trips so far! https://t.co/uGfCfzyAyA

— BilawalBhuttoZardari (@BBhuttoZardari) January 17, 2019


But being born in such a family has its benefits. One of them is grooming in the art of lies and spinning. So, the groomed Bilawal is using the same tactics that his father and late mother used. Every time Pakistani politicians are probed, their finances and income sources observed under a microscope, they start making noise about some humanitarian and noble cause being ruined. Similarly, every time the Panama Papers case came up, Nawaz Sharif and his electable opportunistic cult warned about democracy under siege. It is always some benign, nice-sounding cause that is promoted on the front to actually avoid the troubles resulting from bad deeds.

Bilawal, the groomed and the innocent, unleashing the art of using the truth to tell a lie, mentioned 'human rights' and 'freedom of movement' in his reply to Imran's tweet. But I still wonder if it was Twitter's number of characters per tweet that were exhausted or a deliberate attempt by Bilawal to not add the words 'of cash' after 'freedom of movement'? Because if actions do actually speak louder than tweets than it should have been 'freedom of movement of cash'.

Bilawal is not responsible for his father's larceny, yet he is entitled to the properties that are bought with the 'freedom of movement of cash', courtesy of the great model Ayyan Ali who walked less on the ramp and more on the floor of airport terminals. Let's not go into the 'benami' accounts. After all, even we don't know who those falooda selling people or food vendors are. 

This is a perfect case of cherry-picking the rights. Asking about rights minus responsibilities is the mindset of savages and thugs. A right doesn't absolve one from a responsibility. Over 220 million Pakistanis have the right to know if their money has been squandered by the people they trusted with their tax money. Our collective disease in Pakistan is to cherry-pick some nice-sounding western concept and discard the relevant responsibility, which is a safeguard to prevent the abuse of those very rights.

For example, government intervention in journalism is bad but so is foreign cash sneaking its way into journalism. Claiming freedom of press rights without the responsibility to not let that nefarious cash pollute the very right is textbook hypocrisy. Rights are user friendly, responsibilities are not. They have to be taught and reminded about. Is there a history of politicians stealing from this hapless nation and then disappearing claiming to be sick? Have such politicians argued for their right to a fair trial? Sure, they have. What about their responsibility to not indulge in larceny?

The human right that Bilawal is asking his prime minister about is clearly mentioned in Article 15 of the Constitution of Pakistan which states:

"Every citizen shall have the right to remain in, and, subject to any reasonable restriction imposed by law in the public interest, enter and move freely throughout Pakistan and to reside and settle in any part thereof."

Only the movement to leave Pakistan was restricted because the history of politicians disappearing and getting sick abroad is not fictional. Would Pakistanis get their right to punish the corrupt leaders or would they just watch them roam around the streets of London while claiming to be on death bed? The responsibility of 'public interest' is certainly of some significance. Sadly, only the right to visit London or New York has been made to become a human rights issue.

If human rights and freedom of movement were such grave concerns for Bilawal, he could have advocated for the human rights of the tenants living under the feudal control inside the very province his party wins from. Sindh is almost synonymous with feudalism. The fear of a 'wadera' (feudal lord) is so intense that the peasants have deeply internalised not to ever question them, which is a strong violation of human rights. We haven't seen a tweet from Bilawal about their 'human rights' and 'freedom of movement'. The truth is that this is about 'freedom of movement of cash' and when that is disrupted and imminent arrest is sensed, then there comes the need for the 'freedom of movement to flee'. Everything else is noise.