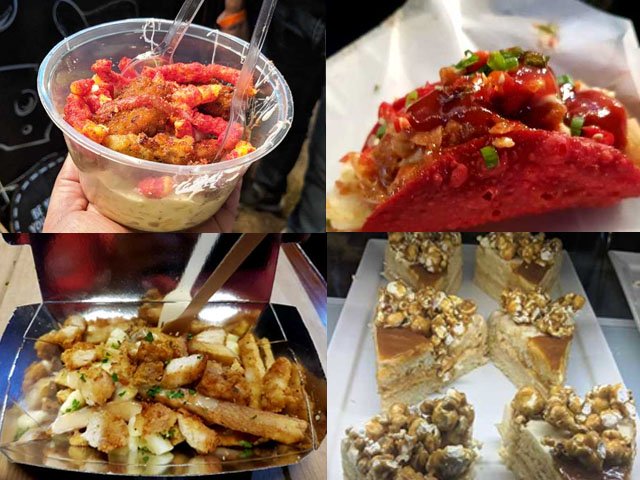 ---
12 entries that were definitely worth the long queues at Karachi Eat Festival 2019
One thing is for sure though: Karachiites don't do conventional and love to experiment with their food!
---
Karachi Eat this time around was bigger and better when compared to previous editions. But was the food worth the massive crowds, seemingly never-ending queues and overall chaos one faces at a food festival in Karachi?

No doubt, Karachi Eat this year was better managed (thank God for that huge parking space) but the space wasn't utilised properly and the event seemed unorganised. The ground space from the park entrance to the actual festival entrance was left unoccupied where people were just hanging out. In our opinion, the unused space should have been utilised as there was hardly any walking space, let alone space to sit, and the stalls were too close to each other.

At the end of the day, food festivals are so much more than just the food. As such, I find it useful here to compare Karachi Eat 2019 with Coke Fest, held in the city just last month. The differences between the two are apparent enough.

While Coke Fest focused more on the music aspect of the festival, with daily concerts by leading pop bands in the country (including Fuzon and Josh), Karachi Eat more or less neglected the entertainment aspect of the event. Perhaps the focus was meant to be solely on the food because other than some horribly off-key singing in the background, the only entertainment at Karachi Eat was the food itself.

It is important to remember that last year, Karachi Eat catered to both food and music lovers by bringing in star performances by Atif Aslam, among others.

This year, too, late night on Sunday, the organisers decided to hold a concert by RDB, the British-Punjabi pop band. This concert started after 10pm, the time when the event was officially supposed to have ended.

This certainly wasn't fair to the people who had been there all day and one concert certainly doesn't make up for three whole days with little or no entertainment.

These comparisons aside, let's talk about what the festival was really about: the food. Karachi Eat initially started off as a festival meant to promote home-based eateries so it was disappointing to see that mainstream restaurants such as Hardee's, Pantry and Nawab had set their stalls up at the event. This slightly took focus away from the whole purpose of the event. Even then, there was a lack of home-based eateries and no one stall or entry stood out as such. Every Karachi Eat, people already have a list of stalls and food items they want to try, but this year, it was all... meh!

That being said, here's a list of certain stalls (not in any order) that brought something new and unique to the festival and left us happily surprised. After all, a food festival is all about trying new things!

1.The Smoking Lion

This particular stall focused on Parsi cuisine. Their specialties included Dhansak – slow-cooked beef served with brown rice and Prawn Patia – savoury prawn curry served with rice and daal.

For dessert, they served Parsi Ravia, something that to me tasted like a combination of Suji ka Halwa and Kheer.

The prices at the stall weren't too exorbitant (given how unique the dishes were) and the stall was quite efficient at serving, not allowing too many people to line up because of the speed with which they were serving.

All in all, a stall definitely worth stopping by.




2. Hot Bomz

Although the queue at this stall was extremely long and the wait was tedious, ultimately, it was worth the wait. The fried mashed potato balls were crunchy on the outside and soft on the inside. Made up of a combination of cheese, corn and of course, potato, coated in Cheetos and drizzled with siracha mayo.




3. Babamoo 

For those living under a rock and not aware of what Babamoo is, let us educate you deprived people!

Babamoo launched at last year's festival and has been booming since then. Known for its real comfort food, Babamoo came back this year with so many funky combinations of mac'n'cheese and loaded jacket potatoes, leaving you drooling and confused as to what to order! We opted to try their MagicMac: perfectly cheesy mac with fried popcorn chicken, topped with flaming cheetos! It was served fresh and hot, and by far the best comfort food Karachi has to offer! Since Karachi only has a few places serving mac'n'cheese, Babamoo can easily claim to be the 'real mac'n'cheese'!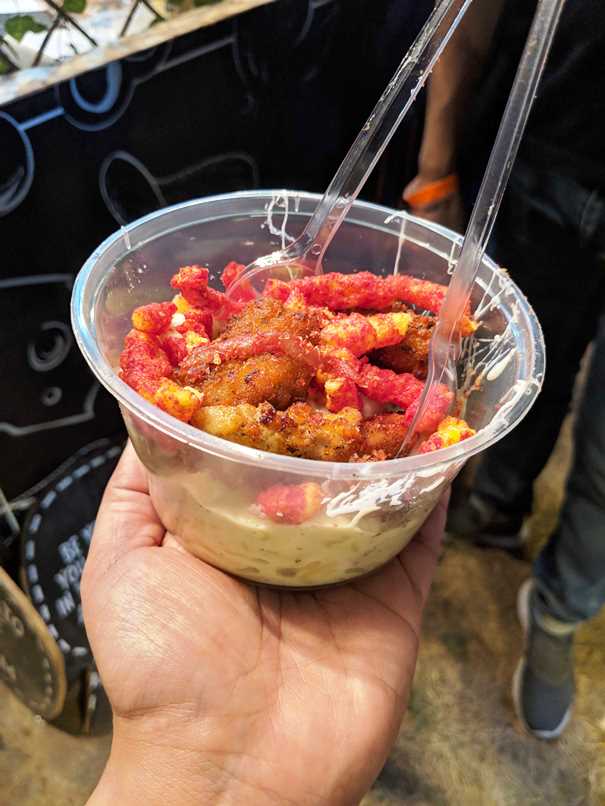 4. Tantuni House

This stall promised authentic Turkish cuisine and didn't fail to live up to this promise. With Turkish wraps called Tantuni and a special tea called Matka Chai (Sand Tea), the stall really did bring something different to the festival. The chicken wrap was simple and delicious, full of vegetables and grilled chicken, but with an obviously distinctive flavour. The Matka Chai was also quite different from local tea and was an interesting choice.




5. Fresh Greens

This place was swarming with people standing in line for the Red Chilli Taco so we decided to try it and see what all the hype was about. With a crispy red shell, the taco was visually appealing to begin with. The filling within the crust comprised of tangy sauces, chicken, vegetables and of course, red chillies. The taco was certainly a treat for those who love spicy food.




6. SOL

Although this place had run out of its famous Butter Beer by the time we reached, we decided to try the Korean Fried Chicken. Crispy from the outside and tangy from the inside, this was one dish absolutely worth trying. Our visit to this stall was all the more enjoyable because there were no long queues. Management was effective and we were served the food within just a few seconds of waiting. The chicken cost about Rs 300-350 and was well worth the price.




7. Lady Marmalade

The queue at this stall was so long that we almost gave up. In the end though, I'm glad we didn't. We were told that both the Funnel Cake and Funnel Chicken were worth trying so we decided to give them both a shot.

The Funnel Chicken was interesting in terms of both its shape and flavour and the serving size was large enough to share with a friend.

Finishing the chicken off with the cake proved to be a great idea. The cake was served warm and delicious, topped with chocolate and served with vanilla ice cream, the perfect dessert for a cold winter night. It cost Rs300 which was a small price to pay for something so delectable!




8. No lies fries

This stall again had far too many people waiting in line. Deciding that this probably implied there must be something exceptional about those fries, we too decided to join the long queue. We were told that the specialty here was the Poutine fries and we didn't regret our decision one bit.

We were served a large serving of fries, topped with cheese and bite-sized pieces of fried chicken. This combination was surprisingly scrumptious!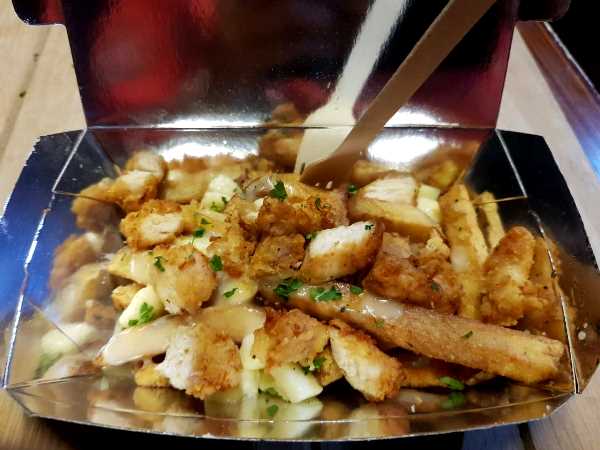 9. Hobnob

The famous bakery is coming back with a bang, with a revamped menu and brand outlook. Although this stall was famous for its Cronuts, the croissant-donut hybrid was sold out each day by the time we went! Talk about demand!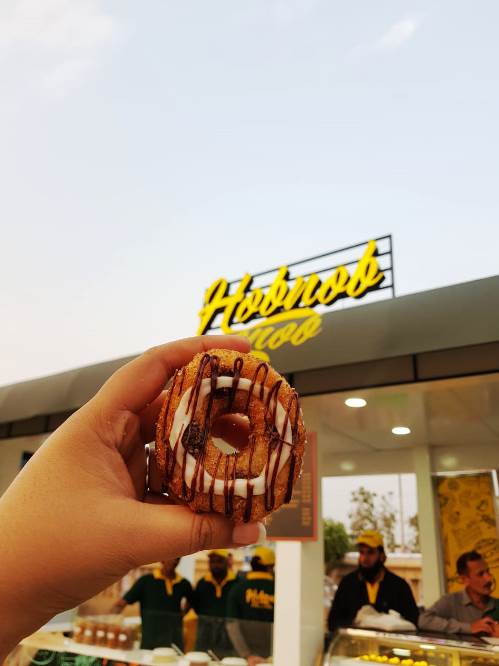 While we were disheartened to know that we couldn't try one of the items on our list, Hobnob had much more to offer and did not disappoint!

The next best thing at the Hobnob stall was the divine salted caramel cake. Even though the caramel popcorn topping was not doing it for us, the cake itself was moist, not too sweet, and the perfect caramel-vanilla balance.




And, of course, how can we forget their eclairs! The stall opted for a 'make-your-own-éclairs' concept. In just Rs 100, you could design your own éclairs ; from the filling to the toppings, everything was of your choice. There was also a large variety of toppings, catering to all sorts of tastes. You could choose from milk chocolate, dark chocolate, biscuits, sprinkles, and even maltesers. We tried the malt chocolate eclairs with maltesers and sprinkles, and the coconut eclair with roasted coconut shavings. Boy oh boy, let's just say two weren't enough!

All in all, the éclairs and salted caramel cake were great value for money and enough to fulfill a sweet tooth craving. We were nonetheless disappointed at not being able to try the famous Cronut.




10. Sweet Escape

People were raving about the Jolly Rancher-flavoured cotton candy, so we decided to stop by this stall. The flavour brought back memories from childhood when cotton candy was a staple food in most of our diets and also teenage years when almost all of us underwent the Jolly Rancher lollypop craze. While we tried several flavours, including green apple and watermelon, their grape flavour truly was the most memorable.

The cotton candy was a welcome change from the typical chocolatey delights being served at every other stall.




11. Health Act

The festival made a special attempt to cater to those who love to eat healthy. So if you're someone who refrains from eating fried stuff, you could make your way to the Health Act stall. Here, we tried the chicken salsa wrap which proved to be a safe choice. What really impressed me here though was the Flourless Quinoa Brownie. Quinoa is a gluten-free, protein-rich plant food that is sometimes used as the healthy alternative to rice. The brownie was in itself delicious and knowing that it was healthy made it all the more appetising!

Pakistan is certainly in need of more places that focus on healthy food. The Flourless Quinoa Brownie, equal parts healthy and delicious seems like a much-needed innovation.




12. Mad Roosta

We heard good things about the Mad Roosta's Nashville Hot Chicken, which was apparently created exclusivity for this festival, and it did not disappoint! The chicken, alongside the sauce, was the right combination of tangy and spicy and had us going back for seconds! This was definitely the stall for all the chicken lovers out there.




All in all, the event was definitely worth visiting in terms of food options. In spite of the initial mismanagement and efficiencies at the entrance, the no-stag policy and the female-only ticket counters were all great measures taken by the management to counter unforeseen happenings. This was a once-in-a-year event and for this reason itself, should not have been missed.

All photos: ET Blogs
Facebook Conversations
COMMENTS (1)
Comments are moderated and generally will be posted if they are on-topic and not abusive.
For more information, please see our Comments FAQ