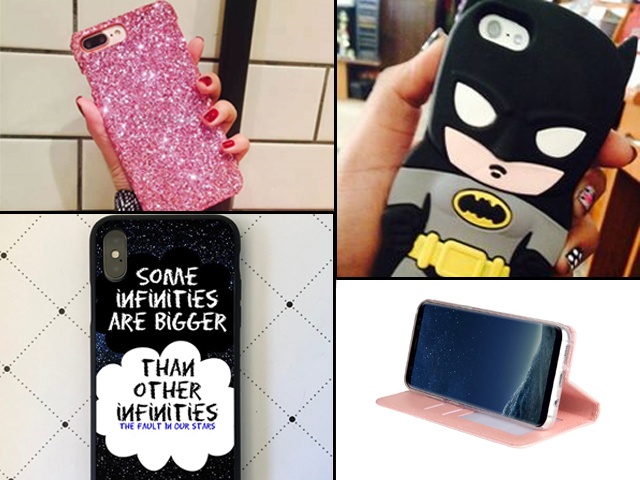 ---
What does your cell phone cover say about you?
The era of judging people by their shoes is gone! Now I just take a look at a cell phone cover and that reveals a lot.
---
Back when cell phones were not 'smart', they actually had bodies, personalities and opinions. Similar to how Instagram now perpetuates the notion that the ideal human body must be perfect – slim and smart – phones too seem to have embodied these ideologies.

For humans, looking their best is nowadays far more important than how they think, act or what they accomplish. Similarly for phones, all that matters is whether they are smart and good-looking. Consequently, most phones nowadays are smart and they all look the same, like models on a Paris runway.

That being said, I'm not here to body shame cell phones. I just want to talk about how I miss the excitement of having to look through hundreds of phones to find one that matches my personality.

For a fashion-lover, it made sense to own the MotoRazr. Anna Wintour had it, so it was obviously the ultimate fashion phone.

As a teenager obsessed with teenage dramas such as  Gossip Girl and 90210, I wanted the phones my favourite characters had. I remember throwing huge tantrums inducing my parents to buy me the Sidekick. Now that was a phone with personality.

I remember backstage at fashion week, every time I whipped out my phone to text, models and designers  would stop and take notice of my phone.

Once, in an exam hall, a guard tried to bribe me to give him the phone. It was a phone that made people notice it, and through my phone, I felt noticed. I felt exactly like I wanted to feel, like a stylish person who embodied words and liked the luxury of having a whole QWERTY keypad in his hands. This additionally helped me because I would take a lot of notes on that phone.

But these days, it's just so difficult to find a phone that embodies what I want to project for myself. I'm not talking about fancy features, or even the ability phones now have to make us stick our tongues out in public – which by the way, is totally normal behaviour – or even great cameras. We have enough filters to project that through social media.

But what about real life? How do I use my phone to proclaim to the world what kind of a person I am?

To me now, I feel like cell phone covers are the only way to shout out to the world what kind of a person one is.

Phones are certainly big enough, so their covers have to be even bigger. In my quest to find the right cover though, I have made certain observations about what kinds of covers I particularly like.

Of course, if you're a rich teenage girl, it makes sense to go for a bedazzled cover. That's who you are. But for an adult, if you can't bedazzle your personality, at least you can bedazzle your phone! This is something I would advise against though.

People least bothered about their looks (like most of my peers), usually opt for plain silicone covers. These are the same people who made fun of me for having a Sidekick in the first place, so no surprise there. In my opinion, though, plain covers are for old people.

Finding the right cover for a phone is harder than it looks. You can always go the vinyl cover way, but this won't protect the phone, even if it does protect your personality. The phone cover has a reputation – and a phone – to uphold!

Thus, with my own phone, I was in a dilemma when it came to choosing the right phone cover. Since it was an obscure phone – obviously, I had a Sidekick! – it made the search for a cool phone cover super hard. I used the one that came in the box, and it was one of those flip covers my grandfather uses. Not that I had anything against it, but it just wasn't me. I had a new phone and I deserved a nice cover that felt more me.

Thus, I went from plaza to plaza, online store to online store, and I couldn't find anything that I could say was more me.

In the end I gave up and ended up buying a plain, old silicone cover. But this made me feel like I had given into the system and like I was giving in to monotony. But I learned to live with it.

Until I remembered what I had done with my Sidekick. I had put up a vinyl cover on the back of my Sidekick when I couldn't find one here and I decided to do the same with my new phone.

I chose a dark grey marble custom print that I really liked. I went straight to a fashion event afterwards and to hear "cool phone cover" made me feel really good about my choice.

Now, I can get a custom case printed for my phone. But back when it was new, I had no other way to show the world through my phone what kind of a person I was. I love quotes but I would never put them on my phone covers.

With the advent of smart phones, we now have more chances to stand out and be ourselves than ever before. If our Snapchat is supposedly cool, our phone covers should be too. I used to be the kind of person who would judge people by their shoes. But now I just take a look at the cell phone cover and that tells me a lot about a person.

Phone covers are our chance to show the whole world who we are, how we think and what are our likes and dislikes, outside of the internet. Are we really using our true individuality for our best if we're not giving our phones the best versions of who we are? After all, what's a Galaxy without its stars?