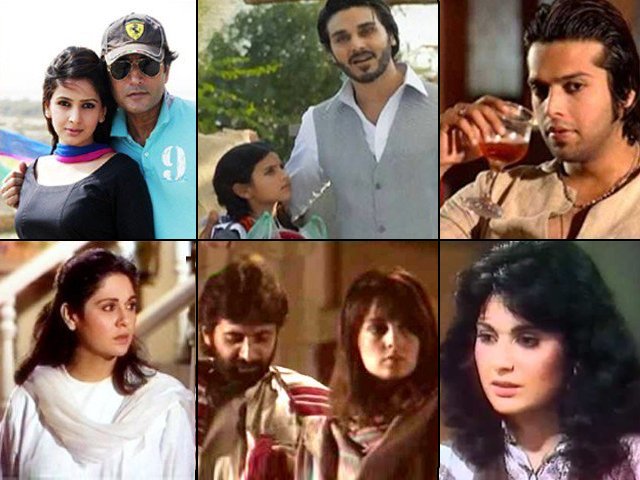 ---
Dear PEMRA, it is our society that is 'indecent'; our dramas are merely a portrayal of it
Dramas focusing on the very real issues in our society to break the taboo should be welcomed, not penalised.
---
The performing arts are considered a tool for providing entertainment, relaxation and catharsis to society. Before the invention of the television, stage dramas, dancing and poetry were all important mediums in people's lives, showing just how necessary entertainment is for us.

Pakistan's first official TV channel was launched in 1964, and we soon saw the rise of our drama industry with classic plays like Ankahi, Waris and Tanhaiyaan. However, after General Ziaul Haq's martial law and the subsequent Islamisation of society, the entertainment industry was not spared either.

As a result, the film industry gradually vanished and dramas became more religious and involved more preaching of what Zia and the right-wing deemed acceptable for society. During Zia's era, culture was mixed with religion and a new narrative was built, suggesting that music, dance and other performing arts were part of the 'Indian' culture, not ours. Zia introduced new curbs on entertainment and with the passage of time, this became normalised, with content on TV seeing the rise of religious and moral policing.

Though there were exceptions, such as dramas like Andhera Ujala, the industry mostly remained one dimensional in the 90s as well. However, the more progressive era of General (R) Pervez Musharraf in the early 21st century, as well as the introduction of private TV channels, allowed room for change. General Musharraf had a moderate vision of religion and understood the difference between culture and religion, and this reflected in the content allowed to be seen on TV.

Not only did introducing private TV channels end state monopoly over the media, it also gave birth to new ideas and themes which created room for multi-dimensionality. It is undeniable that the change witnessed was prompt and drastic, compounded by the rise in technology.

However, far-right groups have had free reign since Zia's era, and they have maintained the belief that moral policing is a necessity to somehow safeguard the cultural fabric of society created during Zia's regime. In turn, they have constantly been critical of the new themes seen in TV dramas, with themes like honour killing, rape, drugs, alcohol abuse and even divorce being deemed unethical and harmful for society.

In the most recent development, the Pakistan Electronic Media Regulatory Authority (PEMRA) has directed all TV channels to stop airing 'indecent content' and produce material in accordance with the sociocultural norms of our society. PEMRA cited that it had received complaints from many viewers who remain unhappy with what they see on TV. They are of the view that scenes showing any degree of intimacy, extramarital affairs, rape, mentions of divorce or even 'inappropriate dressing' end up playing a role in spreading immodesty and vulgarity.

However, this obviously prompts the question of whether such 'vulgarity' already exists in our society, which is why our TV dramas show it in the first place. Does rape not occur in Pakistan? Are women not harassed or killed for honour? Do instances of extramarital affairs and divorce not come to light frequently? Do we not have a drug problem in this country? What we see on TV is meant to reflect the culture that exists, including the ongoing trends and social problems plaguing our society. Creating shows that only engage in moral policing and do not reflect the reality we all live in does not generate viewership, for it does not constitute as art and does not provide any entertainment either.

The shows we see on TV today are generating viewership, and what gathers an audience is the inherent 'talkability' of a drama, for which it has to be on an issue that resonates with people. Creators of these shows cannot present the social problems or issues of the 80s and 90s and pass them off as problems we face today and also expect the audience to respond to that. The same problem applies to women's clothing; the more modest fashion from another era cannot be presented with the intention of people taking that show or character seriously.

We see a list of prevalent problems in our society. There exists an acceptance when it comes to crimes pertaining to honour, reinforced through traditions like swara, watta-satta and child marriages. Marital rape is not considered a crime, and women are always blamed for the failure of a marriage in case of a divorce. Drugs and alcohol are illegal and yet addiction to drugs and alcohol is somehow growing. This is the reality we live in, and not showing any of this on TV will not miraculously change the statistics we encounter on a regular basis.

Another dimension that is neglected here is that of the discourse of civilisation and culture. Civilisation and culture are not static; they keep developing with the passage of time, and new norms and traditions gradually become a part of them. A static civilisation cannot survive in the modern age, for change is the only constant in the universe.

If instead of showing the typical saas/bahu (mother-in-law/daughter-in-law) drama, TV shows are focusing on the very real issues of child abuse, honour and rape in our society to break the taboo, then that should be welcomed, not penalised. It is no secret that human impulses cannot be curbed or suppressed by imposing bans. Instead, these shows are presenting the audience an opportunity to connect with what's going on across the country and relate to the problems they see on screen, making the drama not only a medium of catharsis but also one spreading awareness for social change.

Thus, the solution for the 'vulgarity' that exists in our society is not to ask TV channels to moderate content and refrain from showing what is a factually correct demonstration of our society. Not only does this kill creativity and restrict freedom of speech, it also takes away from the consumer their choice to see what they find entertaining or interesting. After all, if someone finds these dramas obscene or immoral, there is always the option of changing the channel.

Additionally, in the age of Netflix and YouTube, such bans are of no use anyway. The rise of the internet has proven that people do not respond positively to censorship, and such bans on TV will only compel people to watch something else on their phones.

Thus, PEMRA's decision can only be labelled as misguided, suggesting how out of touch the body is with the audience it is meant to regulate. People want to see the kind of content PEMRA wishes to ban, which is why this moral policing we have been stuck with since Zia's regime needs to be put an end to, not propagated further. Like every civilised society, people should be allowed to express themselves and their views. If someone finds these dramas vulgar, they need to be reminded of the wise words of Saadat Hasan Manto:

"If you cannot bear these stories then the society is unbearable. Who am I to remove the clothes of this society, which itself is naked. I don't even try to cover it, because it is not my job, that's the job of dressmakers."
Facebook Conversations
COMMENTS (12)
Comments are moderated and generally will be posted if they are on-topic and not abusive.
For more information, please see our Comments FAQ