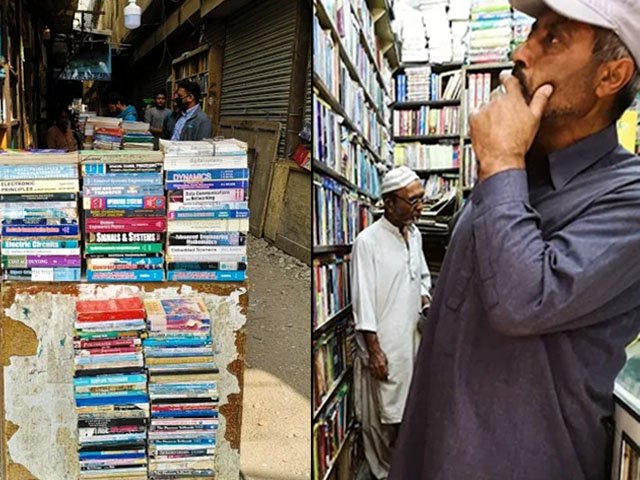 ---
Urdu Bazaar: "We have lavish shops for shoes but for books, we can't even find space on a drain"
Urdu Bazaar has been a representation of the Urdu language since pre-Partition. We must preserve our heritage.
---
Mild sunlight warms the streets tightly packed with books, stalls and rows of parked vehicles. Shops aligned adjacent to each other brim with colourful books meant to appeal to book lovers. The market chaotically mixes the queries of customers and shopkeepers alike. The ancient Urdu Bazaar seems entirely unaffected by the government's recent anti-encroachment order.

Urdu Bazaar is one of the oldest book markets in the subcontinent and almost every Karachi dweller has some sort of memory associated with it. For many, the book market played a pivotal role in their childhood. For some, the market itself was their favourite play area because here they bought imagination in the form of books.

The long-established market hasn't changed much in all these years. In fact, even the government's recent order of demolition hadn't affected Karachi's hub of literature and scholastic books.




When asked about the government's recent orders, Abdul Ghaffar, who has been running his own shop in Urdu Bazaar since 1965, commented:

"It is going to cost the government significantly if they won't get rent and taxes from us anymore."

: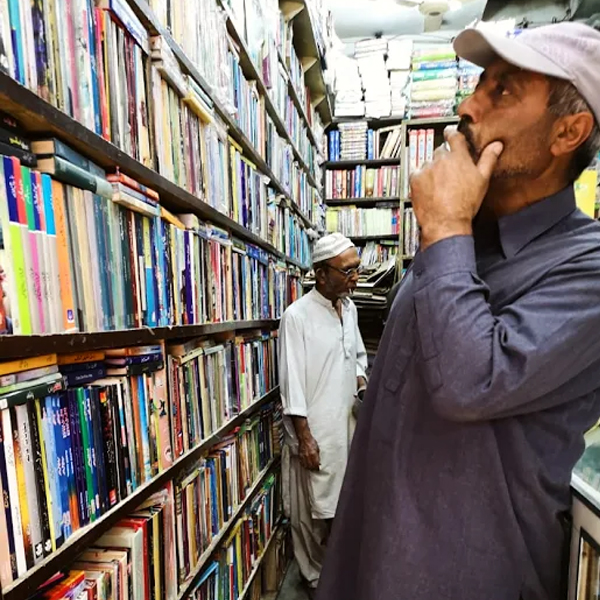 Even after three days of having been given a notice to shut down, the shops are still running just as they used to. Students continued to look for books and journals and shopkeepers continued to suggest different authors to their usual buyers.

Mohammad Asif, a shop owner in Urdu bazaar also complained about the situation:

"We have paid rent and taxes every year. If the government demolishes the bazaar, it will be a great loss for the citizens of Karachi."

The shop owners of the book market continue to successfully run their well-established businesses despite the decreased interest of today's generation in reading. In an era where technology rules our lives,  book-reading is becoming increasingly rare. Even so, these book-sellers love what they do and don't ever want to stop. They understand just how valuable books are, today and forever.

Khalid Ali, an old bookshop owner, emphasises this in the following words:

"Qusṭanṭīniyya (Constantinople, modern-day Istanbul) was invaded for the treasure of its libraries and literature. That's how important a country's language and literature is!"


The business of this market is not purely confined to selling books. People from all around the city also turn towards this market to purchase brochures, wedding cards, posters, banners and all kinds of stationary products.

Urdu Bazaar is also famous for dealing with the trade of old and used books, allowing readers and students to buy the books they need at the most reasonable prices. The market thus facilitates its citizens by providing them the means to fulfil their educational needs at the lowest prices.




A purchaser, Nayyer Hussain, while recalling his childhood said,

"I bring my children here to introduce them to a culture of reading and to acquaint them with Urdu literature as my father would do when I was a child. This place is literally a heaven for readers."

Urdu Bazaar has been a representation of the Urdu language since even before the division of the subcontinent in 1947. The hundreds of shops and stalls in present-day Urdu Bazaar date back to the 60s and most of these are run as a family business. These businesses are passed down from generation to generation as a family legacy.

Urdu Bazaar doesn't only sell books but also plays its part in preserving the Urdu language, and the culture, literature, history and knowledge of the subcontinent for coming generations. The market is abundantly filled with every genre of Urdu literature including fiction, satire, drama, poetry, travelogues and short stories.

A roadside book vendor laughed cynically at the current situation saying,

"For selling shoes, there are lavish showrooms allotted but for books, we cannot even find space on a drain."


The decision to shut down the market and demolish the roadside stalls is thus equally disheartening for those who are making their livelihood from the market and for the citizens. Urdu Bazaar is one the oldest and most valuable pieces of Karachi's heritage and needs to be preserved at all costs.

An old customer of the bazaar while searching for his book commented:

"KMC is not only demolishing the market but also the greatest source of education for the city."

He wasn't the only customer extremely unhappy with the decision. These book lovers have no substitutes in their minds and this surprise notice has shaken them up completely.

Ziauddin working at Ayaz distribution at Urdu Bazaar reminisced:

"I have been working here since even before I could grow a moustache. It has been years and the government has given us a time frame of merely three days to vacate the area. This is extremely troubling for us and for our customers."


Many voices are protesting against the government's decision of demolition. No one is able to find a single reason to justify the decision or the short notice given by the government. The protest has temporarily postponed the demolition of the book market but this doesn't mean that there is no longer a reason to worry.

All photos: Arishba Khan 
Facebook Conversations
COMMENTS (3)
Comments are moderated and generally will be posted if they are on-topic and not abusive.
For more information, please see our Comments FAQ