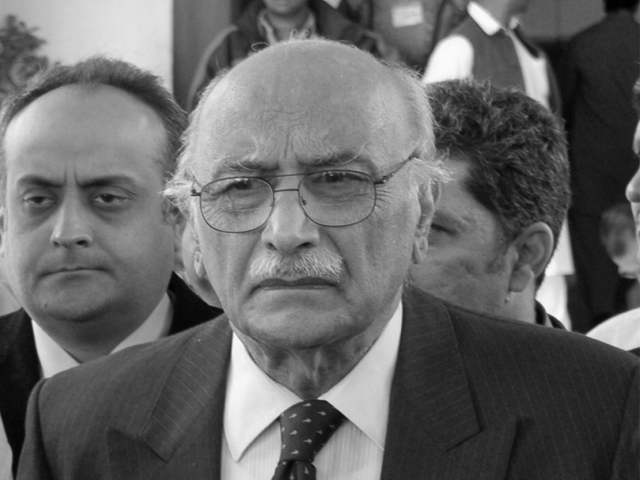 ---
Remembering Air Marshal (retd) Asghar Khan: A soldier, a maverick, and a loving grandfather
I saw my grandfather live a life in our home that mirrored the principles he argued for Pakistan to embrace
---
On June 25, 2002, my grandfather embraced my siblings and me as we carried our father's body to his home in Abbottabad. In that moment and at the age of 81, he swiftly took responsibility of the family of his eldest son; he remained poised despite the overwhelming grief as familial duty called. At the tender age of 14, I had come under the wing of Air Marshal (retd) Asghar Khan.

My mother and her three children permanently settled in my grandparents' home in Islamabad. Living a semi-retired political life, he took an active interest in my education, reviewing my homework, attending parent-teacher meetings and taking strict control of after-school recreational activities when required – providing me the love of a grandfather and the gentle steer of a parent. This was followed by him actively coxing my university applications. As he entered his 90s, he continued to be the rock in our lives, advising us on all major decisions, including careers and marriage. I am blessed to have spent so much time with him in some of the most formative years of my life.

People admired Air Marshal (retd) Khan for his professional and political achievements, but I learned much from his personal habits. He maintained his physical health to the end with deliberation, celebrating a loving marriage of 70 years with his wife, securing and assisting his children, grandchildren, siblings, nephews and nieces at their times of need.

Observing his simple habits became valuable life lessons; many were adopted from his military background, for he maintained outstanding discipline throughout despite no longer being subjected to it. For example, meals were consistent in time and content regardless of whether he was at home or travelling. His evening walks were not missed, until the very last weeks of his life when he was hospitalised. He would walk two kilometres of the Margalla Cricket Ground in Islamabad when he was approaching 90, and continued this routine even though he could barely complete 100 metres six years later.

He was meticulous at record keeping of all aspects of his life, including documenting the lives of his grandchildren on paper. His relationship with my grandmother was a true partnership, where the structure and discipline in his life was complimented by her gregarious nature. Although he maintained strong contact with friends and acquaintances, he shared a deep bond with his family, including his siblings, their children and grandchildren. On a young Air Force officer's salary, he paid for the education of his younger sisters when his father had discontinued their education.

Till his last day, he led the four generations of his family by steering, guiding and mentoring them through the challenges of everyday life. Often highly successful people compromise their personal health and family's well-being to achieve their professional objectives – Air Marshal (retd) Khan both sought, and achieved, balance.

As a working professional now, I have drawn inspiration from some key moments in his career. As a young pilot, he was asked by his British Commanding Officer to bomb members of the Hurs tribe, who were at the time rebelling against the British colonial rule in the subcontinent. As he approached the location, he noticed that in addition to armed rebels, there were also women and children. He flew back without taking any action. His British Commanding Officer was livid with him for disobeying his command and threatened to court marshal and punish him. A military tribunal adjudicated the incident and after hearing the young pilot make a persuasive case of why he chose not to follow an unlawful command by his supervisor, they decided not to proceed with any action against him.

He mentioned this principle again in the letter that he wrote to the armed forces in 1977, which was widely misconceived as an invitation for the armed forces to impose martial law and topple Zulfikar Ali Bhutto's government. As mentioned in the text of the letter, this was addressed to the armed forces after an army officer executed an innocent boy for showing the 'V' sign to him. This was written at a time when Bhutto had ordered a fierce crackdown in the major urban centres of Pakistan to quell countrywide demonstrations against the rigging that took place in the March 1977 Elections.

The letter states:

"I am writing this letter to Chiefs of Staff and the officers of the defence forces of Pakistan. It is your duty to defend the territorial integrity of Pakistan and to obey all lawful commands of superior officers placed over you. To differentiate between a 'lawful' and 'unlawful' command is the duty of every officer. Every one of you must ask yourselves whether what the army is doing today is lawful activity and if your conscience tells you that it is not, and you still carry it out, you would appear to lack moral fibre and would be guilty of a grave crime against your country and people."

This principle of obeying lawful commands formed the basis of his argument in what is known today as the Asghar Khan case. As an experienced former military commander, he quoted the Nuremberg trials in the case as an example of where the argument of former Nazi officers that they were merely following commands by their supervisors was not accepted by the International Military Tribunal. This fundamental principle of only obeying lawful commands is a moral dilemma often faced by professionals, regardless of whether they are in the military or not.

Air Marshal (retd) Khan was many things to many people: a great man, a politician, a soldier, a leader, an opponent, and a maverick. However, to me, he was foremost a kind and loving grandfather. And in his absence one year on, I wish to thank him for that, for I saw him live a life in our home that mirrored the principles he argued for Pakistan to embrace.