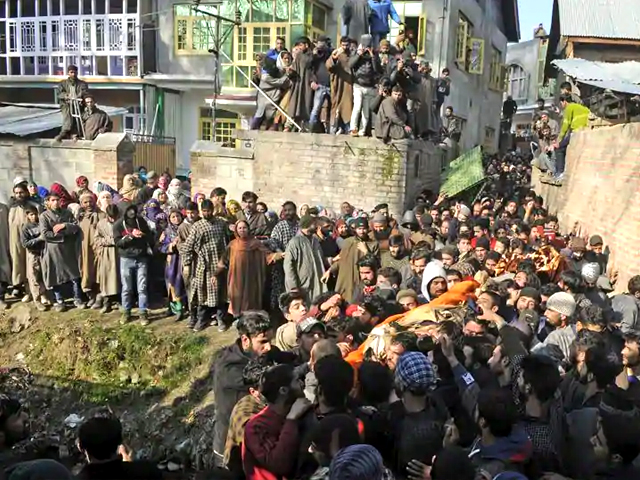 ---
As bodies pile up in IoK, strong condemnations are appreciated, but they are not enough
Kashmiris are fed up of concerns expressed through statements. More needs to be done; OIC has a greater role to play
---
December 15th was just another Saturday, but nobody knew then that it would be a bloody one. News came that an encounter broke out between forces and militants in the Sirnoo area of Indian-occupied Kashmir's (IoK) Pulwama district. Then, at around noon, news emerged that one civilian had been killed by the forces. The toll only stopped at seven as the day passed. At the end of day, seven civilians had been killed and around 250 were injured with pellets and bullets.

That night people slept in anger.


As news of a massacre arrives from home in Kashmir, I realise it's been thirty years since the killings started. Please stop, India, the slaughter of a people who do not want to stay with you will never make them do so.

— Mirza Waheed (@MirzaWaheed) December 15, 2018


This was happening for the first time in recent history that everyone in Kashmiri politics criticised Indian forces for what they had done that day.

Former Chief Minister Omar Abdullah termed the incident a 'massacre', even though many incidents where civilians were killed in the past had occurred when he was in power. But this time his response was different.


7 dead. There is no explanation for this excessive use of force, none what so ever. This is a massacre & that's the only way to describe it.

— Omar Abdullah (@OmarAbdullah) December 15, 2018


Sajad Lone, a man who once belonged to the pro-freedom camp and is now a mainstream politician, called for an immediate halt of such operations where civilian causalities were prevalent. But Indian forces had wreaked havoc that day; they had destroyed seven families with their bullets after all.


Extremely disturbing news coming from Pulwama. The administration needs to seriously evaluate the costs of its operations. If there is even a remote chance of civilians getting killed during military operations it is better to call off such operations.

— Sajad Lone (@sajadlone) December 15, 2018
My heartfelt thoughts with the families of those who lost their lives in Pulwama. I just pray that Almighty takes us out of the perpetual state of mourning that we seem to have been sucked into. And also hope that administration abandons its Rambo mindset.

— Sajad Lone (@sajadlone) December 15, 2018


The killings in Pulwama not only shattered families here in IoK but in far-off Indonesia as well. One among those killed was Abid Hussain, who had finished his MBA in Indonesia and had married an Indonesian woman named Saima. Unfamiliar with the level of conflict in the region, she could have never known that sending her husband out for milk one day would ultimately make her a widow, and that too of a Kashmiri man. Now, Saima is left with a three-month-old baby girl in a conflict-riddled region where she does not even speak the local language. The agony felt in IoK today is so powerful that the after effects are now being experienced far away, in multiple corners of the world.

Oblivious to the reality of IoK, Saima stated she wanted to sue the army that killed her husband; the army that turned her three-month-old daughter into a paternal orphan. Little did Saima know that justice has always been denied to occupied Kashmir. The word probe has a different meaning in IoK, completely opposite to what it means in places outside it. The word justice also has no meaning here, the way it does outside it. As an outsider, she remains oblivious to the unfortunate reality here we are now increasingly familiar with.

There have been numerous probes ordered by the government in the past, but those always end up bringing about nothing, and are always confined to the papers. After the Pulwama incident, a probe was ordered into what led to the killing of civilians, with the present governor of the state stressing forces to "exercise restraint". However, one fails to understand what that really means. Terms such as "restraint" have been used umpteen times, and yet civilians continue to be killed. Forces have been told to "minimise" collateral damage, but hundreds of houses built after years of hard work stand in dust today. To hell with restraint!

The all-out operation that has been ongoing for longer than the last two years now is supposedly aimed at killing militants in the state, but at the same time the damage on the civilian front is somehow greater and more unforgettable. As per official figures, 51 militants were killed between June 25th and September 14th, while 85 militants were killed between September 15th and December 5th. A total of 232 militants have been killed so far this year.

But the Indian forces cannot justify what they did in Pulwama with these figures. The army didn't say a word on these killings, but its former officer in Srinagar, General Ata Hasnain did. He categorically stated that the army did not kill any of the seven civilians. 'Who did?' is not really answered by him, however.


1/2 Katju Saheb, Gen Rawat won't respond due to service constraints. Per force I've to clarify; not a single man out of those 7 killed was killed by an Army soldier.I would always check the facts when putting things in public domain especially if I was of your esteemed stature https://t.co/ffABbRh40V

— Syed Ata Hasnain (@atahasnain53) December 16, 2018
Food for thought. In fact I tend to agree. May adopt this in future writing. https://t.co/veHeYkEh2o

— Syed Ata Hasnain (@atahasnain53) December 16, 2018


While India is turning and looking the other way when it comes to the resolution of this issue, which is the long-standing resolution of the Kashmir dispute, it does not even accept that something is wrong. Rather, India shoos away those who point out how the Kashmiri wound is festering.

As India continues with its arrogance, Kashmiris are also no longer looking at it for any empathy or resolution, because they know sensitivity is not a quality possessed by modern-day 'mother India'.

Amid hopelessness and despair in IoK emerged a statement; first from Pakistan – as always – but another surprising one came from the Organisation of Islamic Cooperation (OIC), which was encouraging. The statement categorically termed the Pulwama incident as the 'act of terrorism' it was, while also pitching for the resolution of the Kashmir issue.


Strongly condemn killing of innocent Kashmiri civilians in Pulwama IOK by Indian security forces. Only dialogue & not violence & killings will resolve this conflict. We will raise issue of India's human rights violations in IOK & demand UNSC fulfil its J&K plebiscite commitment

— Imran Khan (@ImranKhanPTI) December 16, 2018
#OIC General Secretariat expressed strong condemnation of the killing of innocent Kashmiris by #Indian forces in Indian-occupied #Kashmir (#IOK) where direct shooting at demonstrators in ​​Pulwama region claimed the lives of a number of innocent citizens: https://t.co/vHbpWj4Xby

— OIC (@OIC_OCI) December 16, 2018


Seeing this strong condemnation made a Kashmiri Muslim feel there is somebody out there who cares; a sense of belonging was felt along with empathy, but such forums also need to do something more now than issue strongly worded statements.

Forums like the OIC, which has a membership of 57 Muslim nations, of which 56 are also member states of the United Nations, has a responsibility to mobilise the international community on what is happening in IoK and play a stronger role in order to strive for the resolution of the Kashmir issue.

It is pertinent to say here that Kashmiris are fed up of concerns expressed through statements. The real depiction of concern would be to take some pain and highlight the crimes being perpetuated in IoK on international platforms, and then follow it with subsequent diplomatic measures in order to pressurise India to do away with its ignorance and arrogance viz a viz Kashmir.

A lot more needs to be done and the OIC has a greater role to play, for the pain running through the wounds of Kashmiris should be felt by at least 57 other countries, if not by the entire world.
Facebook Conversations
COMMENTS (2)
Comments are moderated and generally will be posted if they are on-topic and not abusive.
For more information, please see our Comments FAQ