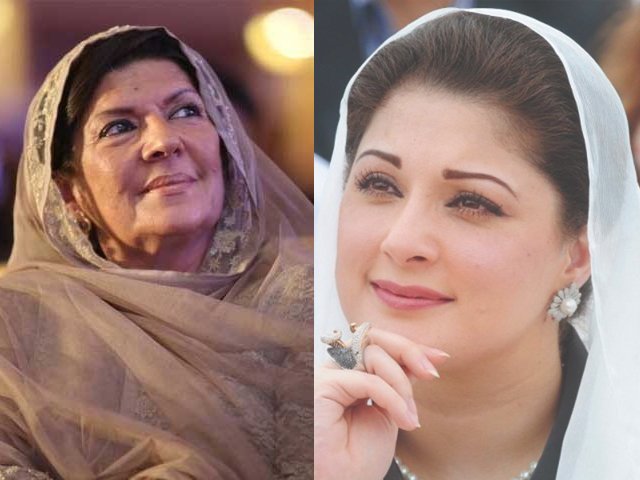 ---
Aleema Khanum walks away with a fine while Maryam Nawaz was sent to jail – double standards of justice?
If Khanum is allowed to walk, why are the rules different for everyone else? Why wasn't Maryam offered the same...
---
Prime Minister Imran Khan's sister Aleema Khanum has been fined for not disclosing her property in the UAE, with the Supreme Court (SC) ordering her to submit Rs29.4 million as a fine. However, she was not asked to disclose her source of income and neither was a joint investigation team (JIT) ordered to probe her source of income or for the authenticity of the money trail she presented in court. No reference of assets beyond known means was filed against her in the National Accountability Bureau (NAB) either.

On the other hand, on the same day, the SC ordered a JIT against former premier Nawaz Sharif for allegedly allotting an Auqaf land in the Pakpattan district back in 1986, when he was the chief minister of Punjab. Moving beyond Nawaz, Maryam Nawaz was also asked to prove her innocence in front of a JIT in connection to the Mayfair apartments. Similarly, Saad Rafique and Shehbaz Sharif are both facing prison sentences for 'misusing' their authority and for their alleged involvement in corrupt practices.

However, Khanum's case is an exception. She came to court, offered a simple explanation – saying she bought the property in Dubai with half of her own capital and half taken from a mortgage loan – and her justification was accepted without any inquiry being deemed necessary.

This begs the question: is there a double standard of justice and accountability prevalent in the country? After all, if a former prime minister, his brother, daughter and other party members can face inquiries pertaining to assets beyond their means that they failed to reveal, then we have to wonder why Khanum should not be subjected to the same process. After all, if she proves her innocence in front of a JIT, she can easily get a clean chit and would set the perfect example of how in Naya Pakistan accountability truly is across the board, and not just another drive meant to dent parties of the opposition.

Khanum had already confessed she did not disclose her property, a luxurious flat located in one of the most expensive areas adjacent to the Burj Khalifa, to the Federal Board of Revenue (FBR). FBR's own report described Khanum to be uncooperative and unresponsive to the notices issued against her. And yet she has been let go easy, with the fine being the only punishment she receives despite having undeclared assets. If Khanum is allowed to walk free, why are the rules different for everyone else in the game? Why was Maryam imprisoned for seven years instead of paying a fine?

Thus, the decision to only charge Khanum with a fine seriously dents the credibility of our institutions and only strengthens the narrative of the opposition and of critics who claim the accountability onslaught is meant to weaken other political parties.

There remains another angle at play in Khanum's case. Khanum is the sister of the same man who repeatedly talks about corruption being the plague ruining Pakistan and who promises to imprison all those who have looted the country and possess undisclosed assets in foreign countries, and this fact makes this a case of beautiful irony to say the least. We have already seen that Imran is not interested in any kind of neutral and impartial accountability; he is simply using the slogan of corruption to somehow distract his support base and critics from the dismal performance of his government.

Admittedly, Imran has not stopped talking about the moral high ground and ethics for the past five years, then why is he silent now? To date, Imran has not commented on the undisclosed property of his sister, but he continues to threaten to put behind bars everyone involved in a practice she has been found guilty of. Perhaps by accountability Imran only means holding accountable those who are his critics or his political opponents? For he has allowed Jahangir Tareen to run party affairs and the province of Punjab, despite Tareen being disqualified by the SC for the same reason Nawaz was. And then there is the fact that the likes of Aleem Khan and Zulfi Bukhari are still enjoying the portfolios of ministers, despite being under investigation by the NAB.

Why does he not prove critics wrong by asking courts to probe Khanum's case the way he did for the Sharifs, Asif Ali Zardari, and for the rest of the Pakistan Muslim League-Nawaz (PML-N)? Staying silent suggests he is only using the slogan of accountability to victimise his opponents. As far as accountability and corruption are concerned, we have been seeing this since the era of Ayub Khan, and to date no major political leader has been proven guilty of corruption in the court of law. Imran may talk the talk, but he has repeatedly made it clear with his behaviour that he is not interested in walking the talk. There is no other rational justification for why the law is treating individuals with the same cases with such vast double standards. Khanum's case is then a reminder that Pakistan is not yet ready to learn from the mistakes of the past, and political dissidence continues to be punished in this 'democracy'.

Martin Luther King once said,

"Justice denied anywhere diminishes justice everywhere".

In Pakistan, justice seems to be dispensed on the basis of personal likes and dislikes, which is why two people end up paying differently for the same crime. This is not a good indication for our future. The opposition has accused Khanum of building her assets through her brother's money and influence after her name came out in the Dubai leaks. A similar instance happened after the Panama Papers, where Nawaz was not nominated directly, but he was suspected of accumulating wealth under his children's name and was disqualified and imprisoned for not satisfying NAB with the proof he presented. According to the precedent set by the courts and NAB recently, Khanum too needs to be probed thoroughly by a JIT. If one can be ordered for people like Nawaz and Zardari, then why not for Khanum?

No individual or institution in Pakistan seems ready to hold themselves accountable, and yet everyone vows to hold dissidents and political rivals accountable. It seems as if we are moving in circles, as 'accountability' has become a buzzword to keep the masses hostage to the rotten and manipulative political and social order. The only way forward is the formation of a truth and reconciliation commission where each and every politician and institution should be held accountable; otherwise we'll never emerge out of this circle.

Accountability begins at home, and Imran conceding the chairmanship of the Public Accounts Committee to Shehbaz is a step in the right direction. But the decision on Khanum's case is another step back, and the government must take steps forward to prove that the prime minister's sister will not be spared for her crime either.
Facebook Conversations
COMMENTS (31)
Comments are moderated and generally will be posted if they are on-topic and not abusive.
For more information, please see our Comments FAQ