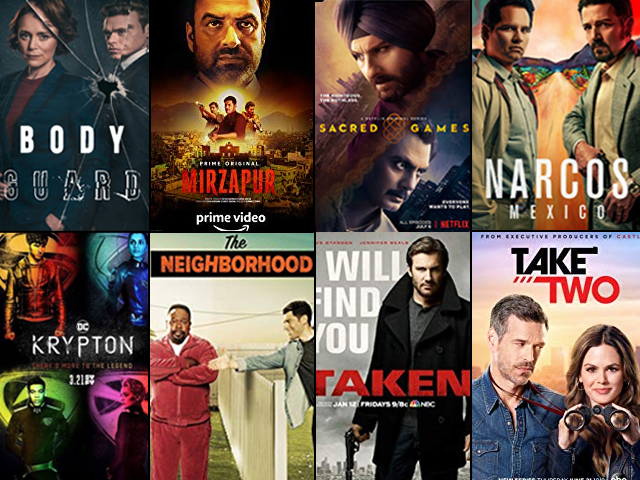 ---
To binge-watch or not to binge-watch – The highs and lows of TV in 2018
As the audience is bombarded with more content, some shows lived up to the hype while others felt flat.
---


There is no doubt that we are living in the golden age of television. With loads of new enticing televisions shows being produced every year and keeping us hooked throughout, there is no doubt that we are witnessing 'peak TV'.

Every year countless television networks and streaming services produce their own TV shows to attract as much audience as possible. The competition amongst them gets tougher by the second and we the audience, couldn't be happier as we are treated with more and more entertaining content with each passing day.

To mark the end of the year, below is a list of the five best and worst TV shows that aired in 2018.














5. Mirzapur


Amazon Prime's answer to Sacred Games proves to be quite an entertaining one for the audience. Mirzapur, revolves around Munna, an heir to a criminal empire, and Bablu and Guddu, the sons of a righteous lawyer, who cross paths and sink themselves in a game of power, greed and ambition. The violence, gore and unpredictability of the show all contribute to it being a fantastic watch. The show successfully draws inspiration from Anurag Kashyap's playbook and its talented cast ensures that the audience is blown away by the terrific performances.

4. Narcos: Mexico


Narcos: Mexico had a lot of expectations riding on it so as to fulfil the meteor-sized hole left by the exit of fan favourite characters. The new show introduces a completely new cast and carries its predecessor's formula while also making certain changes to it in order to make it stand out and the show surely did stand out once it premiered on Netflix. The top-notch setting and storytelling had viewers hooked from the very first episode. Diego Luna and Michael Pena hit the ball out of the park with their performances and certainly left us wanting more.

3. Sacred Games


Being Netflix's first ever original Indian series surely came with a lot of baggage and expectations from the viewers. Sacred Games had solid talent to offer with names such as Saif Ali Khan and Nawazuddin Siddiqui headlining the star cast. The show was an instant success and proved to be a breaking point in Indian television. Sacred Games' noir approach to storytelling and the mystery surrounding its characters was enough to place it on everyone's watch list. The show was renewed for a second season in no time and the wait is already killing us.

2. Money Heist


Money Heist aka La Casa De Papel is a Spanish TV series which was imported by Netflix. The show revolves around a carefully planned heist and the robbers who execute it. It is sufficient to say that Money Heist is one of most clever shows I have ever watched. The writers have come up with a plot that is not only intriguing but also nerve-wrecking. The show is full of suspense and will keep you on the edge of your seat throughout. The talented cast elevates the show further. Álvaro Morte as 'The Professor' is particularly a treat to watch. Money Heist is in its truest sense a show worth binge-watching.

1. Bodyguard


Another Netflix import, Bodyguard was a breakout hit when it premiered on BBC One. The show broke the record for ratings and was praised worldwide. The show traces the lives of a war veteran suffering from post-traumatic stress disorder (PTSD), who is now working as a bodyguard, and an ambitious Home Secretary, adamant on eradicating terrorism. The two cross paths when the bodyguard is tasked to protect the Home Secretary. What makes Bodyguard a hellishly entertaining watch is the dynamic between its lead characters and how they try to play each other while also caring for each other. The tense plot will leave you biting your nails and wondering what's next. The show is brilliantly written and acted which is why it has been nominated for 'Best Television Series – Drama' at the 2019 Golden Globe Awards. The show has also been renewed for a second season.




5. Taken


When you are trying to make a TV show based on a successful movie trilogy, especially one starring someone as charming as Liam Neeson, you better not screw it up. Unfortunately, Taken was unable to build upon the movie's success and proved to be a dud. The show failed to match up to its source's effective way of storytelling and also failed to distinguish itself from the movie series. Taken was cancelled in 2018 after just two seasons.

4. Magnum PI


Why would you even dare to remake a show which was already a classic and a huge success? Why even bother to take the risk of not being able to meet the high standard set by the original show? But I suppose all of us do stupid things at some point in our lives. Similarly, CBS decided to remake Magnum PI and created something which was similar to what the audience had already watched. The show is unable to stand out on its own and its action scenes alone can't save it from every other pitfall. It is enough to say that this was another remake that wasn't quite necessary, but the show does have room for improvement and I hope that it does improve.

3. The Neighbourhood


With a talented cast which includes Cedric Kyles (Cedric the Entertainer), Max Greenfield and Beth Behrs, The Neighbourhood was expected to be a sure shot hit for CBS but bad writing and lack of creativity turned this comedy into a one painful ride. The comedy about a white family moving into a predominantly black neighbourhood seemed like an interesting premise but the show is unable to build upon this unique premise. Although the network has ordered additional episodes of the show, it would be hard for this Neighborhood to stay populated if it keeps following its current formula.

2. Take Two


I watched Take Two because I had heard that it had been created by Andrew W Marlowe, the creator of Castle, which is one of my favourite shows. The plot of Take Two was quite similar to Castle, but unfortunately the lead cast came nowhere close to matching the charismatic presence of Nathan Fillion and Stana Katic. The plot was very derivative and the thrills were not thrilling enough. It felt like a B-grade production of Castle, which is why it wasn't a surprise when it was cancelled after just one season.

1. Krypton


There was a lot of excitement for Syfy's Krypton which was expected to introduce the audience to Superman's grandfather, Seg-El, as he struggles to save his home planet. But Krypton came and went with silence. Krypton can be described using a single word – boring. The show has a stretched plot that helps no one  and almost looks like a Superman spoof. Also, I don't think we needed to know about Superman's granddad. Krypton has been renewed by Syfy for a second season and Doomsday may be able to save it from destruction, but this seems highly unlikely.

The year 2018 saw some highs and lows of television and with 2019 only a few days away, I am sure the world of television has a lot more to offer its audience. Not only will some of our favourite shows be returning, we will also get to watch some fresh and unique content.

Cheers to 2019, hopefully another year where television will entice us.

Happy New Year!


Facebook Conversations
COMMENTS
Comments are moderated and generally will be posted if they are on-topic and not abusive.
For more information, please see our Comments FAQ