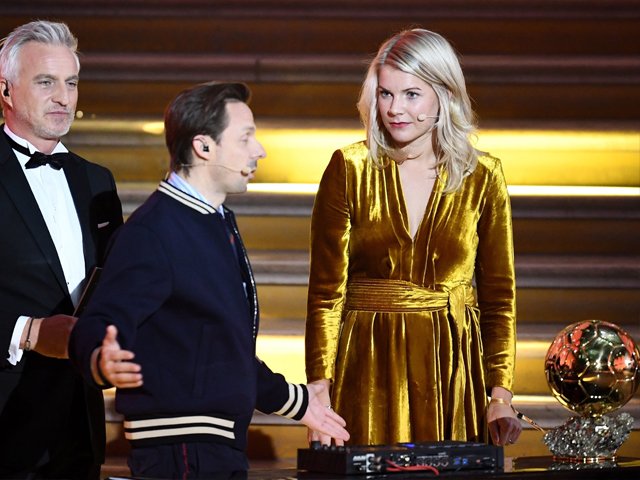 ---
In this sexist world, it doesn't matter if Ada Hegerberg won the Ballon d'Or – what matters is if she can twerk
In the last 63 years for which the award has existed none of the male football players have been asked such a question
---
Just in case someone still needed proof that sexism is still alive and well in sports, get a load of this. After winning an award declaring her the best female football player in the world, Ada Hegerberg was asked on stage, in front of millions, if she knew how to twerk. Let that sink in for a minute. 

A 23-year-old female footballer who has thus far scored almost 250 goals in her career and helped her club last season to the French League title and the UEFA Women's Champions League Trophy, was asked if she could twerk.

Hegerberg, who has achieved more than any of us probably will in our entire lives, gave a speech about the importance of women's football after winning the first ever Ballon d'Or for women, asking young girls to believe in themselves, and was then asked if she could twerk.




Hegerberg is already fighting a battle with the Football Federation of Norway and has refused to play for the country in the Women's FIFA World Cup because she perceives there is a general disregard for women's football in Norway. Already fighting this battle, when Hegerberg, after her tremendous achievements, was asked if she could twerk, it did nothing but solidify how female footballers' achievements are disregarded.

In all fairness, Hegerberg said she didn't think too much of it, while the DJ in question, Martin Solveig, apologised, saying he didn't mean to be sexist. Speaking to the media after the awards, Hegerberg said Solveig could have "asked me something different, like how I was feeling with the Ballon d'Or or a question about football," but stressed she "did not take it bad at all".



WHAT A NIGHT ⭐️ Photo: Ivar Waage Johansen pic.twitter.com/bDfbUuAYrI

— Ada S Hegerberg (@AdaStolsmo) December 4, 2018


But there's a bigger question in play, which is whether a male football player would have been asked the same question. Kylian Mbappe and Luka Modric, who took home the World's Best Young Player and Ballon d'Or for men respectively, weren't asked to twerk. At no point in the last 63 years for which the award has existed have any of the male football players been asked such an inappropriate question.




While Solveig indulged Mbappe in an awkward dance to Drake's God's Plan, Modric did not have to show off any dance moves at all.


Ok, but do we know if Modric can twerk or are they not asking that of every winner...? 🤔

— Diana Kristinne (@DianaKristinne) December 3, 2018


When the camera cut to Mbappe as Hegerberg was asked the question, he looked visibly uncomfortable. And the 'joke' didn't get as much laughter as, you know, an actual funny joke would at an awards ceremony. Tennis star Andy Murray was one of the many to take to social media to register his outrage.

"What questions did they ask Mbappe and Modric? I'd imagine something to do with football," he wrote on Instagram. "And to everyone who thinks I'm overreacting and it was just a joke... it wasn't. I've been involved in sport my whole life and the level of sexism is unreal."

Current and former members of the US Women's Football team also rebuked Solveig's comment.


This is an absolute joke. Unbelievable. She just won the first ever Ballon D'Or for women. @AdaStolsmo Congrats and you do not deserve this bs. https://t.co/f5LDlfsVM5

— Lindsey Horan (@LindseyHoran) December 3, 2018


Oh, and let's not forget, the third best male football player Antoine Griezmann in a post-ceremony interview congratulated Modric and "that girl from Lyon" for winning their respective Ballon d'Or. Imagine the disrespect if someone called Lionel Messi "that boy from Barcelona" after he had won his Ballon d'Or – can we not extend the same respect to female football players, especially from someone who is a player himself?


After the #BallondOr, Antoine Griezmann congratulated Luka Modrić... And 'that girl from Lyon'.

She is your colleague. She has just been crowned best player in the world. And her name is Ada Hegerberg. https://t.co/96eyuGjiBN

— Emma Coolen (@emmacoolen24) December 4, 2018


It's not enough that female football players earn significantly less than men (and if you say it's because viewership is less, I'll get to you in a minute), have lesser resources being funded into their programs, and rampant abuse in football federations, but if at some point a player like Hegerberg makes it to the big stage and her achievements are recognised, that moment too is marred by some DJ who asks her if she can twerk.

In 2015, many stadiums during the Women's World Cup had artificial turf, forcing female players to play on it. Playing on fake grass is dangerous and leads to rug burns and deters players from diving or sliding because they are afraid of getting hurt. These claims have been backed by male football players – professional men's football teams are rarely, if ever, asked to play on faux grass.


This is why soccer should be played on grass! pic.twitter.com/fsNGi27oRY

— Sydney Leroux Dwyer (@sydneyleroux) April 15, 2013


During the same tournament, when the US Women's National Team won the World Cup, they shattered TV ratings records and the final became the most watched football game in the US, ever. This led to the US Women's team campaigning for fairer pay and was a shut-up call for critics who say no one watches women's football in the US.

A recent story has also come to light where FIFA is now examining allegations that members of the Afghanistan's women's football team were sexually and physically abused by men in the country's football federation, including the president. These are the realities women in football have to contend with.

However, there are positives to take away too. One of football's most prestigious individual prizes finally decided to include a female footballer. Athletes, both male and female, came to Hegerberg's defence and spoke about the unreal amount of sexism in sports. And Hegerberg, every bit the classy player she is on the pitch, took the 'joke' in stride and used her moment in the spotlight to shed light on what an important moment this was for women's football, and asked girls to continue fighting and believing in themselves.

And for good measure, here's two minutes and 16 seconds of why Hegerberg is, rightly so, one of the best female footballers in the world.


We've been talkin too much about Martin Solveig, let's talk about why Ada Hegeberg is here. She is damn good at the football.

Spoiler alert: I'm working on a "Players to watch for the 2019 World Cup" piece and Ada Hegerberg is on it. Because you are going to want to watch her. pic.twitter.com/jpzaNY5dqW

— Aaron West (@oeste) December 3, 2018