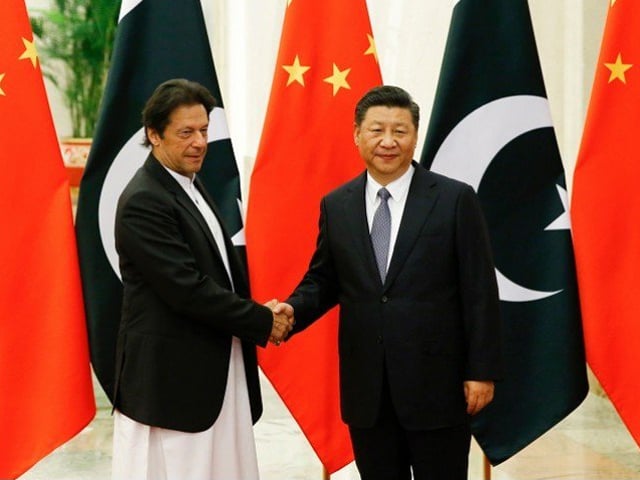 ---
No, the balance of payments crisis is not over – all because PTI did not do its homework on China
This is a clear message that China may not be as happy with us. An unrealistic hype was created regarding this visit.
---
Imran Khan's recent visit to China has now become the most discussed topic in drawing rooms, in the media and in the business world. This was touted as a monumental visit, given that this was the premier's first visit to China, Pakistan's most important friend and a significant player on the geopolitical front. With the current financial crisis in the background, the Pakistan Tehreek-e-Insaf (PTI) government was also looking to get an immediate loan from China for economic assistance. This visit would thus determine the relationship between Pakistan's new government and China, and set the tone for the next five years.

However, perhaps an unrealistic hype was created regarding this visit, and the nation was made to expect the premier to return with money, the way he had after his visit to Saudi Arabia. We were told to expect – once again – that we may not need to go to the International Monetary Fund (IMF) at all.

Anyone who is familiar with China's model of investing knows it is not easy to get loans from the state without strong paperwork and preparation beforehand; mere verbal talks would not suffice. It is easy to get loans from the IMF to a degree, even easier to get one from the Saudis, but in comparison China offers a steep climb. Historically, China has preferred to help Pakistan in the form of direct investment rather than handing us cash like the Saudis.

As our premier left the country to attend the Shanghai Expo as an honorary member and to meet Chinese leaders and dignitaries, Pakistan was slowly choked by fanatics belonging to the Tehreek-e-Labbaik Pakistan (TLP). Despite knowing the security situation and being aware of how the matter would escalate (this is not the first, or even the second time TLP stopped life in the country), the premier chose to leave for China with ministers such as Sheikh Rasheed in tow. At such a crucial time for the country, the nation needed its leadership to be present and take charge, as Imran promised to do in a fiery speech that bore no results. The government only offered a symbolic reaction, until it surrendered to the fanatics after three days of inaction.


Karachi to Gilgit Pak is burning & rulers least bothered. Instead they are travelling abroad or boasting of invisible "achievements"!

— Imran Khan (@ImranKhanPTI) April 4, 2012


Given how the visit was hyped as a saving grace, it would make sense to argue that Imran had to leave to bring in money. But the visit ultimately yielded no loans or relief packages that can count as a justification for the premier leaving the country in its darkest hour.

Instead, the government's hopes regarding the visit were unrealistic to begin with, and no homework was seemingly done on how to convince China to agree to offer immediate assistance. Resultantly, the joint statement issued by China and Pakistan made no mention of aid, only stated that while China would help Pakistan, more talks would be required in this regard.

Other than that, the agreement was diplomatic and reiterated China's stance of supporting and investing in Pakistan, also highlighting the China-Pakistan Economic Corridor (CPEC). The message was that CPEC projects will continue on as per the deal, and in fact would only expand in number. Not only is this a rollback on PTI's statements regarding reviewing CPEC projects, it also revealed that China remained unimpressed by the irresponsible statements given by the PTI government regarding CPEC. Perhaps this is the reason why our premier was received by the Chinese Minister for Transport when he reached Beijing. In diplomatic language, this is a clear message that China may not be as happy with us as we think.

It is highly unlikely the government expected China to offer immediate assistance, and yet once again the people were offered false hope regarding seeking a bailout. The country has seemingly never been as worried about the economy as it is now, and the government's failure to pacify concerns play a large role in this. Not only has this created a negative perception amongst foreign and domestic investors, it has also made a mockery of us in international media, particularly after PTV's humiliating typo labelling Beijing as "Begging" during Imran's address.

China has gained what it expected from the meeting by signing 15 MoUs of mutual cooperation with Pakistan and has let Pakistan save face by agreeing to more talks on economic aid. The question is, when will PTI realise that not everyone in the globe will be able to save it every time it messes up?

Now, Finance Minister Asad Umar has said the balance of payments crisis is over 'for now', as we have the $6 billion from Saudi Arabia and the rest will reportedly be provided by China, which can only be confirmed after further talks take place on November 9th. At the moment, not only has China not yet agreed to assist us, the sum has also not been agreed upon, and we cannot even be sure if the assistance will be like the package offered to us by the Saudis. The fact that further meetings are required between delegations of both states is a clear indication that our team was underprepared for the visit.

Until Saudi aid actually arrives, we cannot simply declare that the balance of payments crisis is over. Then there is the fact that if China is ready to offer immediate assistance and the crisis is over, then why are we hurrying to get a bailout from IMF as well? It appears as if Umar's statement has more to do with saving face after returning from China empty-handed.

Leaving Pakistan to go on a visit while the country was burning, followed by surrendering to extremists, and then the trip seemingly not being a necessity of the hour, all raise serious questions regarding Imran's vision and understanding when it comes to running the state. As the head of state, we expect more leadership from him, simply because our premier told us to expect better leadership. Instead, what we are seeing is an inability to prepare for economic and financial negotiations. The so-called economic wizards of PTI, whose only solution to avert the economic crisis is a witch hunt against political rivals to bring back the imaginary billions of dollars taken out of the country, clearly need to work harder when it comes to surviving in an actual political set-up.