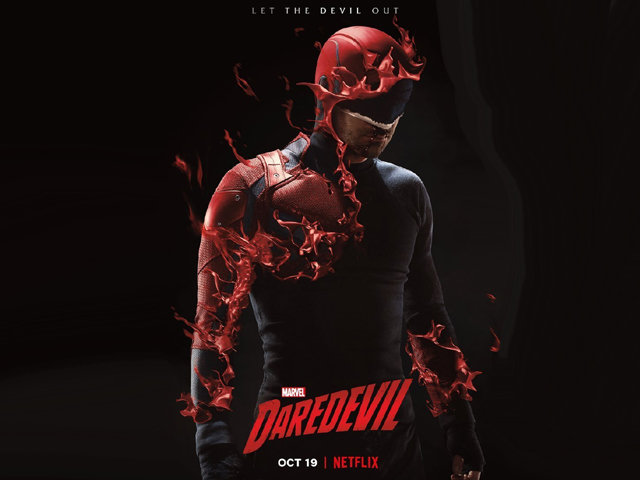 ---
Daredevil's season three goes back to basics and it's as good as it gets
Daredevil's s3 is definitely better than s2, mainly because of it being solely Daredevil's show and not someone...
---
The month of October was a crucial one for Netflix's mini Marvel Universe. The executives at Netflix decided to axe not one but two Marvel TV shows within a week's gap. Marvel's Iron Fist was the first one to get the boot and was soon followed by Marvel's Luke Cage. Reports have suggested that these two Defenders were shown the door because of a two-third drop in their viewership.

Amidst all this chaos in Netflix's Marvel Universe, their man without fear, aka Daredevil, rose to save the day. The third season of Marvel's Daredevil premiered on October 19th and it has been creating waves ever since.


It was over two years ago when we last saw the devil of Hell's Kitchen in his solo outing, invoking his own brand of vigilante justice in the city of New York. He did join the Defenders to take down the Hand in early 2017, but that limited series was average at best.

Based on the Born Again storyline of the comic books, the third season of Marvel's Daredevil stars Deborah Ann Woll (Karen Page), Elden Henson (Foggy Nelson), Stephen Rider (Blake Tower) and Vincent D'Onofrio, who plays the fan favourite villain, Wilson Fisk. Joanne Whalley (Maggie Grace), Jay Ali (Rahul 'Ray' Nadeem) and Wilson Bethel (Benjamin 'Dex' Poindexter) are new additions to the cast.




The latest edition of Daredevil returns to the formula of the first season and also marks the return of Wilson aka Kingpin. Kingpin was downgraded to being a side character in the second season which was quite a let-down, but this time around he's back and is more menacing than ever. The third season features Matt Murdock (Charlie Cox) who has lost all his faith and no longer dons his iconic devil suit as he believes that that devil suit no longer embodies what it used to.




His faith in the system further fades away when Fisk cuts a deal with the FBI and is freed from prison. The entire plot could be described as a cat and mouse chase between Fisk and Daredevil. Fisk knows the true identity of the devil of Hell's Kitchen and tries to get back at him by hurting his friends while Daredevil tries to find the true motive behind Fisk's cooperation with the FBI.




While Fisk is definitely a fearsome villain, the stakes have risen this season because of the introduction of Dex aka Bullseye. Dex is a FBI Special Agent with a troubled past and has superhuman aiming skills. He's quite the marksman and could throw anything with insane speed and accuracy, turning any object into a deadly weapon.

Fun fact: Dex throws approximately 30 different objects to take people down over the course of 13 episodes. Things get even more intense when Dex dons the devil's suit to wreak havoc in Hell's Kitchen.




The show has treated us with a new iconic villain in every season: Fisk in the first one, Elektra in the second one and Dex in the latest one. While Fisk might be a fan favourite, I think Dex will prove to be Daredevil's arch nemesis. Also, what differentiates Bullseye from Kingpin is the fact that in the comics, Kingpin was originally an adversary of Spider-Man and Bullseye was tailor made to play Daredevil's enemy, which makes him stand out.

Bethel portrays the troubled villain brilliantly. His performance will ensure that you feel bad for the guy and hate him at the same time. Cox as Murdock aka Daredevil is a natural. It was as if he was born to play the blind lawyer turned vigilante. It is hard to make a character your own when another actor (Ben Affleck) has already portrayed it and that too on the big screen, but Cox, through his energetic and gripping performance, has made sure that he is synonymous with Daredevil.

Another standout this season is Ali who portrays Agent Nadeem with an intensity that keeps your eyes glued to the screen whenever he's on it.




Daredevil's third season is definitely a notch better than its last season and it's mainly because of it being solely Daredevil's show and not someone else's. The second season had introduced us to The Punisher and Elektra which was quite entertaining but that did take Daredevil away from the limelight. This resulted in the second season being The Punisher's and Elektra's outing as much as it was Daredevil's, which was quite annoying to be honest. But that is not the case this time around.

Murdock and his alter ego are at the centre of attention this time and we also get further insight on Murdock's childhood. The antagonists this time around are a lot more lethal and fearsome which only increases the challenge for our protagonist. We even get to see Daredevil versus Daredevil fights. Confusing, right? You will have to watch the show for it all to make sense.




The action sequences are brilliantly executed and there are some memorable fight scenes this season. There is one particular 11-minute fight scene which has been shot in one take and it will blow your minds. In a time when the big screen is full of CGI fight sequences, Daredevil's carefully executed hand-to-hand fight scenes are a breath of fresh air.




The audience had to wait for over two years to finally get a chance to watch this epic new season in the Daredevil saga; I only hope that we don't have to wait so long for the next season because the third season ends on a very high note and promises an even more exciting fourth season. I hope Netflix shows us some mercy and starts production on the new season very soon.

All photos: IMDb