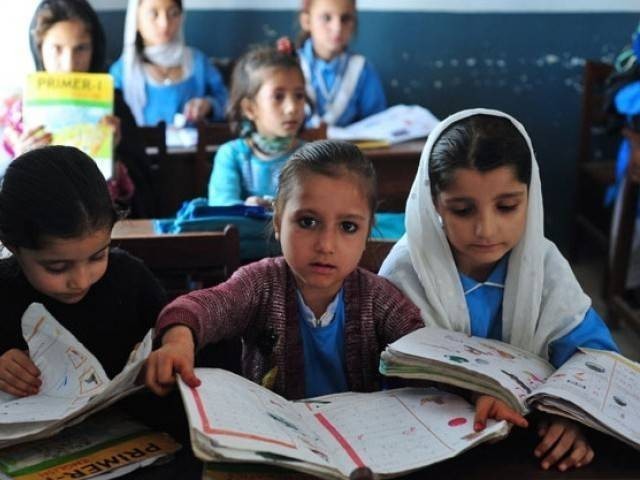 ---
K-P's decision to segregate all-girls' school isn't just regressive, it is unconstitutional
Do we really want young girls to learn that women can only be on the stage when the men are banned to enter the hall?
---
Khyber Pakhtunkhwa (K-P) Chief Minister Mahmood Khan has 'barred' entry of men, even male parliamentarians, on all-girls' school premises, even for school events. Moreover, his government has also banned any sort of media coverage of all-girls' school activities and events. So if a female student tops the board exams or invents a new device, she can devalue it herself. Makes the job easier.
No male minister, MNA, MPA or official will be allowed to enter in Girls School for any event as chief guest. All schools are bound to invite only female chief guests in KPK. #NayaPakistan #KPKUpdates pic.twitter.com/zmWCRN7KEG

— Syed Kausar Abbas (@SyedKausarAbbas) October 29, 2018


I have some problems with this new 'governmental' act, which I will break down as following.

Firstly, the problem is segregation. Segregation, in laymen terms, is a division, a barrier. A barrier, if installed as early as in the first 10 years of your life, will stay till your last breath. There will always be an intangible wall between you and the lush grass growing on the other side. Such state-backed reinforcements are a testament to the earlier implementation of the Frontier Crimes Regulation (FCR) by the dear Brits. It was designed in the name of protecting the cultural mores of the Pakhtuns, by ensuring a tightly knit tribal system under the control of the Pakhtun elderly men, but in reality it was just a scheme to reduce the area to a geographical buffer to keep out the Russians. I wonder who we are keeping out this time.

Secondly, the ban on sharing any sort of school-related information about and of girls' schools in K-P on social media makes absolutely no sense. Dare I say, it sounds, wait for it, unconstitutional. If access to the Internet and social media platforms are available in a said area, then their accessibility cannot be monitored or policed on the basis of gender. Article 19: Freedom of Speech, Article 19(A): Right to Information, Article 25: Equality of Citizens (stating "there shall be no discrimination on the basis of sex") and a personal favourite, Article 34: Full Participation of Women in National Life tell the same story. It is unconstitutional!

Thirdly, I would like to address all those who are trying to defend this law. In the name of adhering to the parents' wishes, the rights of the child are often ignored. Moreover, I honestly feel we need to add some nuance to this debate. It is not about being right or wrong, but about engaging with the most complex aspects of our social life. A segregation of this nature will create a barrier between young students and male parliamentarians, who we know are in a definite majority for most constituencies. Furthermore, adding female guests and parliamentarians into the picture only when the men are barred paints a very murky and yet realistic picture of our current ideas on fair political representation. Do we really want young girls to learn that women can only be on the stage when the men are banned to enter the hall? How much coverage and spotlight will their achievements receive when the honoured guests presenting them their accolades will be women who are not prominent figures?

Social media can be a dangerous tool, especially if manipulated as it is so commonly, but allowing young boys' achievements to be made public whilst stifling the achievements of girls reinforces the patriarchal norms which position women as the eternal 'other', the insignificant one. After such social conditioning, how man girls after graduation would want to do something or be someone? How is this not obvious?

After reading Martha Nussbaum and Jennifer Nedelsky's debate on liberalism and autonomy, what I have learnt is that autonomy does not mean to break free or be outside the system as the rebel, but to transform the relations where everyone can be autonomous in their dependence to others. Feminists and women's rights advocates are not asking anyone to march out of their homes and burn them to the ground but to see themselves as individuals who can express their autonomy within that space.

Education is the biggest tool to achieve that. But not education for the sake of education but education as a transformative process producing a new language, challenging hierarchies and substantiating a 'radical' vision to see and be seen as a human being, not shackled by his/her dependencies, but autonomous in his/her relationality. A time where we need gender equality programs to be made part of the curriculum, we cannot take 10 steps back and lock female students in a box. Looks like we have a lot of learning and unlearning to do.
Facebook Conversations
COMMENTS (2)
Comments are moderated and generally will be posted if they are on-topic and not abusive.
For more information, please see our Comments FAQ