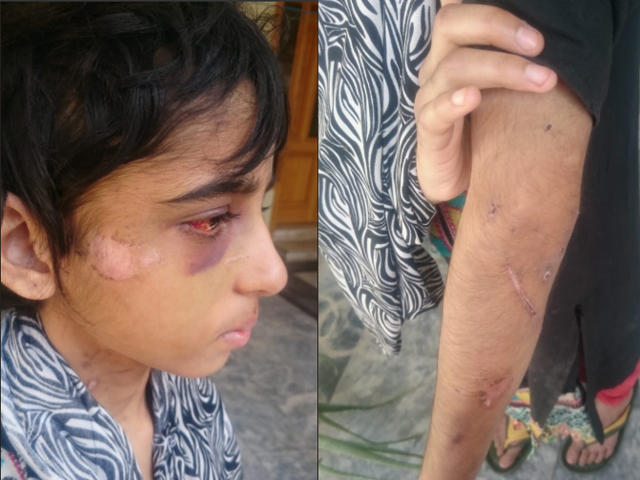 ---
The broken and tormented Kinzas and Tayyabas of Pakistan, waiting for a train that never comes
The torture can only be compared to the torment suffered by African slaves in the US in the 18th and 19th century.
---
If you live in Pakistan, you must have frequently come across a very young child accompanying an elite family, looking like they don't belong. What differentiates the child from the 'elite' family is the fact that while they dress modestly enough to not look poor and become a source of embarrassment for the family, they are also not dressed extravagantly, so there remains a marked difference highlighting who is the master and who is the servant. 

This has become a trend in Pakistan, where you see children accompanying adult individuals and carrying either their bags or their babies for them. Apparently, this shows their status symbol in society. Unfortunately, even though child labour is illegal here, many households in Pakistan still have children working for them openly, without consequences.

In Pakistan, children can be found working in brick kilns, the agriculture industry, in carpet-weaving factories and many other small-scale industries. Not only that, children are also hired to work hazardous jobs which can prove harmful, but the authorities have regularly turned a blind eye to this. In 2016, a statement issued by the Child Rights Movement (CRM) National Secretariat claimed that over 12.5 million children in Pakistan were involved in child labour.

It is also no secret that child labour is treated despicably in Pakistan. In 2016, we were made aware of the tortures faced by Tayyaba, a child maid working at a judge's house, at the hands of her employers. Although her torturers were finally punished, what good does the punishment do if we are not able to learn from it and protect other children from meeting the same fate as Tayyaba?

Now, in 2018, we have yet another victim, at least one that has surfaced, thanks to social media. This time it is 11-year-old Kinza who was reportedly working as a maid at the residence of government officer Ammara Riaz and her husband Dr Mohsin Riaz in Chakala, Rawalpindi. In a video, Kinza herself narrates the tortures she was put through by Ammara and her husband. The young one shows the bruises on her neck, arms, head and her face. Her blackened eye is testament to the kind of beating she suffered at the hands of her 'masters'.

https://twitter.com/Lanaschild_/status/1053551962954838016

The government officer and her husband used ropes and belts to beat the harmless young girl because she stole biscuits, as she would be locked in a room while the 'masters' were out and wasn't given any food and was obviously hungry. Kinza also says that 'Ammara Baji' stood on her chest and also used to kick her if she tried to sleep. While the wife used to do the kicking, the husband would beat Kinza with a belt. The blackened eye happens to be the result of the beating she got from a bat. The poor child tries to explain that her entire body is aching and that she even has trouble moving her shoulders.

The torture Pakistan's children are being put through can only be compared to the torment suffered by African slaves in the US in the early 18th and 19th century. The slaves used to be beaten, whipped, shackled, mutilated and starved, along with being forced to do hard labour. In Pakistan, small children are treated the same way. But while slavery was legal in the US at the time, the same cannot be said for Pakistan. Article 11 of the Constitution of Pakistan clearly indicates that slavery and forced labour are prohibited, while Article 35 states that the state is responsible for protecting a family which includes children. Has the government forgotten this? With every case that comes to light, it is quite clear the state has failed to protect its children.

Sadly, countless children have been brutalised in the past, and while the same is happening now, this will keep happening as long as strict measures aren't taken to ensure that our children are protected. Article 4 of the Constitution states that every citizen has an inalienable right to enjoy the protection of law, while Article 25 allows the state to make special provisions to protect women and children. If recent events are anything to go by, then no child is safe and we are in a dire need of some special provisions to protect our children.

Even though in this case the government took notice and booked the perpetrators, it was only the result of the media hype created by this case. What about those cases that never see the light of day? What about those families that continue to employ children to help them with their household chores? Are we going to wait for another case to attract attention on social media before we address the problem at hand?

The government can't possibly go case by case and expect the problem to be solved. Child labour is illegal, and like most laws in Pakistan, the absence of implementation is the problem. Until and unless we eradicate the issue from the grassroots level, we will see more Kinzas and Tayyabas suffering in silence, waiting for someone to take notice of their brutal misery.

Children across Pakistan, broken and tormented, are waiting for a divine intervention. Because at this point waiting for the government to come for their help is pointless. That is a long wait for a train that never comes.

Apparently, Kinza's father took her to the police station where a police officer did not register a first information report (FIR) because he feared the influence of the accused government officer. News are now emerging that the prime suspect has fled and gone into hiding while her husband has been granted interim bail. The Constitution clearly states that all citizens are equal, which makes it the government's duty to ensure Kinza's case is heard and that no rich or influential person gets away scot-free after committing such atrocities. As an elder brother to a sister as young as Kinza, I feel helpless and frustrated looking at the treatment of children in our country. I can only hope that Kinza will find justice and her torturers will be punished, irrespective of their influential status.

It is about time we understand the magnitude of this situation and take steps to eradicate child labour. But that won't happen if we continue being keyboard warriors instead of implementing this in our lives. Remember that change starts from within, and if you have a child working for you, then you are part of the problem. If you know someone who practices child labour, try to stop them, and if they do not listen, report them. Ultimately, our society needs to stand up for its children and alienate those who still treat children as slaves.