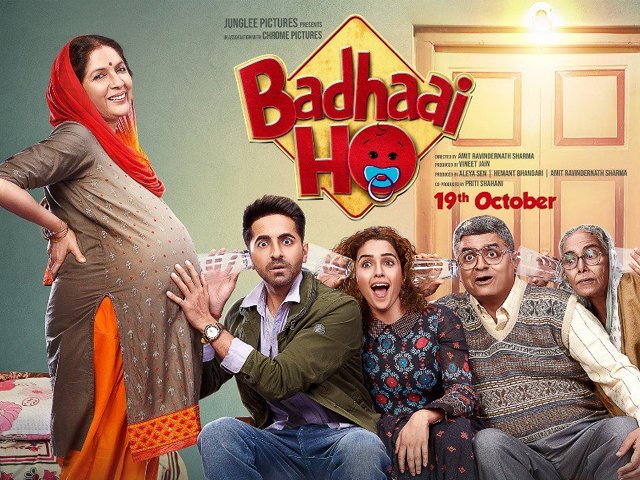 ---
Badhaai Ho: One of Bollywood's finest
The backbone of the movie is its crisp, to-the-point, believable and spontaneous script.
---
There are only a handful of stories that are uncommon and haven't seen the light of the day in Bollywood. One such unconventional story was written by Akshat Ghildial and directed by Amit Ravindernath Sharma, who dared to take on the project and turn it into the much awaited movie Badhaai Ho.


With his second major film as the director, Sharma opted for an unusual subject and paired it up with a talented cast that is appropriate for subject-oriented cinema. The movie stars Ayushmann Khurrana, who is already known for selecting unique films, veteran Neeta Gupta, Surekha Sikri and Gajraj Rao, all of them play their respective roles with utmost sincerity. With a stellar cast, a witty trailer and a script that is loaded with surprises, the expectations for Badhaai Ho were sky-high.




The plot revolves around the Kaushik family who live in Lodhi Colony in Delhi. Jeetender Kaushik (Rao) is a middle-class man and works as a ticket collector at the railway station. He lives with his wife, Priyamvada (Gupta), his sons, Nakul (Khurrana) and Gullar (Shardul Rana), and his mother (Sikri) in a small apartment. Their lives take an interesting and shocking turn when Priyamvada finds out she is pregnant again. Considering that the couple is well in their 50s and have two adult sons, they are worried about the shame this otherwise happy news might bring to the family. The awkwardness of delivering this good news to their family and relatives is what makes Badhaai Ho a treat to watch.




The backbone of the movie is its crisp, to-the-point, believable and spontaneous script. Dialogues are full of punch-lines that leave the viewers in fits of laughter. They also exhibit a sense of realism and the viewer is forced to empathise with the characters and root for them. While watching this movie, one would experience a range of emotions; you could be laughing one moment and crying the next because of an emotional scene.

Besides an applause-worthy script, Sharma's first-rate direction is also something to behold. It is very clear that he has come a long way since his last venture, Tevar.

Moreover, the music in the movie is decent enough to help the movie progress, however, there aren't any chartbusters as such.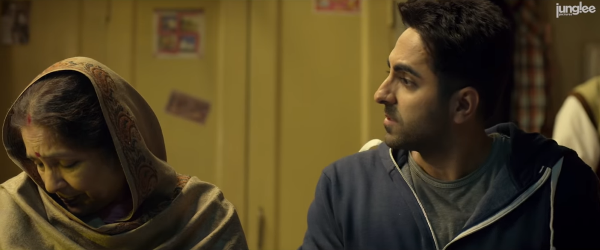 There are certain scenes in the movie that deserve a special shoutout because even after leaving the cinema, the audience holds onto them. Sikri has done a phenomenal job, her scenes with Rao, including the one where she finds out that her old-age daughter-in-law is pregnant, are hilarious to watch. The movie realistically portrays how mothers-in-law in desi households sometimes taunt their sons and daughters-in-law. However, it's not only the witty scenes she masters, there is also one scene in the movie where she stands up for her daughter-in-law and manages to move the audience to tears.




The movie also emphasises on the relationship between brothers. In one scene, Nakul goes to Gullar's school because some kids are bullying him. If anyone has a big brother who has stood up for them at some point in their life, then this scene will bring back fond memories. Furthermore, Nakul's outburst in front of his girlfriend's mother is superb and highlights Khurrana's acting prowess.




When talking about performances, there is no surprise that Khurrana is at the top of his game. After his stellar performance in Andhadhun, he has managed to slide in very easily into the role of Nakul. He is one of those actors who has immense potential and always manages to add a zing to whatever character he plays, regardless of how challenging the character is or how similar it is to his earlier performances. He is constantly learning as an actor and it shows in his movies, much of that is because right from his first movie, Vicky Donor, he has chosen roles that are unusual but have interesting scripts.




Gupta plays the role of a mother wonderfully. From what I can recall, this is one of the most memorable performances of her career. Rao is a treat to watch and handles his complex character with ease. A lot of the comedic scenes in the movie involve him donning a guilty expression which is adorable and at the same time hilarious. The rest of the cast has done a pretty decent job as well.




Badhaai Ho is not just a 'fun' movie; it also highlights the importance of family support in dire times. The film teaches us to respect and love your significant other and shows us how one should carry their relationships forward. Badhaai Ho is a family entertainer and will cater to everyone. This is one of those few movies that graces Bollywood occasionally and deserves all the praises. Even with its simplicity, the movie has managed to reach out to the audience with its powerful message: love has no age limit.

Everyone should go and see this movie with their family and it will surely prove to be money well-spent!



All photos: Screenshots