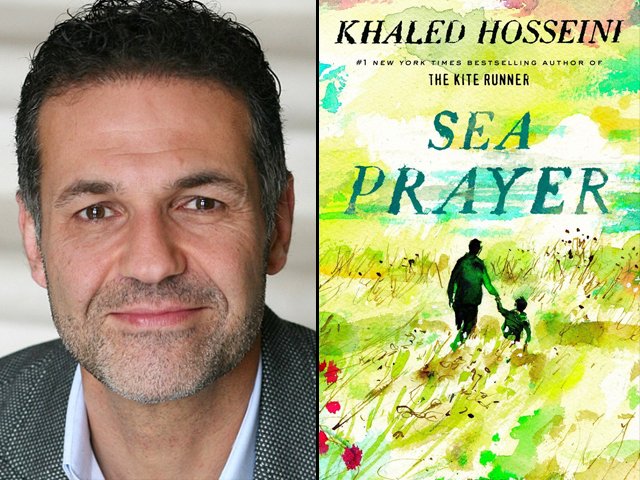 ---
Sea Prayer by Khaled Hosseini: A father's lament of the barbarity we call human beings
It will make your heart wail in silence as the deep ocean engulfs the bodies of refugees fleeing war and persecution.
---
"My dear Marwan, I look at your profile,

In the glow of this three-quarter moon, my boy,

Your eyelashes like calligraphy,

Closed in guileless sleep.

I said to you, 'Hold my hand.

Nothing bad will happen'."

These are a few verses from the context of Sea Prayer, the fourth book by Khaled Hosseini. Hosseini is a well-known author of three books, including the international bestseller The Kite Runner, and is the Goodwill Ambassador to the Office of the United Nations High Commissioner for Refugees (UNHCR).

Sea Prayer is a 40-page book, or rather, a free verse poem beautifully complemented by Dan Williams' illustrations. It can best be described as a small prayer to the sea by a helpless father on a moonlit beach, who is going to cross the Mediterranean with his child as soon as dawn arises but in less than ideal circumstances.

The story begins with the remembrance of the happy days spent by the father in Homs, Syria when the city was at peace, with its bustling and crowded lanes and streets. Of a time when the stirring of the olive trees and clanking of pots used to awaken him, and when this city of western Syria was not dismantled by bombs, starvation and death. The father wishes for his son to remember some of the more pleasant memories of Homs.

The story has been inspired by the three-year-old Syrian boy Aylan Kurdi, whose body washed up by the sea on the shore of Mediterranean Sea in 2015 as he fled the Syrian War. While talking in an interview, Hosseini became teary-eyed even as he remembered seeing the photograph of Kurdi.

"I was gutted," he says. "I tried to imagine, as a father, what it must be like to see viral photographs of your deceased three-year-old lying face down on the sand at the water's edge and being lifted into the arms of a stranger."

He also stated,

"I hope that this book Sea Prayer is a small tribute not only to his (Kurdi's) family, but also, on a broader level, I hope it highlights the unthinkable despair that thousands of other ordinary people face every day to abandon home and community and take a chance on this brutal and often lethal journey across the sea."

Hosseini thus pays tribute to Kurdi's family through his Sea Prayer, while portraying the tragic and wretched condition of millions of refugees all over the world with help of Williams' illustrations.

The beautiful memories of Homs are like a dream now, not only for the son but also for the father. Protests followed by the atmosphere of fear and beleaguerment, the black skies showering bombs and bullets instead of rain, and the sight of living bodies buried under devastated buildings is all that remains in their memories of Homs.

In Sea Prayer, Hosseini not only points out the way in which the war imposed by mighty powers upon Syria has destroyed the childhood of millions of innocent kids, but also highlights the emergency and the growing crisis of refugees being forced to leave their homes and approach smugglers in search of safe shelters which are in actuality not safe at all.

A heartrending letter from a father to his son provokes in us the thought of the thousands of refugees who risk their lives on the threshold of death every year just in search of shelter, while many of them simply perish at sea without leaving anything behind. Every night they sleep among the remains of human flesh burnt by explosive bombs, with their own bodies stained by blood, dreaming of a better future – a hope for a safe shelter, a desire for a home. Carrying their misfortunes, they are longing for acceptance and searching for a place where they are welcomed.

But no one cares. Not even the sea.

The sea is deep. It is vast. A large swarm of unwelcomed and unasked bodies of flesh are waiting impatiently at the cold beach for the sun to rise. The father sees his son, his only precious cargo, and tries to console his sleeping being with his words, while praying that the sea knows his worth. It kills him every time he thinks of the depth and vastness of the sea and the helplessness of his own self. At this instant, the mother's voice comes up:

"Oh but if they saw, my darling.

Even half of what you have.

If they only saw.

They would say kinder things, surely."

The book will make tears fall out of your eyes silently as the deep ocean engulfs the bodies of thousands of refugees fleeing war and persecution. Some pages are without any words, and here the illustrations speak more powerfully than words ever could. Quietly, they will make your heart wail in silence due to the barbarity of what we call human beings. Humans, the greatest creation ever to be created, that cannot even feel the pain of its fellow beings.

Every word, every illustration in this book will leave a deep mark on your heart. The demonstration of the transformation of a peaceful, crowded and bustling Homs into the city of death; no one could have written this better than Hosseini. No words could carve out such an impression on a heart other than his own. This book deserved to be written purely, with a heart that could feel the pain and emotions of thousands of homeless Syrians, Afghans, Somalis and Iraqis. Then who would be better than Hosseini to write it? After all, no one could feel the pain of a refugee better than a refugee himself. As he stated,

"If I was a father on a moonlit beach about to take one of these journeys, you can bet that I would... say one of these prayers too."

Sea Prayer is about questioning your own self: what would you have done if you had to abandon your home and cross a deep sea on a cold night? How would you have reacted if you had lost your loved ones in the same sea?

Imagine them dead. Imagine their fates being ended as a feast for the sea. Imagine the struggle of their last breaths before they were taken forever. Imagine them being washed up by the sea at the shore itself. How would you have felt? Imagine how a father would have felt to see his three-year-old like this?

Hosseini leaves the grave questions for the mighty powers of the world to ponder through his short work of fiction!