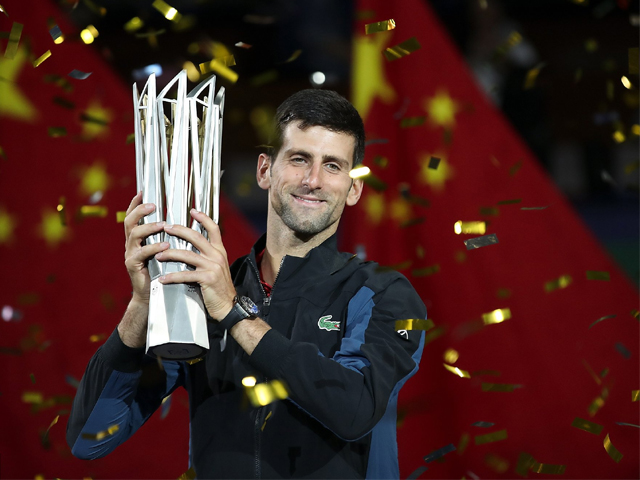 ---
Has Novak Djokovic become the greatest tennis player of all time?
At his best, Djokovic is simply unplayable. Now he's back at the helm of men's tennis. And he is perfect this...
---
Serbia's national animal is the wolf, with a commonly held myth that Serbs have evolved from wolves, not apes. It is also often said that it's impossible to tame a wolf. Following this logic, Serbs would exhibit attributes that characterise them as individuals who cannot be subdued. 

Novak Djokovic would then epitomise a typical Serb.

It was business as usual this past Sunday at the majestic Qizhong Forest Sports City Arena in Shanghai, where Djokovic cruised to win the Rolex Shanghai Masters 1000. A stunning performance by 'the Serbinator' has contributed to yet another accolade in a glittering career which has seen him amass over 70 titles.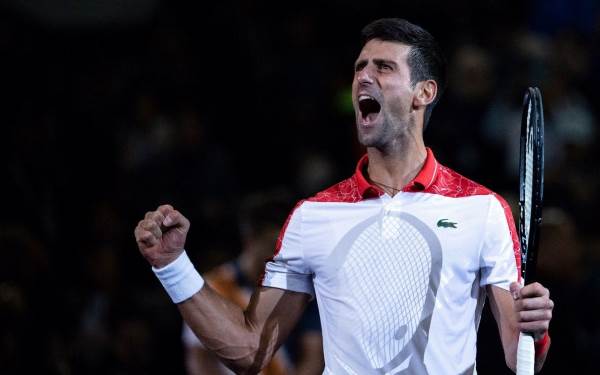 - Career Grand Slam? Check.

- Holding all four Grand Slams at the same time? Check.

- Winning all Master 1000s? Check.

- Ranked number one in the world? Check.

- Over a $100 million in prize money? Check.

- Conquering all surfaces? Check.

No other player in tennis history has achieved all of these in his or her career.

Sports is a platform open to opinions, and I believe the Serbinator has more than a reasonable claim to be regarded as the best tennis player of all time. The argument is simple: at his best, Djokovic is simply unplayable. Like a Serbian wolf, he cannot be suppressed.

Let's rewind to 2015. If there ever was a sporting year named after a player whose dominance virtually destroyed the rest of the pack, then 2015 will always be known as the year of Djokovic. He won 11 titles (including three Grand Slams), reached the final for all Grand Slams, broke the record for prize money in a year, and ended the year ranked number one by quite a margin. He was near-perfect.


Novak Djokovic in 2015: 🏆🏆🏆🏆🏆🏆🏆🏆🏆🏆🏆

Greatest ever season in tennis? Have your say... Poll: https://t.co/FDsOh1F0wc pic.twitter.com/qB3a2PEhIt

— Eurosport UK (@Eurosport_UK) November 24, 2015


Let's go even further, back to 2011, which will go down in history as yet another year for Djokovic. He won 10 tournaments (including three Grand Slams), had a 41-match winning streak, and was so dominant that even his great rival Rafael Nadal described his level of tennis as "the highest level of tennis" he had ever seen. He was near-perfect here as well.


So why bring up the past? Because we're witnessing the resurgence of the Serbinator's irresistible best.

Returning from an injury-blighted 2017, many were expecting an unmotivated Djokovic well past his peak; somebody who would struggle in a new era of tennis. Seeing Roger Federer and Nadal winning the big trophies, many wondered whether Djokovic would even get a sniff at another tournament win. But boy did he silence his critics and deliver when it mattered.


Djokovic: "I'm trying, as everyone else, to work on the game and work on things. Sometimes it works; sometimes it doesn't." #RG17 pic.twitter.com/hrBVCEGI8x

— Roland-Garros (@rolandgarros) June 7, 2017


He has now won four of his last five tournaments, and each has been won with a level of supremacy that has sharply reminded me of the 2011 and 2015 seasons. Djokovic is now just 215 points away from the coveted world number one ranking, and with this god-like form, you wouldn't want to bet against him winning the upcoming Paris Masters to cement his place at the top of the rankings yet again.

Between winning the US Open and Wimbledon, Djokovic also comprehensively defeated Federer to win the Cincinnati Masters tournament. This was a monumental achievement, as Djokovic became the first player in tennis history to win all nine Master 1000 tournaments. To put this Career Golden Masters achievement into perspective, Federer has yet to win at Monte Carlo and Rome, while Nadal, in spite of having the most Master 1000 trophies, still struggles to win in Miami and Paris.


So is Djokovic the best?

Having won a staggering 51 Grand Slams and 97 Master 1000s between them, Federer, Nadal and Djokovic are widely regarded to be the greatest players in tennis history. The trio have captured all four Grand Slams at various points within their careers; there is very little to separate them.

Djokovic, however, does have a valid case to become known as the best. He has spent 223 weeks as world number one, which is more than the 193 recorded by Nadal. Djokovic has also won up to an astonishing $119 million in prize money – the most in tennis history.

When it comes to the head to head figures, the statistics don't lie either. Djokovic currently leads Federer by 24-22 and Nadal by 27-25, which includes a career-defining win against Nadal at the French Open – a tournament where he is considered 'immortal'. Djokovic enjoys the best head to head record amongst the three, and is the only player to have defeated Federer and Nadal in all four Grand Slam events. He has consistently defeated them in all surfaces, and thus has proven himself to be king of all surfaces.




The importance of this win in Shanghai cannot be underestimated. Even though it was his fourth win there, the ease with which he obliterated his opponents on his way to glory (all in straight sets) has shown that he is, by quite a distance, the man to beat.

I remember watching the 2008 Wimbledon Men's singles final where Nadal and Federer served up the most thrilling duel in sporting history. I thought to myself then how no player could possibly even come close to the quality of tennis shown by those two warriors. However, fast forward 10 years and Djokovic is right up there alongside them. He rightfully deserves to be classified on par with likes of Nadal and Federer, if not better. And he will most certainly be remembered as a tennis legend.


On the face of it, Djokovic is still six Grand Slam wins behind Federer. It may seem like a lot, but he does have time on his side (Djokovic is six years younger than Federer). Keeping in mind the lack of challenge from the next generation – with the likes of Alexander Zverev, Dominic Thiem, and Nick Kyrgios – along with Nadal's consistent injury woes and Federer's poor form, if Djokovic maintains his current level of dominance, he will inevitably close the gap on Nadal and Federer. In spite of that, however, he should already be revered as the undisputed greatest of tennis' Golden Age.




He's back at the helm of men's tennis. And he is perfect this time.