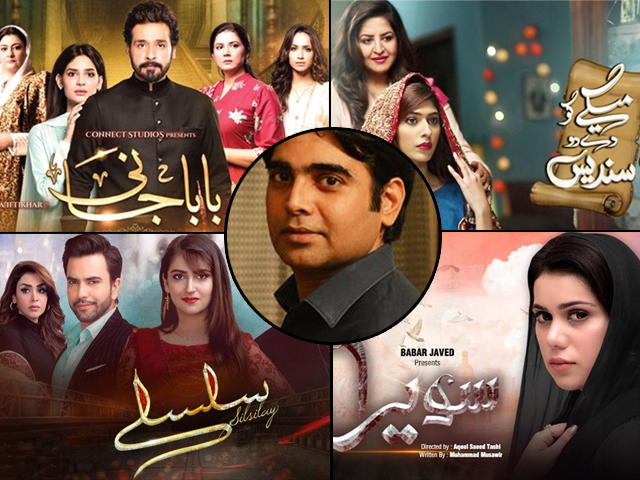 ---
In conversation with Faysal Manzoor Khan, the man behind Pakistan's dramas and its culture
Our dramas are female-oriented; it is just that the stories are regressive.
---
Unsung heroes often work behind the camera, working relentlessly to ensure everything is on point. It starts with a paper and pen and ends with a compilation, a script. It is about time I shine the spotlight on Faysal Manzoor Khan, a talented Pakistani producer and content creator responsible for the entertainment we regularly witness on screen.

He has made a mark nationally with many successful and acclaimed dramas that Pakistanis hold dear to this day. As Faysal unveils his personal side, he speaks to me about his past achievements and future projects.

Tell me about yourself!

I was born on January 1, 1977 in Karachi. I completed my early schooling from the big city in 1996 and my family shifted to Peshawar a few months later. I did my A levels from ILM Peshawar and then moved back to Karachi. The year 2003 was a milestone for me as I enrolled in Karachi University's Mass Communication department and started working for Eveready Pictures.

I have always been an artist. I learnt the art of dancing at the age of four, despite belonging to a conservative Pashtun and Baloch family. There was a lot of opposition in my family regarding this. My grandfather was furious, but my mother took a stand and said,

"My kids will do what they aspire to do."

Since then, things changed. I never opted for dancing as a profession because of the stigma attached to it. Today I am happy, as it was all a part of the bigger picture.

Walk me through your professional life.

I love my professional life to the point that it is who I am. I have been able to create stories and characters in Dil Apna Preet Parai, Maike ko Dedo Sandes, Dil Ishq, Zamani Manzil kay Maskharay, Mol, Bholi Bano, Hina ki Khusboo, Sawera, Kiran, Roshni and Maikey ki Yaad na Aaye. I did a project for Seventh Sky as the head of project titled Aurat ka Ghar Kaunsa that won four PTV Awards.

I will say, Allah has been very kind!

Which of the more popular dramas have you produced, created or written in the past? And why were they successful?

I have done more than 100 television dramas and a couple of feature films. Some of my plays were very successful, such as Silsilay – the second highest rated drama ever with a 10.9 TRP, Bholi Bano, Saaya, Mol, Sehra Main Safar, Dil Ishq, Baba Jaani, Koonj, Aurat ka Ghar Konsa and Kahe ko Biyahee Bides. I created most characters and stories. Therefore, I had absolute command over content, which resulted in the success of most dramas. 

What are your core duties as a content creator?

Everything falls under the umbrella of content, including production and casting. The look and true feel of an honest depiction comes through content creation, and I take an active part in all these areas.

What do you want your contemporaries to understand about content making?

It is not an easy job being a content creator. One has to be devoted and dedicated to the profession, and should understand the social structures that surround us.

What are your thoughts on today's drama serials?

Some of them are good, but as of late, I have seen many dramas on child abuse and rape that are intended to generate TRPs in the long run and not improve our society. In storytelling, self-regulation and social responsibility are crucial but unfortunately, many people are not familiar with these terms.

As a growing fashion and media industry, we set forth the notion that women deserve better roles. Yet they are portrayed as mainstream victims, not mainstream heroines. Why do you think that is?

Our dramas are female-oriented; it is just that the stories are regressive. I have done a few plays in which the female protagonist is portrayed as powerful; Mol, Sehra Main Safar and Kahe ko Biyahee Bides for instance. I hope I can tell stories about powerful women in the future. 

How is our film industry different from our drama industry?

In my case, television is very important. My favourite filmmakers, Krzysztof Kieslowski and Hirokazu Koreeda started from television and ventured to films. In Hollywood, many film actors and directors are working in television. In Pakistan, however, some actors and directors have withdrawn from television, as if it is some kind of a downtrodden medium. I think every medium is of equal importance and has some purpose i.e. to send across messages to reach wider audiences. 

Where do you see Pakistan's industry heading in the near future?

It will evolve further!

What are you doing now?

I am working as the head of drama at Babar Javed Films and we will be producing quality dramas and films soon. Prior to this, I was the head of content at a top tier entertainment channel in Pakistan for four-and-a-half years, and worked on almost 50 projects with a success ratio of 90%.

What are your new projects?

I can't name them, but I can share the themes with you: social family dramas, horror, romance and spirituality. 

Have you accomplished everything you ever wanted, or is there room for further exploration?

No, I have not. The day I think I have accomplished everything I ever wanted would probably be the last day of my growth. My dream is to tell stories from my perspective and win the Palme d'Or at Cannes one day.

Who encourages you to never give up and lose hope?

My Almighty Allah.

Complete the sentence: 'I dislike...'

Lies and hypocrisy.

Who has been your source of strength in the darkest hour of your life?

My mother.


---


I will conclude with a quote,

"The ways of the mind are ancient but your Self is timeless."

As hardworking as he is, Faysal is one prolific star of our industry. You don't have to be a celebrity to earn such a title; it is for anyone who devotes time and effort to a profession and embodies timelessness. Given what he has already accomplished thus far in his career and how he has contributed to television and to our culture, it is a no-brainer that we can expect great things from him in the future as well.