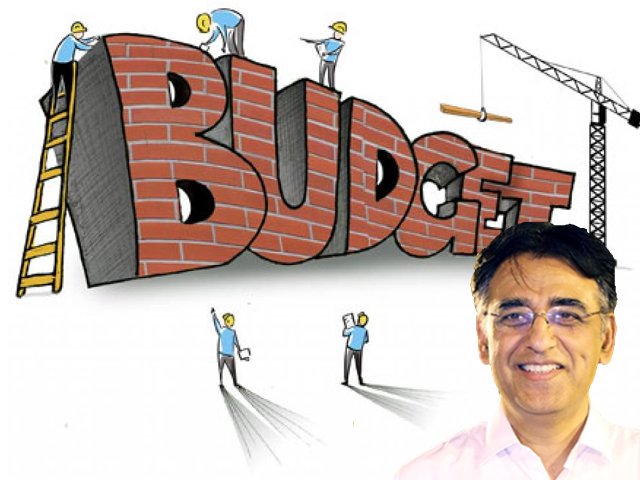 ---
Can PTI's mini-budget get the economy out of the ICU and into the 'recovery room'?
Critics can be shushed, the mini-budget is out and looks like PTI may have delivered what it promised.
---
Pakistanis love to bash politics and politicians whenever they face any problem. Slogan after slogan, martyrdom, militarism and affluent status quo is what three generations of Pakistanis have seen. So when Imran Khan's Pakistan Tehreek-e-Insaf (PTI) claimed to make policies focusing on "uplifting the lower middle class", even the PTI voters were somewhat sceptical. Alas, critics can be shushed, the mini-budget is out and looks like PTI may have delivered what it promised.

Before the official mini-budget announcement, many people were criticising the government for its decision to raise gas prices and income taxes, however, they did not see a very positive economic twist coming their way. The decision to increase gas prices had minimum impact on the lower middle class as promised, and to everybody's surprise, including the author's, Asad Umar's decision to not increase the income tax rate for people earning up to Rs200,000 a month shows that the party means business and has done its homework and deliberations. For 60% or say even 75% of the population, who are below the age of 30 and definitely earn less than Rs200,000, this is a good beginning.

Our economic situation started looking murkier and out-of-shape when the Panama scandal roped in the former Pakistan Muslim League-Nawaz (PML -N)'s leadership, after which the economy's chauffeurs seemed distracted. Little did they know that they too, just like all of us, are dispensable. Perhaps it was actually too much to ask of the PML-N to sweep across the board of accountability and not just merely focus on re-election campaigns. Instead of focusing on short-term policies to strengthen their position for upcoming elections, they should have focused on long-term goals that would actually be beneficial for Pakistan's economy.

Perhaps early harvest or rushed electricity/gas terms should have been analysed more by hiring a few business graduates who would calculate Net Present Values (NPV). Lack of serious policy-making and constantly calling for an International Monetary Fund (IMF) bail-out has been their course of action for more than a year, which has left the stock market, industrialists and economists puzzled over the belated policy action. Umar has definitely perfected his corporate-honed speeches to the board of directors and presented a mini-budget that will hopefully get the economy out of the Intensive Care Unit (ICU) and into the 'recovery room'.

The budget focused on a stop-gap arrangement until the 'structural reforms' are drawn, debated, enacted and eventually, fine-tuned. It is very apparent that Umar is keeping the vote bank strong, and why wouldn't he? The country with the sixth largest population in the world, that prides itself of nuclear arsenal, that same country perhaps has the world's lowest (by comparable standard) export to GDP ratio, ranking in Human Development Index (HDI) and GDP per capita, which is shameful to say the least. GDP per capita is the key focus of economic strength and it is clear where we lie. Policies needed to be designed to train and 'monetise' the untapped youth before the automation and robotics make them a perennial burden on 'sehat cards' introduced across other provinces.

But focusing on the recent mini-budget, let's look at what the common man has to gain from this.

Firstly, people in Punjab are to receive universal health insurance worth Rs540,000 per annum. Many people who aren't able to afford medical facilities at private hospitals sell their gold/farm produce and majority borrow loans. Hence, now people in Punjab will be able to get their treatment up to the stated amount on government's expenses, which will take quite a load off them.

Secondly, 85% of pensioners are falling in the minimum pension's category and according to the new policy in place, they would get another 10% bump. Frail and unemployed pensioners would definitely be happy to receive 10% more pension income to pay for their rent, food, medicines and basic necessities.

Thirdly, contrary to PML-N's and critics' hopes and expectations, the income tax rate for people earning upto Rs 200,000 per month has not been changed. So people earning less than this amount can find peace knowing that more money is going into their pockets this fiscal year.

Fourthly, value-adding imports (necessary sub-components/raw-materials) for export industries would see their import duties revised downwards with a Rs5 billion impact. To produce exportable goods, various items are imported. Reducing import duties on them decreases the cost of production and keeps the final product globally competitive.

How exactly will all of this be financed?

For starters, non-filers can now also buy properties and vehicles, albeit at higher taxes. Previously, the government passed laws that did not allow non-filers to purchase vehicles and properties worth Rs5 million or above. This has been reversed and is a much-needed relief for the property and auto industry. Non-filers still need to pay much higher taxes than the filers.

Secondly, federal excise duties on tobacco are to go up. The arguments of negative health impact of cigarettes are well-founded and justified. Society bears a huge cost due to cigarette-related diseases. Government's move to increase taxes should hopefully reduce cigarette consumption and provide extra tax revenue.

Moreover, import duties to increase on luxury cars with an engine size of more than 1800cc. Luxury cars would now be subject to more duties to encourage people to file returns or otherwise pay higher taxes. Import duties on expensive mobile phones, cheese and so on, will also increase. Those of us who want to buy luxury phones and dairy products would now find them even more expensive. But of course this is good news for the lower/middle class since they probably don't buy Iphones or Samsung Notes.

Lastly, banking transaction, other than cash withdrawal, would be charged 0.6% for non-filers. So if you are a non-filer doing a banking transaction, be prepared to handover 0.6% of the value to the government.

Look at it as Robin Hood, who took from the rich to give to the poor.

What sort of development measures would be prioritised?

1. Given the strategic partnership with China, China-Pakistan Economic Corridor (CPEC) projects would not be affected.

2. Construction of Dams (Daimer-Bhasha and Mohmand) would continue. It is good that there was no mention of the Kalabagh Dam, otherwise the Pakistan Peoples Party (PPP) would have created a ruckus. PTI is probably playing it safe for now.

3. Total Public Sector Development Projects (PSDP) to increase 10% from last year's allocation. However, the 'financial engineering' would imply that Rs50 billion allotted for Karachi and Rs100 billion for National Highway Projects would be 'off-balance sheet' items. For readers, it means that they will not be a part of the fiscal deficit and will perhaps fall in a public-private partnership model.

Before we hear more news on the entry of a third country in CPEC (as Imran jets to arguably the world's most ambitious leader, KSA's Muhammad bin Salman) and government further interacts with IMF authorities to prop-up our almost non-existent foreign currency reserves (adjusted for untouchable swaps), the stage is being set. While the car has not begun its journey of much-needed structural reforms to clamp down on corruption, tax evasion and bureaucratic improvement, the steering wheel is being tilted in the right direction. Two consecutive U-turns but the car is back in the same upward direction.

With the benefits being offered to exporters, it would be a shame if the industry is not able to go from contributing a 7% to the GDP to hopefully 10-12% by 2023. We hope that policy continuity would ensure long-term planning for growth generators. For masses, PTI's policies are somewhat closer to the promises made by them, including increasing lifestyle of lower middle class, farmer-supportive policies and export-reviving measures.

Imran's latest fund-raising for dams – which most definitely would be completed after his term expires – along with deliberations over awarding nationalities to disenfranchised Bengali and Afghani minorities might get him in the good books of voters. This may only be a single drop in the ocean of his dream of a Scandinavian-cum-Singaporean style of governance but it is a way forward. After the unfortunate Atif Mian episode, this mini-budget is a breath of fresh air and a very good start for the present government.
Facebook Conversations
COMMENTS (5)
Comments are moderated and generally will be posted if they are on-topic and not abusive.
For more information, please see our Comments FAQ