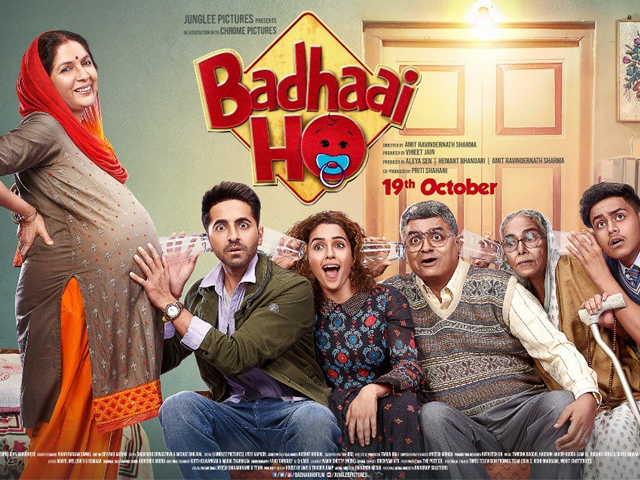 ---
Young at heart: Badhaai Ho hilariously tackles old-age pregnancy and intimacy
The rib-tickling movie focuses on issues rarely discussed: the sex lives of couples with grown-up children.
---
The trailer of the much awaited Ayushmann Khurrana and Sanya Malhotra starrer, Badhaai Ho, is finally out and surprisingly, it is not what you would have thought. Badhaai Ho, which is basically a Hindi expression to congratulate someone, is not an ordinary movie. I was taken aback by the audacity of the filmmakers who came up with such a novel concept and that too in the world of Bollywood.

First off, I would like to establish that this is by far the most hilarious trailer I have watched this year. The trailer begins with Nakul's (Khurrana) father (Gajraj Rao) hesitantly breaking the news of his wife's (Neena Gupta) accidental pregnancy to his two sons. Rao's nervous and apologetic glances will make most audiences giggle. It is hard for Nakul, being the eldest son and of marriageable age, to digest the fact that his parents are sexually active at this age.




In the next clip of the trailer, Nakul seems to be sharing this news with his girlfriend, played by Sanya Malhotra. She shares the news with her mother (Sheeba Chadda) who asks her how, to which she replies,

"I think jese hota hai wese."

(I think the way it happens naturally)


Though it's a simple line but the expression and timing were outstanding and it's hard not to smile.

The trailer also shows neighbours jeering at Rao for doing this 'mishap' at the age of 50. Moreover, Nakul's grandmother and Rao's mother, played by Surekha Sikri, screams at Rao for his irresponsibility. But Rao loves his wife and takes care of her despite the resentment from his mother, sons and society.




From Vicky Donor and Dum Laga Ke Haisha to Shubh Mangal Saavdhan, Khurrana is well known for his unconventional roles. In this movie, from the first clip of the trailer where he depicts a rude, shocked son who discovers that his mother is pregnant, Khurrana has performed exceptionally well. The Dangal famed Malhotra is a refreshing addition to the movie and the chemistry between the protagonists is brilliant and (as clichéd as it sounds) cute.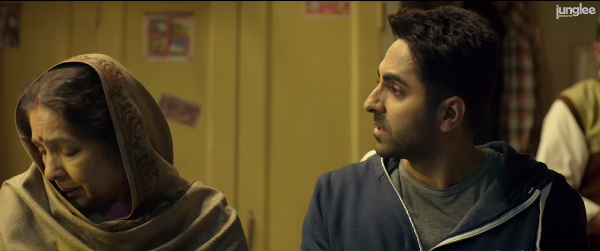 Directed by Amit Ravindernath Sharma, who made Tevar, which was a complete disaster, this movie is nothing like his previous venture. The movie portrays an Indian middle-class family swirled in confusion and embarrassment due to an ageing couple accidentally conceiving a baby.




Interestingly, the movie focuses on issues rarely discussed; the sex lives of couples with grown-up children and the discomfort that families have in accepting their parents being pregnant. Taboo topics including sex education, female and child molestation, periods and old-age pregnancy are usually swept under the rug and people avoid talking or discussing about these social issues. Discussing the love and sex lives of old people is completely out of the question and has led to the stereotype that the lives of the elderly are devoid of sex. This stereotype is harmful because it can cause older people to have conflicted feelings or unnecessary guilt about their sexuality. Research has found that sexual activity and enjoyment do not decrease with age. People with physical health, a sense of well-being and a willing partner are more likely to continue sexual relations.




When you are old in this part of the world, families and in some cases children set boundaries for the ageing individuals about what to wear and how to behave in the society. If an old person wears bright colours, people taunt them by saying 'buddhi ghori lal lagam' (a heavily decorated old mare). This is usually associated with ageing females who are expected to dress according to their age.

Similarly, there are stereotypes associated with old people that they are not fun. Contrary to the myth that ageing is depressing, many studies find that old-age is the happiest age group. Other stereotypes about older people include that they are unable to adapt to new situations. Recent research reveals that aged individuals are not only able to adapt to new situations, they are actually experts at adapting.

The movie seems to touch upon a sensitive subject in a light-hearted way. However, only time will tell whether this movie is successful in breaking the barriers or not. But at least, it has stirred the discussion about old-age pregnancy and romantic relations between older couples, which I think is a positive step.




The movie is produced by Vineet Jain and written by Shantanu Srivastava, Akshat Ghildial and Jyoti Kapoor.

The fun-filled, rib-tickling movie is slated to release on October 19, 2018.

All photos: Screenshots