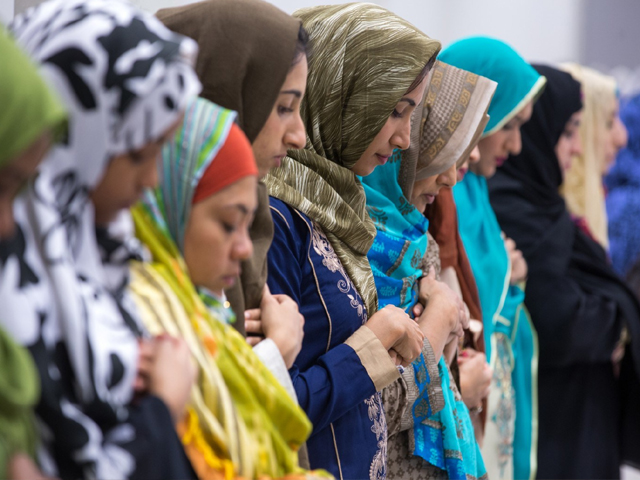 ---
If you think Eidul Azha in the US lacks spirit and tradition, you couldn't be more wrong
Most argue that the way Eid is celebrated in Muslim countries is the only correct way to celebrate it.
---
Born and raised in Pakistan, one can only imagine Eidul Azha being celebrated one way, with the sacrifice of an animal in the front or backyard, right? But there are other wonderful ways to celebrate it, ways that an immigrant is familiar with, understands and appreciates all too well.

I have lived in the US for over 20 years, hence I am only speaking from my experience. I have come to appreciate the festive and philosophic spirit of Bakra Eid in ways that are essential, which are maybe less obvious to some, but certainly very pertinent to the spirit of Islam.

Migration is integral to survival. If we as humans decided to live and die in the place where we were born, the world would be a very different place, hence we migrate for survival, a better life, better prospects among other things, and once we migrate, our traditions, customs, faith and way of life migrate with us. We tweak them to adjust into our new home, surroundings and adapt accordingly, but through it all, we maintain the spirit of things as best as we can.

Eidul Azha celebration for Muslims living in the West may be different from how it's celebrated in Pakistan and other Muslim countries but it does not lack in spirit. Most would argue that the way it is celebrated in Muslim countries is the only correct way to celebrate it; however, I and many others like me feel differently.

Islam is big on intention, and when an individual's, family's or community's circumstances do not allow for convention to be followed, and following the law of the land takes precedence, it is then that the ever noble truth of intention and its honest understanding, application and acceptance must hold supreme.

This is exactly what Muslims in the West do. We embrace our faith, and follow it as best we can in the circumstances presented to us, knowing and accepting that Allah knows best, and the sacrifice we offer to Him may not exactly follow the pattern of Hazrat Ibrahim's (AS) sacrifice, but it comes with the purest of intent and celebratory spirit.

There are numerous ways Muslim immigrants offer the slaughter of an animal at the time of Eidul Azha:

1. There are Islamic foundations that charge a fixed amount to sacrifice an animal (goat, cow, camel), and donate the meat to impoverished, and famine ridden societies.

2. There are farms where some go (very few), and sacrifice animals. The said authorities allow for it, and have provisions and licenses for the practice to take place.

3. Then there are many who request the local halal grocer to sacrifice a goat. They pay a fixed amount to purchase the entire goat and after it is sacrificed, they bring the packaged and portioned meat home to distribute amongst family, friends and the needy.

4. Many also ask their extended families to sacrifice an animal in Pakistan, and send money to cover the expenses.

5. And then there are many who choose not to sacrifice an animal at all.

Once, either of the above five is embraced by us, there is immense and intense spirit of celebration that follows.

The morning of Eid, the entire family goes to perform Eid prayers at the local mosque, unlike in many Muslim countries where only the men go. This is a wonderful new tradition and most Pakistani diaspora embrace it with utmost fervour. We meet friends at the mosque, say our prayers together, exchange Eid greetings, usually embark on a fun photo session outside the mosque, create wonderful memories amongst laughter and festivities, and usually head out for brunch to a friend's home. Amidst all the laughter, Eid greetings, FaceTime, live Facebook updates, Whatsapp, text messages, messenger greetings and phone calls are exchanged with family far and wide.

The brunch fanfare is a meat feast, as is the dinner that night. Grand dinners, small dinners, family and friends potluck, elaborate or humble, it's all prepared and shared with togetherness. And through all the celebration, there is a spirit of understanding as to what the message of sacrifice and Hajj is about. That message is explained to the second-generation immigrants so they may carry forward the tradition of Eidul Azha, and we as the current bearers of tradition take great pride in our responsibility of passing the baton to our children.

I have celebrated many Eids in the West, yes they are different, but different does not necessarily mean lacking in spirit or continuation of tradition, it means alternate ways of celebrating. Hence, even though we are far away from our first home, we celebrate Eid to the fullest in our new home.

Allah knows best, may he accept our sacrifice and yours too!

Eid Mubarak for all of us to all of you!
Facebook Conversations
COMMENTS (3)
Comments are moderated and generally will be posted if they are on-topic and not abusive.
For more information, please see our Comments FAQ