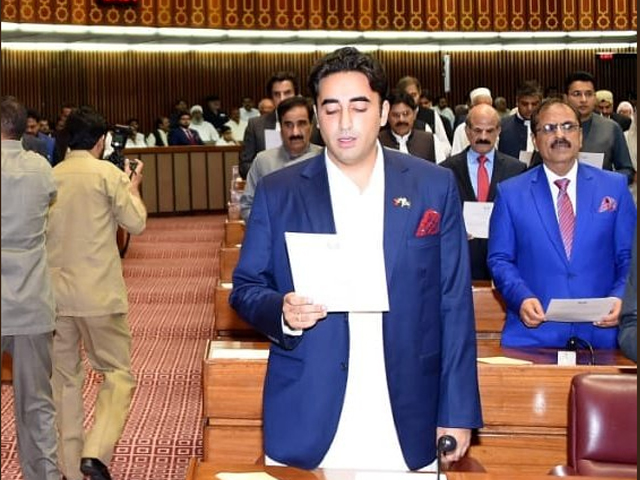 ---
Young and wise: When Bilawal Bhutto Zardari outshined Imran Khan and Shehbaz Sharif
With Bilawal now in the Parliament, PPP has a good chance of reviving the position they had when BB was amongst us.
---
The long-awaited wish of Imran Khan to become the prime minister of Pakistan has finally come true, and I pray that he delivers what he has promised. Change is indeed needed and perhaps at a much faster rate than the Pakistan Tehreek-e-Insaf (PTI) anticipates. Given the state of Pakistan's crippling economy, the new government may not even have time to enjoy the "honeymoon period" and would have to start their work from the very first day.

All of us know that Imran has many problems which he will have to sort out in his own time, however in my opinion, the biggest challenge for him will be to organise and keep his party intact. We know the kind of people that surround him; they are opportunists and may interfere or stop him from doing anything that is against their will and personal agenda.

But today is not about the Kaptaan.

Today I'd like to discuss a man who has gone through a lot of positive change in the past few years: Bilawal Bhutto Zardari .

Yesterday, in the Parliament, amidst loud protests from Pakistan Muslim League-Nawaz's (PML-N) MNAs, Bilawal showed the composure and calmness one would expect from a leader. He delivered his maiden speech in the Parliament amongst many senior and experienced politicians of the country. However, not for a second did it feel like he has never done this before. He put his points and his party's position forward like a seasoned politician does.


He made it clear that even though his party has reservations regarding General Elections 2018, they will put democracy first and support the ruling party as it tries to create a better Pakistan. He also made it clear to the new government that his party will not hesitate to oppose them every step of the way if they go back on their promises. While congratulating Imran, he urged him to forget the woes of the past and emerge as a leader, not just for his supporters, but for every Pakistani.

His speech spoke volumes of the kind of leader Bilawal has the potential to be. His speech was praised by almost everyone, including his fiercest rivals.

But this is not the first time that Bilawal and his party have seemed like the mature ones in this political diaspora. Looking back at the election campaign, a horrific incident in Balochistan shook Pakistan. A terrorist attack took the lives of more than 150 people, including a member of Balochistan Awami Party (BAP), Siraj Raisani. Similarly, at Awami National Party's (ANP) corner meeting in Peshawar, a suicide attack led to the demise of Haroon Bilour. Every party condemned the attacks but no one had the courtesy to halt their election campaign to show respect for the deceased and also to make sure their workers and supporters who attend their jalsas are safe. Bilawal was the only leader of a mainstream political party who openly said that he cannot risk the lives of his people and thus won't resume his campaign until and unless the government gives him the surety of a safe campaigning environment.

Honestly speaking, I did not expect such a mature decision from Bilawal. This shows his growth in politics.


Devastated by continued attacks on innocent Pakistanis. loss of shaheed Siraj Raisani & 120 innocent people in Mastung cannot be in vain must insure this mindset is defeated. Have suspended my political activities in solidarity.

— BilawalBhuttoZardari (@BBhuttoZardari) July 14, 2018


With him now in the Parliament, Pakistan Peoples Party (PPP) has a good chance of reviving the position they had at the time when Shaheed Benazir Bhutto was amongst us. With such a strong family background, there are many expectations attached with Bilawal. In order to protest the unfair elections, Maulana Fazlur Rehman announced a juvenile protest where his party refused to enter the Parliament and take oath. Bilawal's decision to not support Rehman, highlights that his party believes in democracy and will focus on doing constructive opposition inside the Parliament. His political maturity is a ray of hope for PPP supporters who believe that under Bilawal's leadership, PPP and Sindh will prosper.

When it comes to electoral politics, I believe Bilawal has taken the lead here as well.  Even though PPP is only the third largest political force in the Parliament, for me, they have surpassed every other party. Where on one hand Imran has achieved success with the help of numerous electables on his side, Bilawal gave the party ticket to a person belonging to the Hindu community, Mahesh Malani. He became the first non-Muslim to be elected on a general seat since 2002, beating Arbab Zakaullah from NA-222 Tharparkar. It was indeed a proud moment for me for I had never witnessed something like this before.

Secondly, it was again Bilawal's political wisdom that he selected Tanzeela Qambrani, an activist belonging to the Sheedi community, and gave her representation in the Sindh assembly. If we go back in time to the Senate Elections, it was PPP who gave Krishna Kohli the opportunity to become the first ever Thari Hindu woman to be elected in Pakistan's Senate. These are some actions that should be highly appreciated and other parties should also follow the footsteps of PPP in this regard.

Yes, you can criticise PPP's performance in Sindh but they are the only party in Pakistan that will be forming government in the second most populated province of the country, for the third time in a row. People can say that Sindhis only vote for PPP because they believed in Zulfiqar Ali Bhutto and his ideology but they should also understand that the people of Sindh aren't blind. If they are repeatedly voting a party in, they must have seen something.

The educational reforms by the Murad Ali Shah-led government have been remarkable. The education budget of Sindh has increased from Rs120.5 billion in 2013-14 to Rs205 billion in 2018-19. They have set up 28 colleges and 50 schools where the Cambridge system of education is followed. With the increase in budget, they have created more than 20,000 jobs in the last five years.

Sindh Government Children Hospital had been under the health department since 2003 but it failed to efficiently cater to patients. Realising this, the Sindh government, under a public-private partnership, handed over control of the hospital to an NGO. It's the first ever government health facility which is providing international standard quality healthcare services to children under the age of 12. Moreover, the Sindh government has so far opened six satellite centres of National Institute of Cardiovascular Diseases (NICVD) in Karachi, Larkana, Tando Muhammad Khan, Hyderabad, Sukkur and Sehwan. These are remarkable steps taken in regard to healthcare reforms and credit should be given where it's due.

However, one can't forget the flaws of the Sindh government. Karachi is home to more than 16 million people and yet it lacks a proper transport system. Although PPP has long desired to provide the citizens of Sindh with a proper inter-city transport system, they have always failed. Many projects in the province are nothing more than words on paper. For example, Shaheed Mohtarma Benazir Bhutto Diesel Buses project, Larkana Intercity Project, Intercity Bus Project for Karachi and many more haven't seen the light of the day. A party that has been in power in Sindh for 10 years should at least be able to provide a proper transport system to the people.

Since Bilawal is now an MNA and will represent his party in Parliament, he can convey his message through a proper channel and as eloquently as his first speech. He can now aware the people of this country of the performance of PPP in Sindh and change the narrative that his party has done nothing for the betterment of people who voted for them.

Under the current circumstances, where PTI has formed the government and PML-N is in splits after the arrest of Nawaz Sharif, PPP under the young leadership of Bilawal and judicious guidance of Asif Ali Zardari can try to re-build their party's reputation in other provinces. If they are successful, PPP can be one of the most promising contenders of forming the government in the next General Elections.