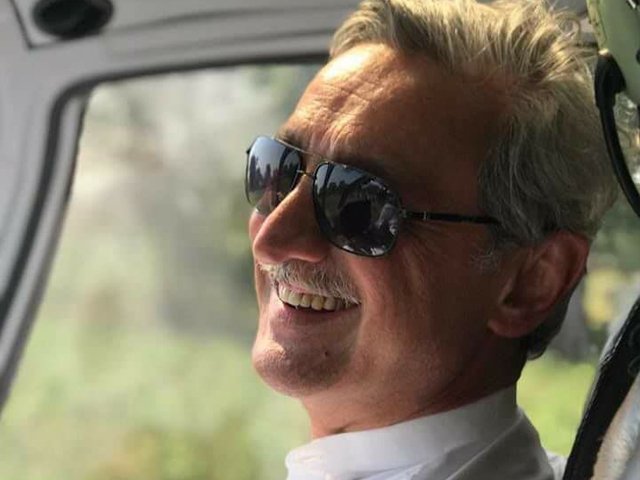 ---
Like him or not, Jahangir Tareen won the game for PTI
Much has been said about how Imran won the game, but not much has been said about Tareen who helped a struggling PTI.
---
The saying that one man's hero is another man's villain was perhaps meant for Jahangir Khan Tareen. For the opposition and forces against the Pakistan Tehreek-e-Insaf (PTI), Tareen is a villain going around 'buying' the loyalties of legislators. For his own party, Tareen is a hero who, despite being disqualified for life by the Supreme Court, still works round-the-clock to fulfil Imran Khan's mission.   

Tareen's wealth (and his airplane) has always been the focus for both the media and his critics. In particular, the way he approached the independent candidates for the National Assembly and the Punjab Assembly after the 2018 Elections and convinced them to join PTI has become one of the biggest instances of horse-trading in recent memory.

After Imran, Tareen is probably the most criticised politician belonging to the PTI. He has been mocked on social media and criticised by journalists, not just for the recent horse-trading, but also for his undue influence on PTI's policies and its chairman. However, unlike Imran or his other colleagues, Tareen never lashes back at his critics, nor is he unwelcoming towards criticism. You will never see him shouting at his opponents or his critics, and much to his credit, he even meets them with a smiling face and a positive attitude.

This is a rare and special thing in a society where criticism and political differences are taken to mean personal enmity. Tareen's calm influence on Imran and PTI gives an element of sanity to a party well known for not bearing criticism well, as well as for its immature political decisions. Much has been said and written about how Imran won the game for PTI on the chess board of power, but not much has been said or written about Tareen, without whom the PTI would still be struggling to find a way into power politics, let alone winning the throne.

It was Tareen who convinced Imran to adopt politics based on realism instead of idealism. The decision to include electables from South Punjab and to form seat adjustments with the Pakistan Muslim League-Quaid (PML-Q) and independents in Punjab and Balochistan actually helped PTI gain more National Assembly seats than expected. Tareen even had differences with Shah Mehmood Qureshi, but his shrewd approach and strong lobbying in the ranks of PTI ensured that his decisions prevailed against Qureshi's will.

Since PTI is still in a jubilant mood after its victory, it has not yet realised that including independents in the PTI and garnering their support was never an easy task to begin with, and that it was Tareen who made it look simple and easy. In the province of Punjab, despite not being the largest party in the assembly, PTI still won the support of the independents and will thus form a government there as well. The credit for this spectacular achievement can only go to Tareen, who, along with Chaudhry Pervaiz Elahi, maneuvered the proceedings and won the support of the independents. After all, Elahi was taken on board on the advice of Tareen, while Qureshi and other stalwarts were against any form of coalition with the PML-Q.

Time has proven that Tareen's political wisdom has saved the day for the PTI. Had it not been for the seat adjustments with PML-Q in Punjab, it would have been impossible for PTI to form a government in the province, and similarly, it would have been very difficult to form a coalition government in the centre as well.

As far as the allegations of horse-trading against Tareen are concerned, while the accusations may be accurate, however, it must be stated that Tareen is hardly the first person to do so in politics. In the past, we have seen many examples where any political party in the position to form the government did exactly the same thing – whatever it takes to get into power. The Pakistan Muslim League-Nawaz (PML-N) and the Pakistan Peoples Party (PPP) also indulged in the same since the 90s. Even back in 2007, the PML-N made a forward block with the PML-Q to form a government in Punjab. Last year, the Asif Ali Zardari-led PPP was involved in horse-trading in Balochistan to overthrow the PML-N's provincial government, which it eventually succeeded in toppling.

This is not to justify the unethical practice of horse-trading. However, if political parties are serious about eliminating this corrupt practice altogether, then they should stop practicing it by not asking for the support of independents altogether. As long as the possibility of doing so remains, one can expect political elites to keep doing whatever it takes to form the government.

As far as Tareen is concerned, one must remember that he has been disqualified for life by the Supreme Court (alongside Nawaz Sharif) for charges of insider trading and for being 'dishonest'. While he cannot be termed an ideal politician, his services for PTI remain valuable, and he shall always be remembered by PTI supporters as the hero who helped Imran make the right decisions at the right time.

Thus, for many, Tareen is a corrupt man who earned his fortune through unethical practices, especially during Pervez Musharraf's regime, and he is also a businessman who buys loyalties with the power of his wealth. For others, he is a shrewd political leader and the best friend of the prime minister elect, who put his reputation and wealth at stake for the greater cause of Naya Pakistan.

Depending on which side you are on, you can judge Tareen and decide whether he is the hero or the villain in this story. However, the fact remains that Tareen played a vital role in laying the foundation of Naya Pakistan. Perhaps it no longer matters whether he played the game fairly or not, as he has succeeded in accomplishing the mission for his party, and did the lion's share of the work by winning the support of the independents to keep PTI in power.
Facebook Conversations
COMMENTS (11)
Comments are moderated and generally will be posted if they are on-topic and not abusive.
For more information, please see our Comments FAQ