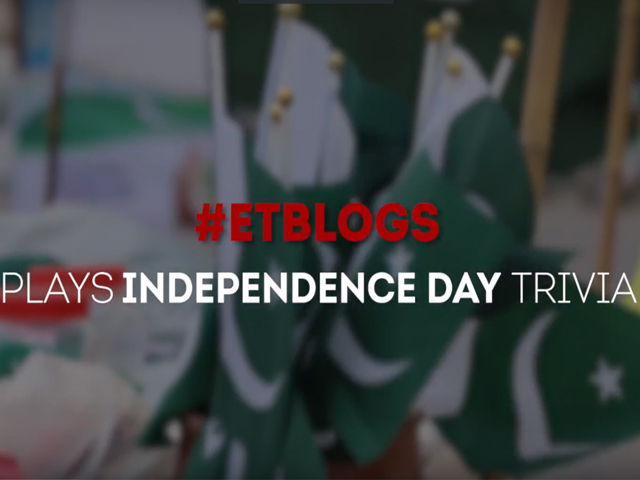 ---
#ETBlogs plays Independence Day trivia: How well do you know Pakistan?
As we step into Naya Pakistan, how well do we remember the old one?
---
Like every year, celebrations for our Independence Day have begun full swing. Patriotism can be felt in the air, with brands airing special ads in honour of our 71 years and TV channels airing dramas with an added twist of nationalism. With the creation of 'Naya Pakistan' falling around the same time as the creation of the old one, perhaps this year is extra special in how much and how visibly we choose to declare our love for our country.

However, as we step into Naya Pakistan, how well do we remember the old one?

We took to the streets of Karachi to test citizens' knowledge of Pakistan. What are some basic things we could ask people, we thought, things that everyone would – and should – know? So we decided to play a quick Independence Day trivia, asking three questions associated to Pakistan's creation and its initial phase.

For starters, we ask people 'who wrote our national anthem'. We all love the anthem – we do after all make it a practice to stand up when we hear it every time we go watch a movie or sang along every morning in school assemblies – but we had a feeling many of us are low-key crediting the great Allama Iqbal for something he did not create. We were pleasantly surprised by the responses, as while some did credit Iqbal for the anthem, many also correctly credited Hafeez Jalandhari.

Our second question was way too easy – given that loving Pakistan and hating India are often made to go hand in hand. We thought everyone would know how many major wars have been fought between the two states. Many only remembered two – 1965 and 1971 – while some correctly pointed out that there were, in fact, three major wars between Pakistan and India. However, even those who cited three wars were likely to include Kargil (1999) as the third, completely forgetting the war fought in October 1947 after India was split into two. Even though Kargil is right up there in the most important events that took place between India and Pakistan, it is not considered a major war. The October war, however, which went on till January 1948, is one of the deadliest wars we have fought against India.

Our last question was perhaps the hardest: Who was Pakistan's first President? Hardest, because most people will automatically respond with Muhammad Ali Jinnah, and most people would be wrong, for the honour goes to an often forgotten Iskander Mirza, who is possibly better remembered for hiring and firing a string of prime ministers.

We anticipated that most people would not know answers to these simple questions (perhaps we would have gotten better responses if our target audience was fifth-graders). Nonetheless, a lot of people felt – after being unable to answer these questions – that more effort should be made to study Pakistan Studies and revise our history. Given the slightly pitiful state of responses, we are perhaps hard-pressed to agree!

Happy Independence Day!

Think you know more about Pakistan? Answer the question below and let's test your knowledge!

[poll id="785"]


Facebook Conversations
COMMENTS (3)
Comments are moderated and generally will be posted if they are on-topic and not abusive.
For more information, please see our Comments FAQ