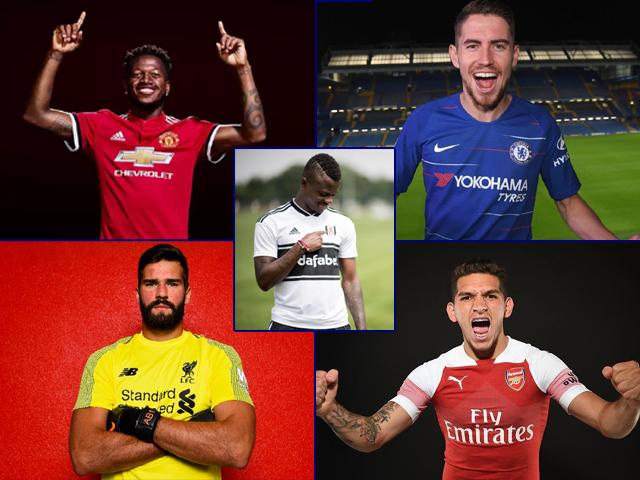 ---
New season, new players, new spirits: Will EPL clubs benefit from their summer transfers?
There have been record-breaking transfers this summer window and some interesting players have joined the EPL.
---
As the Premier League (EPL) finally returns (and my life has meaning again) there are major hopes and expectations placed upon a club's new players. There have been record-breaking transfers this summer window and some interesting players have joined the English league.

Here is a list of five (obvious and not-so-obvious) signings that could potentially change the fortunes of the clubs they have joined.

Disclaimer: This list only includes players who have joined from other leagues.

1. Frederico Rodrigues (Fred):

Amidst the lack of late signings and Jose Mourinho's melt-down, we seem to have forgotten that early on Manchester United signed Brazilian midfielder Fred from Shakhtar Donetsk. If utilised properly, he could help Paul Pogba shine, and provide United the ability to contest for the Premier League title (don't laugh yet, hear me out).

When Fred was signed from the Ukrainian club, the United manager said he would provide an "extra dimension" to the United midfield. While the Brazilian midfielder did not play a single minute for his national team at the World Cup, his quick feet and ability to initiate counter attacks will fit right in with Mourinho's brand of football. During pre-season, his ball control was the talk of the town. The Brazilian can dribble and find his way out of tight spaces. While not a prolific goal scorer, the 25-year-old will surely create chances for the likes of Pogba, Romelu Lukaku and Alexis Sanchez.

So while United has been in the media lately for all the wrong reasons, it must not be forgotten that they have Pogba returning from his World Cup high, where Lukaku also has had an impressive tournament. Fred's arrival frees up the former from his defensive duties and allows the latter to lurk on the shoulder of the last man in order to get onto his through balls.




2. Lucas Torreira:

Arsenal have had a busy transfer window, with new manager Unai Emery at the helm. One of their more outstanding transfers has been Torreira from Sampdoria who may finally solve the London side's defensive midfield issues. Torreira had a decent World Cup, showing off his discipline and defensive awareness.




At five-foot-six, the dental braces-donning 22-year-old may not seem a like a physical threat, but his shoulder barge that sent Cristiano Ronaldo to the ground showed he has the aggressive mindset Arsenal need to get back into the top four. With football's evolution, Torreira's speed and agility are certainly more important than strength. Torreira made the second highest number of tackles in Serie A last season while he was also among the top five when it came to completing passes. This shows that the Uruguayan can contribute to the team both defensively while also helping in the build-up.




If Aaron Ramsey chooses to stay, Torreira could also help balance the Welshman's tendency to run forward. Torreira also has the capability of playing with multiple partners and it will be interesting to see how the new manager sets up the team.

The main hole in Arsenal's team has been plugged – the team conceded the second highest number of goals last season – and Torreira will be a real asset as Arsenal aim to qualify for Champions League again.

3. Jorge Luiz (Jorginho):

Sarri-ball has arrived in the Premier League and the main fulcrum will be none other than the Italian, Jorginho. The 26-year-old joined Chelsea the same day new manager Maurizio Sarri did from Napoli, having flourished at the Italian club under him. The defensive midfielder can provide a transition between Chelsea's midfield and defence.




The 26-year-old, often compared to Andrea Pirlo, has earned high praises and was even a Manchester City target back in May. Jorginho was a key player in Napoli, where last season they gave Juventus a run for their money in the league title run.

Back in 2014, he described himself as,

"Trying to always be in the thick of things, two touches and then go, simple things. I get forward and run a lot, roughly 12 kilometres a match."

His arrival at Chelsea means the club will have to rely less on Cesc Fabregas in a similar role. The Italian's brilliant passing range also makes him an ideal central partner for N'Golo Kante.

Jorginho is highly rated both in terms of ball retention and possession while also making his fair share of tackles. He has the ability to dictate the play of the match and his playmaking abilities will be vital to Chelsea's forward line.




The club has not had the time needed to settle under Sarri and his style of play, and while Jorginho may initially struggle, it is fair to say he will be a delight to watch in the Premier League.

4. Alisson Becker

When Becker joined Liverpool from Roma, he was the world's most expensive goalkeeper at £67 million. While this was a shocking move for the footballing world, it is important to keep in mind that the Merseyside club may have fixed the only issue in their side. Jurgen Klopp's side had a brilliant, albeit trophyless, last season, most of which revolved around their weak defence. By buying Virgil Van Dijk (also at a record fees) in the January transfer window, the club now has a stellar goalkeeper, meaning they could be title challengers come May.




The Brazilian goalkeeper is the first choice for his national team (ahead of Manchester City's Ederson Santana de Moraes) and has World Cup experience on his side. Much like Roma, Liverpool also play possession-based football, so the 25-year-old should not have trouble adjusting to the playing style.

The Brazilian also has a sweeper-keeper approach and often comes off his line while playing and is good at long range shots. He has also racked up some stellar statistics, including the fact that he had the second best save success rate in Europe's top five leagues this season and the biggest difference in expected goals conceded for a goalkeeper in the Serie A.


Best save success rate in Europe's top 5 leagues this season

🥇J. Oblak -- 85.8%
🥈Alisson -- 80.1%
🥉D. De Gea -- 79.9%https://t.co/BwvcOK7fm0 pic.twitter.com/nxOtQyzdMA

— WhoScored.com (@WhoScored) June 6, 2018
8 - Alisson conceded 28 league goals last season (excl. OGs), but based on Opta xG data for the shots on target he's faced, the average goalkeeper would've been expected to concede 36 goals. This was the biggest differential by a Serie A goalkeeper in 2017-18 (8). Coveted. pic.twitter.com/g8MW47pNLZ

— OptaJoe (@OptaJoe) July 17, 2018


The steep price for the goalkeeper is also easily justified by the fact that the Brazilian is just 25 and if he is successful, could lead Liverpool to the trophy that has eluded them for so long.

5. Jean Michael Seri

Newly-promoted Fulham pulled off a coup when they landed the highly-rated Nice and Ivory Coast midfielder Seri for £25 million. Having been linked to Barcelona, Arsenal and Liverpool, it is a testament to how highly coveted the African midfielder is.




Seri will bring with him much needed consistency and creativity to Fulham. The 26-year-old is a pass-master, who can retain the ball and easily dictate the tempo of a game. For reference, Seri had the highest number of most accurate passes (2328) in Ligue 1 last season.

The new Fulham man will most likely play the role of deep-lying playmaker and create chances for the forwards. With the EPL more physically demanding than Ligue 1, Seri will have to work fast to adjust. He will need time on the ball to work his magic and it will be upto Fulham as a team to get the best out of him. Surprisingly, the club has had some spectacular signings for a newly-promoted side, bringing in the likes of former World Cup winner Andre Schurrle and the Serbian striker Aleksandar Mitrovic. With Seri dictating play, Fulham could be one of the surprise packages of this season.

As the new season starts, it will be interesting to observe how these new players fit into their teams and a new league. The Premier League is undoubtedly one of the toughest leagues in Europe and whether the players will lift their respective teams to new heights or fail to make an impact will be seen. Many foreign players have come and conquered the EPL. Many have also crash and burned.

Let the 2018/19 season begin!
Facebook Conversations
COMMENTS
Comments are moderated and generally will be posted if they are on-topic and not abusive.
For more information, please see our Comments FAQ