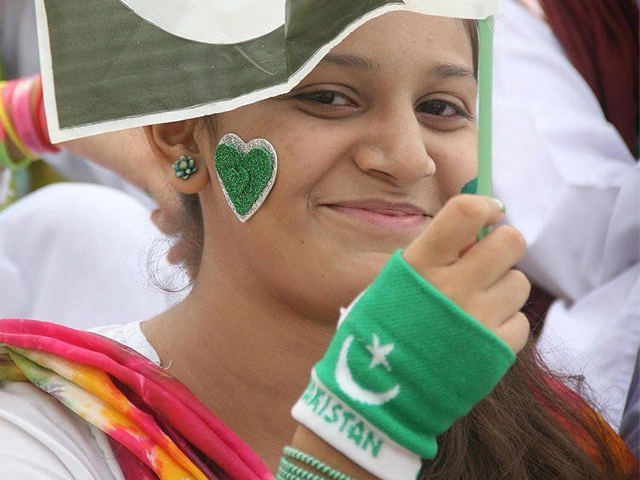 ---
General Elections 2018 from the eyes of a 12-year-old Pakistani girl
I am the only girl in my class who is interested and quite informed when it comes to my country's current affairs.
---
In my house, my family loves watching news channels, they have become our favourite TV pastime. Exposed to daily news constantly, I am the only girl in my class who is interested and quite informed when it comes to my country's politics. 

This love for current affairs pushed me to utilise my summer vacations in the best possible way by critically analysing and following the pre and post-election scenario in our country. I hope you will like my thoughts on it, as this is coming from a 12-year-old girl, who is the future of this country and it is important how I see this election process.

The General Elections were scheduled for July 25, 2018. Every political party had started their campaigning months before Election Day. The excitement and curiosity surrounding this election kept increasing as the day approached. Amidst this excitement, however, our country was also facing terror attacks.

Watching the news, I saw the assassination of election candidates and their supporters during these terrorist attacks. This was extremely disturbing, demotivating and frustrating. But even after the horrifying and frightening incidents the country faced, I could still see the huge jalsas, the enthusiasm sprouting from the general public and their undying spirit to be part of this electoral process.

Moreover, I actually thought that people had already decided who they will be voting for but after watching TV commercials, where parties were advertising themselves to motivate people to vote for them, I realised people can still change their preferences. One thing I noticed in these TV commercials was that every party was criticising their opponents rather than focusing on their own achievements; they were using a negative approach to attract people.

I also learnt that election campaigns are supposed to end one day before the elections are held. I saw a video clip of Sheikh Rasheed, in which he was quite tense because it was almost time to end the election campaign.

All the candidates and the public were hoping for the betterment of this country and seeking a leader who would provide that change.

The polling time was scheduled from 8:00am to 6:00pm. My family informed me that previously the time was till 5:00pm but due to the hot weather, the time was extended by an hour.

My family was very excited to cast their vote, due to which I started calculating when it would be my turn to vote and I will be able to choose the leader and party of my choice. Despite my grandparents' illnesses, I convinced them to go and vote as it is our right and responsibility as citizens of this country to do so. I went along with my family to cast the vote early in the morning because my father told us there will be fewer people in the morning at the polling station and it would be easier to cast the votes. My parents were the first ones to enter their polling stations. Army personnel were there to ensure the election process runs smoothly and unhampered. They happily welcomed us but barred my parents from taking their smart phones, purses/bags and kids inside the polling station. My parents requested to take me and my younger sister inside so that we could experience the whole procedure, however, the officers pleasantly declined our request.

The polling ended smoothly without any inconvenience at 6:00pm sharp. The unofficial results were continuously being announced as I fervently followed social media and news for updates. It is hard for me to put my feelings into words; I was excited and hopeful that something amazing is going to happen for our beloved country. After a few hours, it seemed that the Pakistan Tehreek-e-Insaf (PTI) was leading from majority of the seats and Imran Khan was expected to be the Prime Minister of the Islamic Republic of Pakistan for the next five years. Looking at the unofficial results, it seemed that the people of Pakistan had voted for change and had finally turned against corruption. People waited in anticipation for Imran's victory speech but it did not happen on election night since the Election Commission of Pakistan (ECP) had not announced the official results by then.

My mother told me that the electoral process starts well before the polling day. The polling staff is properly trained so there are no mishaps on the day of the elections. However, news channels were continuously reporting that the polling process was very slow, the polling staff was untrained and that the election software had failed to run things efficiently. I learnt that accepting failure gracefully is, unfortunately, not part of our culture. Instead we love to malign our opponents and institutions. The only person that accepted the reality of change was Ghulam Ahmad Bilour. In the midst of all the allegations made by people, I was trying to understand the phenomena of rigging, pre-poll rigging, polling day rigging and post-poll rigging. There are apparently so many ways to rig the elections!

My parents also told me that the formula of electables is not the only thing that helps a party win. After all, many big names (electables) lost in these elections. There are many other important factors that also contribute to winning, such as the candidate's past reputation, their party association, their performance in that constituency, their election campaign, the performance of the polling agents and above all Allah's will.

The lessons I learnt in the election month are assets for me. I learnt how the international media responded to our elections, as well as how people of the opposing parties protested the results. I saw how people came out on the streets to celebrate even though there were threats of attacks. We saw so many new faces emerge as leaders, who will undoubtedly work for the future of this country. All in all, we saw how some our Pakistani politicians have evolved overtime. It was a really good learning experience for me.

Since, I am sure none of my friends or kids my age would be interested in discussing political variations and their reasons with me, I thought I would pen down my experience and thoughts and share it with the readers. In my opinion, parents should encourage their children to be more politically aware so that in the future, they could think about serving their nation in a better way and not repeat the mistakes of the past.

In the end, I pray and hope that Imran, who is expected to be the next Prime Minister of Pakistan, fulfils our hopes and desires. I hope my generation also realises the importance of this electoral process. I hope people analytically observe the performance of the upcoming government for the next five years, and come out more enthusiastically to vote in the 2023 General Elections for Pakistan.
Facebook Conversations
COMMENTS (10)
Comments are moderated and generally will be posted if they are on-topic and not abusive.
For more information, please see our Comments FAQ