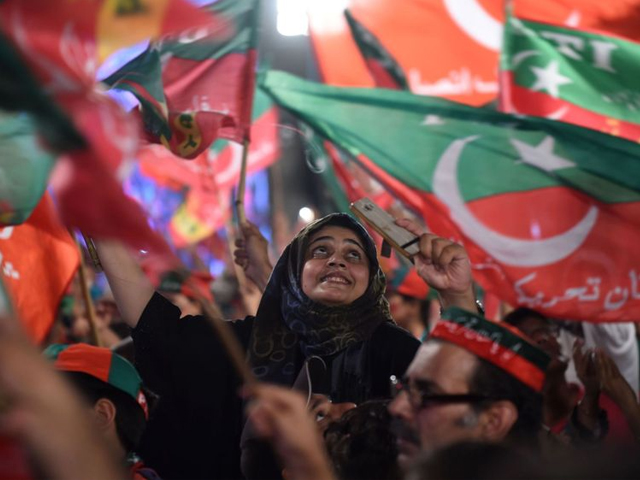 ---
The desire for change: A new Pakistan does not mean a better Pakistan
I understand the desire to close one's eyes to facts that betray the hope that this is not going to be a new...
---
I began writing this in the morning after the 2018 Pakistani General Elections. This was my third time voting in an election, and my first time voting in Pakistan. On Election Day, I was moved. The morning after, I felt uneasy.

I woke up to the headlines heralding Imran Khan as the prime minister of Pakistan amidst strong allegations of rigging. Not feeling particularly loyal to any party, and knowing with a level of certainty that the candidates I had voted for would not win – and they did not – I wasn't keen on staying up all night biting my nails and watching newscasters get unnecessarily excited over limited information about the results. I figured I'd find out in the morning.

On Election Day, I thought I witnessed democracy in progress, and I was swept away by the beauty of it. From wealthy businessmen to working class labourers, all stood in the same line awaiting their turn to vote – the nation was uniting, with each citizen having an equal say. A bride walked into the polling station in her wedding dress, elderly in wheelchairs, members of the transgender community going together, long lines of women, and celebrities and politicians showing off their inked thumbs on social media.

In a country with such extreme inequality, it can be uplifting to witness a process this unifying.

However, as I waited in line to cast my vote, the ease of with which I could brandish my identification card and stand at the polling booth felt heavy.

A few months ago, while visiting Machar Colony, I met with members of the Bengali community whose families have lived there for generations but are unable to vote because of lack of identification cards issued. Shaikh Muhammad Siraj, a community activist told me:

"We want to work for this country, for its betterment. We want to vote for a good leader for the country who will do good work for the public and be useful to the nation. But we aren't able to do so."

An estimated 1.2 million Bengali Pakistanis were unable to vote in this election.

While the Election Commission of Pakistan (ECP) has done much to get women registered to vote, having registered 3.8 million women to electoral rolls in the past months, millions more across the country remain unregistered. The Ahmadi community too remains excluded from the electoral process, forced to choose between their religious beliefs and their right to vote. In Quetta, 31 voters were murdered as they attempted to exercise their right to vote.

And here I was, having spent the majority of my life outside of Pakistan, casually strolling into a local polling booth. I slipped my ballots into their respective boxes, uncomfortable with how much privilege existed in this seemingly simple action.

It was an emotional experience to feel included in the electoral process of my birth country, and tempting to think that democracy could be this simple.

The first time I voted was in the Canadian Federal Elections to vote out former Prime Minister Stephen Harper, which we successfully managed to do through strategic voting. The second time I voted was in the British Columbia (BC) provincial elections to vote out Christy Clark and bring in the New Democratic Party (NDP). Each time I voted, it was for change, for someone new, out of frustration of the status quo. When I spoke with Donald Trump supporters south of the border, I was told that they too wanted change. He is different, they would say. No matter the policies, to them, change was a virtue in of itself. Hilary Clinton seemed like she'd be more of the same. Barack Obama won in 2008 under the campaign slogan "change".

The desire for change among Pakistanis is similar. Imran, eager to finally become prime minister, capitalised on this common desire, and he too promised change in the form of a naya Pakistan.

As I listened to his speech to the nation, I desperately wanted to believe him. I recognise this tendency in me, to want to focus on the positive, to hope for a desirable outcome despite all the evidence suggesting otherwise. It exists in many of us.

Being critical often calls for an energy that doesn't always feel sustainable when you're constantly surrounded by things that demand active critical deconstruction. When you're surrounded by cynics who have good reason to be cynical, and when there are so many things going wrong and opportunities to celebrate seem rare.

Today, I ask myself: how can one remain hopeful without closing one's eyes? Can we not admire the long lines winding outside polling stations, but also refuse to forget or abandon the millions excluded from the process? Can we really call this election fair? Who are we betraying when we make this claim?

I asked a Pakistan Tehreek-e-Insaf (PTI) supporter why he was voting for PTI, and he responded,

"Because Imran Khan's different; he's new and I want a change. Who else would I support otherwise?"

The youth supporting Imran really do want a naya Pakistan. They are tired of the same old. They want to hold on this new, shimmering idea of change, of the possibilities that one can conjure with the adjective "new". There is so much for the imagination in this singular word.

When I imagine what 'naya' could mean, I imagine clean streets, strong and open governance, viable public transport, water equality, accountable leadership, better hospitals, schools, universities, fair elections, and social welfare. I imagine strolling along pristine, peaceful, tree-lined streets of Karachi at night, feeling safe. I imagine Karachi afternoons where every child is in a classroom rather than working on the streets.

I can understand the desire to close one's eyes to all the facts that indicate this is not going to be a new Pakistan. If not much worse, it will be the same old. It is difficult to let go of hope when it feels so rare.

And while Justin Trudeau is a different prime minister from Stephen Harper, so many of his promises remain broken. He promised electoral reform, which never happened. He promised to work to protect the environment and work with indigenous communities, a promise he broke with his approval of major pipeline projects. The BC NDP, while fulfilling some promises, broke others. After each election that I've voted in, I have seen how some things improved, many that I hoped would, didn't.

Change can be slow, can be a mirage, can be a betrayal, it can even be worthwhile. It cannot guarantee progress; it is simply a turn. New does not automatically mean better. The election of Trump in the United States brought some of the biggest changes to the country as his voters had hoped, but those changes were often for the worse, as has been the case in many countries around the world that are seeing a rise in authoritarianism and fascism in their attempts to change the status quo.

Perhaps it was this sense of false hope and the lack of caution on the part of so many around me, which made me feel uneasy the morning after election. Things don't change so easily, and not all change is for the better. Let us go into this "new" Pakistan with our eyes fully wide open. Let us find things to celebrate, but let us not delude ourselves.