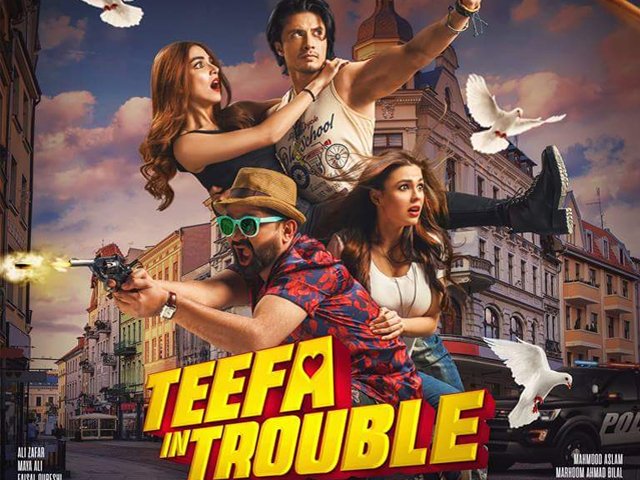 ---
Teefa in Trouble may not be one of the best, but it surely sets new benchmarks
Zafar carries the whole movie singlehandedly; don't think there is anyone else who could have played this part better.
---
When I watched the trailer of Teefa in Trouble, I was quite disappointed. I was vocal about my disappointment in the trailer review I penned, which didn't sit well with some Ali Zafar fans who loved the trailer. Some of these fans asked me to watch the movie when it releases and were quite optimistic that I would actually enjoy the movie. Hence, I decided to give it a try but I bought the ticket with zero expectations.


The story revolves around Teefa (Zafar) who is a thug-for-hire and is asked to kidnap Anya (Maya Ali) by Butt Sahab (Mehmood Aslam). Anya is the daughter of Butt Sahab's old friend Bonzo (Javed Sheikh), who breaks his promise of marrying off his daughter to Billu, Butt Sahab's son. Teefa heads to Poland in order to bring Anya back to Pakistan and thus the trouble begins.




The plot of the movie is something you must have watched a gazillion times before, it's a tried and tested formula and the movie is full of Bollywood clichés, which only pull the movie down.

A spoiled pretty girl, a heartthrob, a chance encounter, unfavourable circumstances, a funny sidekick, an overly dramatic mother; it is as if the writers took all the ingredients from movies they used to watch in their childhood and put them all together in this one.




However, despite of this, the movie turns out to be quite entertaining. The first half is very enjoyable and leaves you excited for what lies ahead, but the second half is a drag and doesn't have much to offer. The movie has multiple false endings, which is extremely irritating. I actually saw two gentlemen leave the cinema hall before the actual ending.




Teefa in Trouble is Zafar's debut Pakistani film. Although Zafar is talented as an actor, he was not quite able to flourish in Bollywood. With Teefa in Trouble, the stage was perfectly set for Zafar to shine, and he definitely lived upto the expectations. Zafar carries the whole movie singlehandedly; he's the life and soul of Teefa in Trouble. His character is quite an interesting one. Teefa is a mix of Batman, Andy Williams, Jim Carrey and Shah Rukh Khan. He can do almost anything and Zafar pulls the character off brilliantly. I don't think there is anyone else in Pakistan who could have played this part better.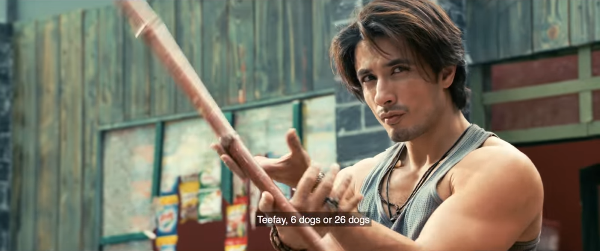 Maya does the job, but is unable to be more than just a pretty face in the movie.




Faisal Qureshi as Tony does a decent job as the quirky sidekick to Teefa. Although most of his jokes aren't funny, there are some hilarious moments in the movie because of Qureshi's unique dialogue delivery.




Background score and soundtrack are crucial for a mass entertainer such as this one and Teefa in Trouble gets both of them right. The songs are catchy and the background score is on point. Also, the movie has brilliant cinematography, something that most Pakistani movies lack. But what I was most impressed with were the actions scenes in the movie. The kind of action scenes displayed in the movie are nowhere to be found in Pakistani cinema. To be honest, if the actors were Caucasian, I would have thought the movie was a Hollywood production because of the mindblowing action sequences. The stunts were also flawlessly executed.




Teefa in Trouble may not be one of the best Pakistani movies out there, but it sure has set new benchmarks in filmmaking. It has set high standards for Pakistanis and hopefully this will force other filmmakers to meet these standards or better yet, even go a step further and top them. I had no expectations from the movie going in, but when the credits started rolling after an awfully lengthy climax, I knew the movie had entertained me.



All photos: Screenshots
Facebook Conversations
COMMENTS
Comments are moderated and generally will be posted if they are on-topic and not abusive.
For more information, please see our Comments FAQ