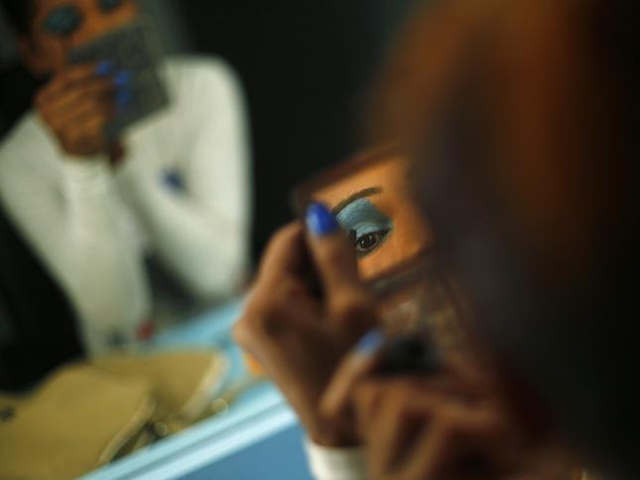 ---
From Zahid to Bubbly
Everything in Zahid's life turned upside down in one night; took him out of his cozy bed to a one-room decayed quarter
---
"So you have decided to keep humiliating us in front of people," he said with a roaring voice.
His beloved Baba had slapped Zahid on wearing red lipstick again.
"You are a boy, a man! The only waris (successor) of our hundreds of acres of land. I will beat you black and blue if I ever find you doing anything girly again."

Zahid had tightly clenched a broken red lipstick in his hands. Baba was continuously lecturing him about masculinity but surprisingly, all this scolding was appearing so rhythmical to him. Baba was admonishing him but he was dancing in his mind, wrapping red dupatta and responding to the beats of the tabla.  

Zahid had recently turned 17, the age when his fellows were thinking to either appear in the Inter Services Selection Board (ISSB) exam or get enrolled in tuition academies to help secure better grades in intermediate exams. His condition was different from all the other boys of his class. Secretly wearing his sisters' clothes in the washroom and applying makeup on his face, were chores which used to consume most of his time.


---


It's the wedding of Chaudhry sahib's only son who is Zahid's next door neighbour. The whole street has been laminated with dazzling lights. Most of the people are waiting for the savoury food to be served, but Zahid is anxiously waiting for the shemale Sheela to come. Majority of the houses in Zahid's streets were at least three-decades-old and when it came to any celebration, be it the aqeeqa or mehndi of someone, Sheela's performance was considered as an understood part of the parcel.


---


The wedding ceremony has ended. Helpers of the contractor are busy wrapping up the marque and uninstalling all the supporting poles. One person is searching for missing plates and another assistant is running here and there to collect all the glasses. Sheela is done with the counting of currency notes showered on her during her dance performance. She is packing up her bag and is leaving the venue with her tablanawaz (tabla player).

Chatting with the tablanawaz gleefully about the event, Sheela is happy about the sum of money collected from her performance. Her ghungroo are breaking the pin drop silence of the streets as she is strolling through them. Suddenly, she senses as if someone was following her.

"Aah Zahid! My poor boy, it's you."

"I beg you to please take me with you."

"Please go away my child. Do not get fascinated by this mask of happiness on our faces."

With this, Sheela wiped off her red lipstick and rubbed her glittery eyes.

She was indeed looking ugly with her multi-tone skin and smudged makeup afterward.

"But I don't belong to these people. My body does not belong here. I feel like a female soul caged in a male body."

Sheela turned her face to the other side and controlled her tears from falling at the last millisecond, as she knew what it meant.

"Don't leave me, please. I want to go with you. I am you. I am like you. I am one of you. Don't let my feminine soul die in agony amongst these barbarians," Zahid kept pleading, unaware of consequences.
---


Zahid has been missing from home since last night.


---


It's a dirty patient bed of some small clinic in the interior city. A small yellow bulb is hanging over the bed with a worn-out electric chord. Zahid's mind is messed up with the recollections of sounds of ghungroo and his father's roaring voice but the pain of newly implanted silicone to give his bosom a feminine look is dominating every other thought.

'Am I dying? Is this the result of anesthesia? But I was never given any anesthesia. I guess it's the pain which is making me fade out'; hundreds of questions were wandering in his mind. 'Seems like my feminine soul has finally been awarded a woman's body'.

The curves on his chest covered with the stinking bed sheet were making him think that. He called for Sheela. He would have been relieved that he has finally achieved his purpose in life if he had not touched his legs the very next moment. Coarse voice, hairy arms, and all other signs of manhood were slapping his face. The sound of slapping was getting mixed with the sound of Baba's slapping.

With every inch of his body throbbing with pain, Zahid had been handed two tablets to be taken in case of extreme pain with reassurance that it will eventually go away in a few weeks. Sheela was patting on Zahid's back with mixed expressions in her eyes as if she wanted to say, "Boy! I had warned you a gazillion times to go back".


---


Everything in Zahid's life turned upside down in one night. Name, identity, sexual orientation, social class, profession, relationships and above all, the purpose of life. Zahid, is now known as Bubbly among his newly adopted transgender family. Just one decision has thrown him out of his cozy bed to live with these stranded souls in a one-room decayed quarter. Getting made fun of, humiliated and earning bread with the movements of hips and artificial hair has now become his destiny like other transgenders.


---
Though the recent census of 2017 revealed that the total population of transgender people in the county is 10,418 (that is 0.005% of the population), however, authorities believe that the number is under-reported. No matter what Supreme Court does - grants them right to vote or paves way for them to get an identity card - the mindsets of the remaining 200 million cannot be changed, as that magical wand does not exist in reality. Tall claims of rights-based approach get dumped every night in Indus, when a transgender performs for hours and hours at a wedding and yet stays underpaid, is molested and even beaten.
We love our pets to an extent that even their seasonal sneezing makes us rush to the vets. We protest abuse of donkeys and dog poisoning. But we can't give an iota of respect to the transgender community as they earn their living through means that are unethical to us? Even if we don't agree with their profession, the least we can do is consider them human beings. Living, breathing human beings. Human beings that have emotions, just like us. Human beings who cry, feel pain and get hurt like us. Or have we forgotten how to empathise in this society? After all,' jo mein hun, woh tum bhi ho (what I am, you are too)'. 
Facebook Conversations
COMMENTS (6)
Comments are moderated and generally will be posted if they are on-topic and not abusive.
For more information, please see our Comments FAQ