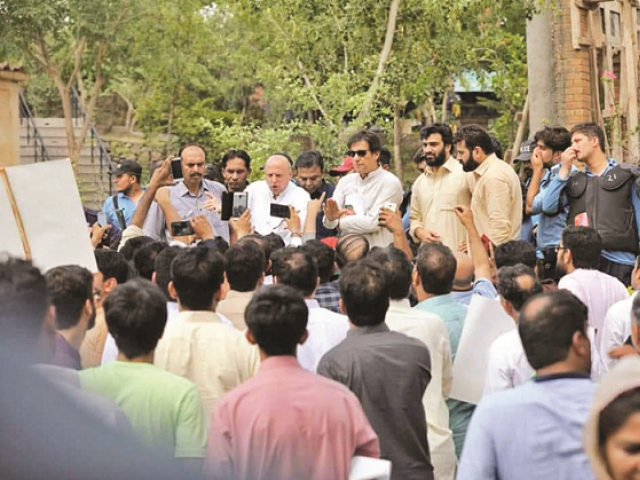 ---
Out with the new, in with the old: Is Imran Khan sacrificing his "Naya Pakistan" to win the elections?
Imran specifically claimed in front of cameras that he wouldn't take the "electable" route and would never...
---
As the country approaches the all-important elections, the selection of candidates by all major parties is almost complete. This is an extremely important stage of the electoral process, as the eventual legislature will be formed out of the pool of these candidates. Moreover, in a democracy like Pakistan's, whom you give a ticket to is extremely important for both pragmatic as well as normative reasons.

From a pragmatic aspect, while candidates are important in every democracy, in countries like Pakistan they are even more significant. This is due to two reasons. Firstly, Pakistan follows a majoritarian model as opposed to proportional representation. In this system, a candidate who gets the most votes in a constituency is elected as the sole representative, and therefore it naturally follows that the personality of the candidate assumes certain significance.

Secondly, Pakistan is still primarily an agrarian society. While the candidates are somewhat important in urban areas, in rural areas, their significance increases manifold. This is because in a rural society with tribal characteristics, a personalised nature of politics is extremely pervasive. In rural areas, it is not the ideology but the ground situation which becomes a major factor, for it is patronage-based concerns that drive political choices. Candidates are assessed through their ability to bring state-sanctioned material benefits and pork-barrel projects. Mostly, rural people vote in rational self-interest, which demands they vote for a candidate who is more influential. On their part, candidates also try to assess the situation and join a party which is more likely to form the government.

These candidates, often called electables, are extremely fleeting in nature, and are devoid of any permanent loyalty. In 2008, many left the Pakistan Muslim League-Quaid (PML-Q) to join the Pakistan Peoples Party (PPP). In 2013, the Pakistan Muslim League-Nawaz (PML-N) was the major beneficiary, as almost everyone who had contested and won on the PML-Q ticket in 2008 joined PML-N. Thus, all political parties court electables before every General Election, and this one is no different.

In the past few months, due to the widespread perception that Nawaz Sharif will be convicted and PML-N will not be "allowed" to come back into power, a sizeable number of electable candidates, particularly those from South Punjab, have left the PML-N and joined Pakistan Tehreek-e-Insaf (PTI). Apart from South Punjab, some prominent politicians from central Punjab have also left the PML-N to join PTI.

Literally all of such deserters have been allotted tickets by the PTI. In fact, it has ended up giving a third of its tickets to recent entrants.

As mentioned earlier, this shuffling is a regular phenomenon. Many who left PML-N and PPP to join PTI had previously been associated with PML-Q, and some of them had been a part of the PPP and PML-N during the 90s.

Although there is uproar from several quarters on PTI's decision to award tickets to such people, including a sit-in taking place outside Imran Khan's Bani Gala residence, frankly the party has not done anything unusual. This is what all other parties have done in the past, and in fact are doing currently as well. One can "forgive" the PTI for acting in rational self-interest, as all other parties do.

However, the problem is that over the past two decades of its existence, the PTI has constantly projected itself as an "idealist" party fighting against the so-called "status quo". It has marketed itself as some sort of a"revolutionary" party that intends to uproot the traditional political system in the country revolving around dynastic politics. In fact, the slogan "Naya Pakistan", which caught the imagination of many youngsters, tried to position PTI as a party that won't indulge in the "traditional" way of doing politics.

Nonetheless, one could have given PTI the benefit of the doubt if Imran and his party had not been extremely specific about what they meant by "Naya Pakistan". The problem is that Imran has constantly projected himself as an idealist in the past, and boasted he wouldn't "compromise", not even on the way political campaigns are fought. In fact, he specifically claimed in front of cameras that he wouldn't go the "electable" route and would never compromise on his principles. He made tall claims that he would always give tickets on merit, and even suggested these tickets were also offered on the basis of merit. Given such lofty statements, this step of awarding so many tickets to the same people Imran had been lamenting against in the past reeks of hypocrisy.

Moreover, although the PTI is trying to be pragmatic, it is forgetting it is also disappointing some of its supporters by retracting its tall claims. It may make some inroads in the rural areas, but the significant number of PTI members sitting outside Bani Gala suggests this will come at some cost to its urban vote bank.

Some PTI supporters are claiming that by giving such candidates tickets, its actual governance (when it comes into power) won't be affected.  For instance, Hamza Ali Abbasi suggested this route is being taken to obtain power, which is needed to change things.


Why is Imran Khan giving tickets to electables? For 23 yrs Imran Khan had non electables contesting in elections, what did my nation give him? 1 seat from Mianwali... Yes he wants power, because politics without power is useless, he needs power to change things for the better.

— Hamza Ali Abbasi (@iamhamzaabbasi) June 10, 2018


Hypothetically speaking, you can employ traditional methods to gain power and once in power, still implement your manifesto. However, in practice, this becomes difficult because of a possible conflict of interest between listening to the electables and implementing bold steps from your manifesto, such as the imposition of an agriculture tax on large landholders and the elimination of a so-called "thana" culture.

Moreover, if the PTI comes to power, it would be held hostage by these individuals. This is because it is trailing in the surveys, and unless "helped" in some unusual way, is not likely to win a comfortable majority. In fact, its drive to get these electable candidates into the fold is driven by this concern. Since it does not enjoy as much popularity as the PML-N, if it does end up forming the government, it will be by a bare majority or as part of a shaky coalition, which in turn would make the party even more dependent on these individuals for survival. In such a situation, the party will hardly be in a position to take any so-called "revolutionary" steps.

In politics, there is undoubtedly a trade-off between realist concerns and ideology, and all parties try to balance these conflicting concerns. My fear is that the PTI has compromised too much on the ideology it presents as the backbone of the party, and may end up losing these elections as well.