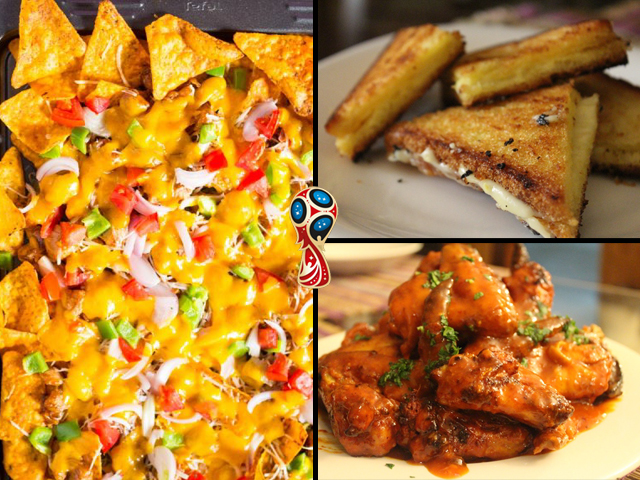 ---
Munch on these easy, lip-smacking snacks instead of your nails while rooting for your World Cup team!
These will leave you licking your fingers instead of biting your nails while you anxiously wait for that goal!
---
The stage has been set. Stadium lights are ablaze. Billions around the world are worshipping the black and white ball. Even those who don't really follow football are simply tailgating and gathering in groups to cheer on their favourite teams.

The FIFA World Cup is already shaping up to be more exciting than many had hoped. Hosts Russia kicked off the 2018 World Cup against Saudi Arabia in Moscow. There have already been some shocks: Russia, the lowest-ranked team in the competition, was the first to qualify for the Round-of-16; defending champions Germany have been knocked out of the competition; Argentina just made it through by an inch; and who can forget Cristiano Ronaldo's Portugal is still going strong (special mention of his amazing hat-trick).

Four years ago, while I was in the UK, the thing that got us through our final dissertation was the football World Cup. It was also Ramazan during those months and post-iftar, we used to rush to the piazza and watch the matches on the big screen. The most memorable match for us was the one where Brazil was knocked out by eventual champions Germany with a score of 7-1. While we were waiting to break our fasts, our mobile football alerts suddenly kept going off in an almost haphazard fashion. We could not contain our excitement and rushed towards the big screen, the food not even down our windpipe at that point.

It does not matter what type of football fan you are – die hard, casual or "I just love football parties" – everything is accepted and loved for their own brand of fandom.

Pakistan is no different. It generates almost as much hype as the cricket World Cup. There are match screenings all around and late night sittings have become a norm. The match-talk the next day is absolutely compulsory because it is football season again!

I have always supported the Spaniards. The 2010 World Champions, Spain are not the same La Furia (The Fury) that dominated international football from 2008 to 2012, but with players like Sergio Ramos, Isco and Andres Iniesta at their disposal, they remain one of the most lethal teams in the world.

I wanted to do something native Russian to honour the hosts but then Golubtsy (shredded or minced beef wrapped in cabbage and steamed or boiled until cooked) or Rassolnik (beef, barley and pickle soup) would not have found much favour with the spice-loving Pakistani tastebuds!

Instead, here are extremely easy snacks to munch on as you entertain/host fans or cheer on your favourite teams.

Nachos

There is no right and wrong when it comes to homemade nacho recipes. Personally, I love how much room there is for customisation in each and every batch. It is basically a foodie's dream come true.

Tortilla chips

Ingredients:

Corn flour: 1 cup

Flour: ½ cup

Salt: ½ tsp

Oil: 2 tsp

Garlic powder: ½ tsp

Oregano as per your taste

Red chilli as per your taste

Method:

1. Mix all dry ingredients together, and then mix oil in it.

2. Add water slowly, and divide the dough into small balls.

3. Roll them out thin, cut them in triangular shape and fry on normal flame




Cheese sauce

Ingredients:

Milk: ½ cup

Cream: ½ cup

Lemon Juice: 1 tbsp

Cheddar Cheese: ½ cup

Method:

1. Add milk and cream in the microwave and heat for 10 seconds.

2. Add the remaining ingredients and put it back into the microwave for another 10 seconds or until cheese melts.

3. Mix well and voila! Your cheese sauce is ready!




Salsa

Ingredients:

Tomatoes: 2 large

Garlic: 2 cloves

Green Chilli: 1

Capsicum: ½

Salt and Pepper according to taste

Olive Oil: 2 tbsp

Method:

1. Put all the ingredients in a chopper and blend them well.




Assemble

Spread your tortilla chips on a platter, drizzle your cheese sauce on top, and sprinkle chopped onions, tomatoes and capsicums, or whichever toppings you prefer, such as beans!




Serve with salsa and enjoy!


---


Spicy wings in sauce

I love a good chicken wing: pan-fried, deep-fried, baked, braised, boiled… well, you get the idea. Chicken wings are one of those universal foods: if you're a fan of chicken, you're pretty much a fan of chicken wings. What I love most about them is that they can be completely high or low brow. I've had chicken wings in fancy, upscale restaurants (always a little nerve-wracking eating wings in a white table cloth kind of place though) and I've had chicken wings standing on the street, food truck in the background.

Marination

Ingredients:

Chicken wings: 1½ kg

Ginger garlic paste: 2-3 tbsp

Salt: ½ tsp

White pepper: ½ tsp

Black pepper: ½ tsp

Paprika powder: 1 tbsp

Lemon juice: ½ cup (2 lemons)

Dried mix herbs: 1 tbsp full

Method:

1. Wash the wings and marinate with above ingredients.




2. Refrigerate for two hours.

3. Heat pan, put two tablespoons oil and fry your wings till they change their colour.

Sauce

Ingredients:

Garlic: 3 tbsp (chopped)

Sesame oil: 2 tbsp

Chilli garlic sauce: 4 tbsp

Tomato sauce: 4 tbsp

Honey: 4 tbsp

Chilli powder: 1 tsp

Chilli flakes: 1 tsp

Sriracha hot sauce or any hot sauce: 2 tbsp

Sesame seeds: 3 pinch

Soya sauce: 3 tbsp

Apple cider vinegar: 2 tbsp

Method:

1. Put all the ingredients together and mix.

2. Pour the sauce over the wings and give a good quick mix.




3. The sauce will get thick and sticky. Taste it and adjust salt or any spice if you want.

4. Cover it for 10 minutes and then serve.




This will leave you licking your fingers instead of biting your nails while you anxiously wait for that goal!


---


Mini Cheesy Toasties

Ever since I came back from my trip to the UK last year, I have been obsessed with grilled cheese sandwiches. My roommate Riya introduced these to me and I was amazed at how I had never had them before. We came back late one night and were too tired to cook up anything fancy, so Riya took some cherry tomatoes, cheese and bread and whipped up some grilled cheese heaven. And mind you, I am not a tomato person at all!

These are great game snacks and you can't go wrong with them.

Ingredients:

Bread Slices

Tomatoes

Cheese

Butter

Method:

1. Place cheese and tomato slices on bread slices.




2. Grill in butter.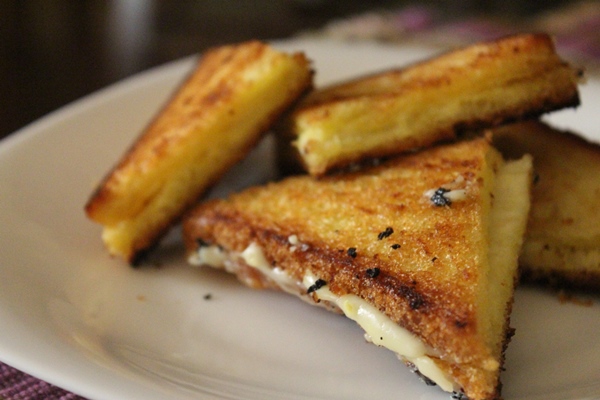 It is only after four years that we get a chance to see this beautiful tournament; it has to be paired with these yummy snacks!

All photos: Arhama Siddiqa
Facebook Conversations
COMMENTS (18)
Comments are moderated and generally will be posted if they are on-topic and not abusive.
For more information, please see our Comments FAQ