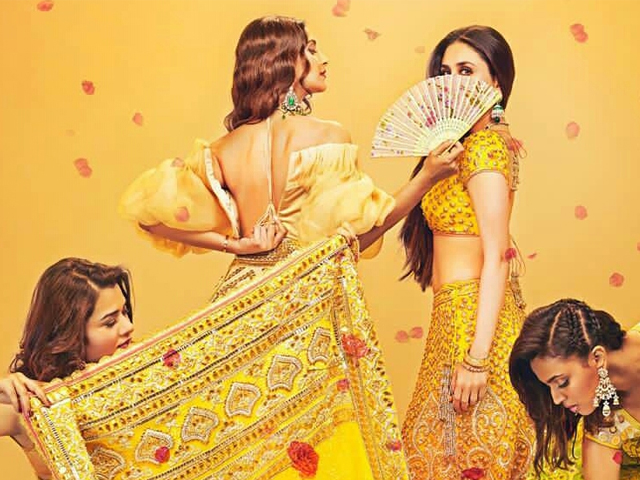 ---
Hypocrisy 101: Veere Di Wedding is vulgar, but Jawani Phir Nai Ani or Sonu Ke Titu Ki Sweety weren't?
Whatever appeals to the male gaze and shows women as nothing more than sex symbols is approved – legally and...
---
Bollywood's latest female-centric flick, Veere Di Wedding is the most recent film to be banned by the Censor Board of Film Censors (CBFC) from releasing in Pakistan. According to their findings, the film had "vulgar language" and "questionable content".

From the looks of the trailer, Veere Di Wedding is Bollywood's closest remake of Sex and the City. A tale of four girlfriends who are wading through the rough waters of romance, marriage and family, all the while supporting each other and finding solace in friendship. For South Asian audiences, this movie is almost a pioneer in terms of showing female friendship as its central plot, as opposed to a female's quest for love. Whilst it might have its pitfalls when viewed from a feminist lens, the film undoubtedly has the potential to leave its mark on South Asian audiences worldwide, particularly a lot of educated and independent women.


#VeereDiWedding should start with the disclaimer 'no male egos were harmed in the making of this film. At least, we tried not to.'

— Mahwash Ajaz (@mahwashajaz_) May 31, 2018


I grew up in the 90s, and watching Bollywood movies wasn't really 'allowed' in my house. My parents were anything but movie buffs, and they had a particular dislike of Bollywood. This made it all the more attractive for my sister and I, and the only movie we got our hands on was Dilwale Dulhania Le Jayenge (DDLJ) – a Bollywood cult classic in the genre of romantic comedies. Even though that movie has a special place in my heart, just because it was my first exposure to the concept of romance in a 'desi' world (not counting watching Hollywood movies since most were predominantly 'white'), nonetheless, the movie follows a stereotypical larger-than-life romantic journey, where a girl finally finds meaning in marrying the man of her dreams.


I love how the hate that #VeereDiWedding is getting is mostly from men, complaining about how it's a movie about girls using foul language, promoting vulgarity etc. Talk about the pot calling the kettle black. 😉😉 @sonamakapoor @ReallySwara @ShikhaTalsania

— Couch Potaaytes (@potaaytopotaato) June 1, 2018
#VeereDiWedding is not a film, it is a therapy that all of us need

— Ankita Chakravarti (@ankitaChak15) June 1, 2018


Meanwhile, even most Hollywood teen movies that do talk about female friendships reflect caricatures and socially aggressive girls in a vile context, reflected in the likes of Mean Girls. Research in media consumption analysis has proven that the portrayal of gendered characters has a profound impact on adolescents. The system of rewards shown helps younger audiences internalise certain behavioural traits that will help them succeed. Not just that, they also internalise ideas about what a 'reward' means. For instance, for a woman, it is usually shown to be the attainment of romantic love culminating in a marriage. For a man, it could be the ability to mess around with multiple women and ultimately settle down with the 'perfect' one.

So a story that actually talks about how women can sometimes not want marriage (Sonam Kapoor's character), or about those who can make bad choices in relation to it (Swara Bhaskar's character), or those who thought they always wanted it but are getting cold feet (Kareena Kapoor's character), is likely to teach young girls that it's alright to be confused and alright to not want things society has prescribed for you. Most importantly, that another woman can sometimes be your strongest supporter through your entire journey, and even though you might meet many men, your girlfriends will remain constant.


Bollywood's male « superstars » after #VeereDiWedding huge opening pic.twitter.com/jH8yvJGNjc

— Mon Amour (@BollyAlien) June 1, 2018


However, apparently, such content is "questionable" and "vulgar". Meanwhile, what is totally acceptable and applauded is Humayun Saeed taking a trip abroad with his four married friends with the sole aim of philandering in Jawani Phir Nai Ani. Or the recently released Bollywood film Sonu Ke Titu Ki Sweety, where the two male protagonists can be seen constantly swearing and indulging in behaviour only the CBFC found acceptable. What's even better is that young boys will watch such movies and think it's alright if they party and sleep around with other women, because at the end of the day, a good dance performance will win them back their wife's love, or an overly emotional dialogue about protecting a woman's honour in the court room will immediately result in their wife revoking divorce proceedings.


Veeray di wedding was banned because of vulgar language and sexual dialogues but Sonu ki titu ki sweety was allowed even though they abused after every two minutes but obviously boys were the lead in it and they can do anything they want HOW DARE GIRLS TRY TO DO THE SAME

— a (@Abbasayy) May 30, 2018
Sonu ki Teeto ki Sweety was the most non-vulgur film ya of course. But oh my god, how dare a women cuss, ban Veere Di Wedding!!!!

Everyday, I get a reminder why men are cancelled.

— Faryal Hasan (@HasanFaryal) May 30, 2018


Pakistani cinema itself is replete with similar examples, from the completely pointless 'item numbers' in Karachi se Lahore and Na Maloom Afraad, to the trailer of the upcoming Pakistani film Wajood, where there are multiple scenes showing women dancing suggestively in front of a man, with the purpose being to titillate men. Meanwhile, Punjabi theatres regularly showing tasteless dance performances – where women dance for men – have existed for time immemorial now.


Censor board banned Veere di wedding because it had abusive language but they won't ban 7 din mohobbat in even though it has an item number in it? Kya concept hai aap logon ka 👏👏👏

— 𝓗𝓪𝓲𝓯𝓪 🕊️ (@heytherehaifa) May 31, 2018
"due to its vulgarity and sexual dialogues spoken by the four girls and so, we decided to ban it." - If the same dialogues had been uttered by 4 men, I'm sure CFBC wouldn't have found it as problematic. Stifling all portrayals of female agency as usualhttps://t.co/QWznTWcvcO

— Mehrunissa Sajjad (@Mehrunissa92) May 31, 2018


Ultimately, whatever appeals to the male gaze and shows a woman as nothing more than a sex symbol is approved – legally and socially. But the minute the screen starts to show women – especially women floundering, making mistakes, and learning, all the while still being 'human' – audiences and authorities alike start getting jitters.


Sexual objectification of women (almost every Bollywood film ever) - totally okay!
Women being beaten, abused, or stalked, forced into sexual relationships - no issues!
Independent women talking about sex - Ban it!
- Via The Feminist Collectivehttps://t.co/q5hlRh9ypA

— Sara Mahmood (@sara_mrana) May 31, 2018
All this makes me realize that Veere Di Wedding really needs to succeed so that people finally see that women make compelling stories too. And ordinary flawed women need to get stories told. Otherwise Bollywood celebrates the flawed men and demands women be perfect.

— TheTzarina (@return_to_hades) May 31, 2018


It's time the CBFC revisits its rules and standards for judging a film's content and the larger impact it is likely to have, especially on young minds. But it is also time the Pakistani film industry steps up and starts producing content we can wear on our sleeve with pride (the likes of Motorcycle Girl), and not three-hour-long caricatured, misogynistic rubbish disguised as 'humour'. Humour that always seems to come at the expense of women.
Facebook Conversations
COMMENTS (4)
Comments are moderated and generally will be posted if they are on-topic and not abusive.
For more information, please see our Comments FAQ