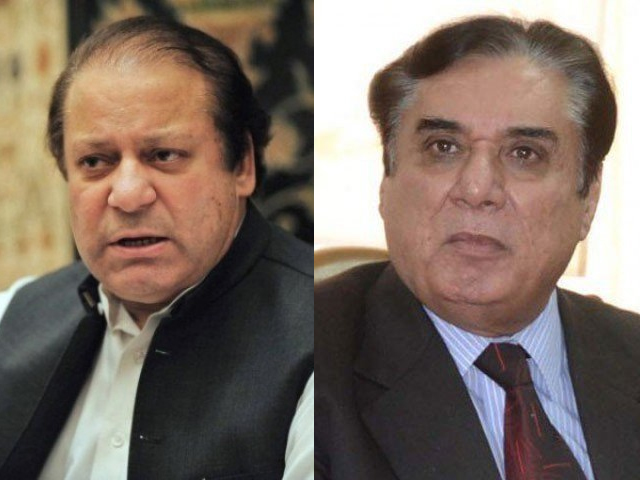 ---
Justice or victimisation: Did Nawaz Sharif launder $4.9 billion to India?
This tilts the balance in favour of Nawaz, since NAB issued a press release based on a suspicion without ample proof.
---
In the latest update on Pakistan's political sphere, the National Accountability Bureau (NAB) accused former Prime Minister Nawaz Sharif of laundering $4.9 billion to India. The order by the antigraft authority to probe Nawaz for money laundering allegations came in light of an article written in an Urdu newspaper, Ausaf.

In its press release, NAB stated that on the basis of the opinion published in the newspaper, it is initiating an inquiry into the alleged scam. It seems that in its bid to convict Nawaz at any cost, the institution of NAB has made a mockery of itself. Any sane individual can tell no one uses the banking system to transfer illegal funds, especially not in their own name, particularly if they are also a world leader, and obviously not to a country considered an enemy state. Technically speaking, this should be impossible, as the security agencies of our country keep a close eye on any financial transactions made with India in the first place.

Soon after the NAB allegation, the World Bank issued a clarification that its report was not based on actual figures, and was just an estimate of the remittances the people who migrated from India to Pakistan were sending back to India. It further clarified that Nawaz's name was never mentioned in the report.

If only NAB Chairman Justice (retd) Javed Iqbal had studied this report, or read its rejection by the State Bank of Pakistan back in 2016, he would have saved himself and his institution from becoming a laughing stock. Moreover, releasing a press release on the matter without any solid evidence also gave the impression that NAB is being used to victimise political opponents, the way it was used in Musharraf's era.

Firstly, the money laundering allegation from NAB will have negative international impact. While Pakistan is already being put on the Financial Action Task Force (FATF) grey list for not being able to control money laundering by banned outfits, the allegation of money laundering on the former premier will further damage our chance of making it out of the grey list.

Additionally, this blunder on part of the NAB prompts the question of whether or not the country's anti-graft authority is crossing its constitutional limits, and is only interested in initiating inquiries when they pertain to the ruling Pakistan Muslim League-Nawaz (PML-N).

While cases from past years remain pending, NAB's focus right now seems to be only on elected representatives in Punjab, and that too, those belonging to the PML-N. There is no serious action on the inquiries against the officials of provincial tourism and highway departments for misappropriation and embezzlement in Khyber Pakhtunkhwa(K-P) , or the allegations against the billion tree tsunami project, or the misuse of provincial government helicopters by Imran Khan.

An institution with a history of victimising its opponents can do nothing worse than to act only on the opinions of writers and analysts. As a society, we all have the habit of gossiping about self-created theories and believing in allegations without any proof. So NAB's current witch-hunt has already created a doubt in the minds of ordinary people that our former prime minister was involved in money laundering. TV channels ran this story round the clock; with the perception being created that Nawaz must have had something to do with $4.9 billion being laundered to India.

We live in a world where perceptions are perhaps more important than reality and the truth, which is why once negative perceptions are created, it is very difficult to change them. The verdict regarding the 2013 General Elections is an example in this regard, where the judgment rejected allegations of rigging, yet there remain millions out there who still believe the elections were rigged. This suggests NAB's allegation may have already done its fair share of damage.

This move indicates that fake news and propaganda has not only gripped the masses, but has also damaged the working abilities of the decision-makers as well. There are lot of other cases pending in the NAB and there is almost zero progress on them; one hopes they are not being filed merely on perceptions and opinions. Few of the pending cases include illegal appointments in NAB as well as the cases against Sharjeel Memon and Dr Asim Hussain, and against Aleem Khan's Housing society, but the institution of NAB is only focusing on selective cases involving the current "out of favour" PML-N leadership. Accountability needs to be crystal clear and across the board, so it gives the impression of justice, not of victimisation.

On the other hand, Nawaz's stance seems correct – it does seem like he is being targeted, with his party being a victim of pre-poll rigging.

In retaliation, Nawaz asked for Iqbal's resignation within 24 hours, and in response, Iqbal addressed an hour-long seminar meant to act as a rebuttal to former's allegations. Iqbal stated he is only conducting an inquiry into the matter, and has no intention of maligning Nawaz or anyone else. The verbal war between the ruling PML-N and NAB will only result in further damage to the institution of the state. NAB has the right to conduct an inquiry on suspicion, but it does not have the right to bring it to the media fore without having substantial proof. This surely has tilted the balance in favour of Nawaz's narrative of victimisation, because after the World Bank denying the allegation, Nawaz will cash in political points by highlighting the issue in jalsas and in the media.

The other side of this fiasco that still has not grabbed the attention of the media and decision-makers is the business of fake news. In this matter, NAB has launched an inquiry on the basis of an opinion published in a newspaper, so it is necessary the author of the article be summoned and asked to present proof of the allegations he has levelled against Nawaz. Opinion-making is a business of responsibility, as it affects the perception and the mindset of the masses.

After all, just a few months ago, after the brutal rape and murder of Zainab Ansari, we saw the worst form of yellow journalism when a respected TV anchor accused high officials of the Punjab government of having ties with child porn mafia, and accused the perpetrator of having multiple foreign bank accounts. When he was asked by the Supreme Court to present evidence in support of his allegations, he was unable to prove or present any evidence in the court, and tendered a written apology after backtracking from his claims.

It is high time that the trend of journalists accusing others without any evidence is put to an end in Pakistan. If this practice of fake news and exploiting journalism to settle personal grudges and scores is not stopped, we will see further incidents like this, and it will only make a mockery of our institutions in the world. In this case, whether NAB is a victim of fake news or whether it is out on a witch-hunt to undermine opponents still remains to be seen. Only the future course of actions, hopefully unbiased and professional steps, will determine what the truth is.
Facebook Conversations
COMMENTS (14)
Comments are moderated and generally will be posted if they are on-topic and not abusive.
For more information, please see our Comments FAQ