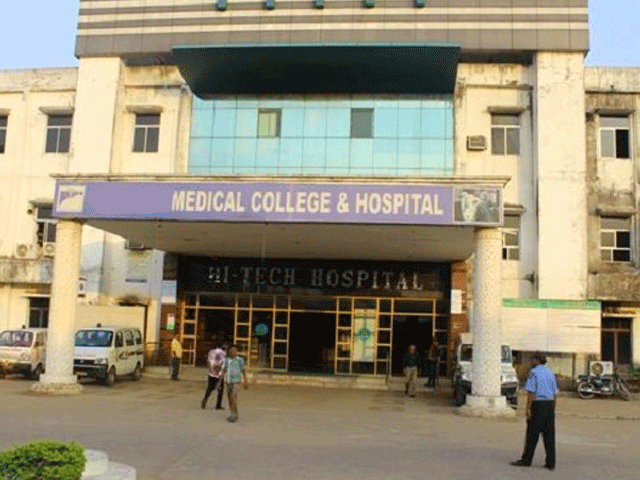 ---
The reality of public hospitals: I lost my nana to medical negligence in Pakistan's dirtiest hospital
His oxygen had dropped to 68% but when I asked the doctor to help, he said "You are not at Aga Khan Hospital".
---
On March 18th at 11pm, my nana (maternal grandfather) developed an acute shortness of breath, and was admitted to the Cardiac Care Unit (CCU) at the People's Medical College and Hospital in Nawabshah. Arriving at the hospital, the first thing I noticed was that there was no wheelchair available to take a critical patient inside the ward.

Being a fourth year medical student aware of the poor hospital conditions in my city, I took my own blood pressure apparatus and oximeter with me, and immediately checked his vitals; something the doctor, who had not yet arrived, had not done. Even though my nana's oxygen saturation had dropped to 68%, instead of putting an oxygen mask first, the doctor was keen on conducting an Electrocardiography (ECG).

I tried to be patient, but seeing my nana's deteriorating condition, I shouted at the staff to put a mask on him. However, none of the staff members responded to the severity of the occasion. I then went to the doctor, urging him to accelerate the process, but to my disgust he arrogantly replied,

"You are not at Aga Khan Hospital, where you can get everything available."

I was infuriated!

What kind of humanity are they serving, when they don't even know how to behave with the concerned and worried family of a patient?

This was the moment I realised the class differences that exist in our society. We had always preferred private care in the past and were thus anxious about not being provided quality care at a public hospital, which is where we ended up during this emergency. However, for the underprivileged, this is their only option. They trust the doctors, and this itself is a huge responsibility. Being a medical student myself, I could tell where the doctors were messing up in their treatment, making me think of the hundreds of people who come here every day and trust this incompetent hospital to do its best when it comes to saving the lives of their loved ones.

My cousin and I then took our nana to the hospital bed, where I fixed the oxygen issue by myself. In the meantime, we remained in contact with our uncle, who is a physician, and he kept guiding us about the procedure to follow.

In medical school, when we are on our rounds, our attendings tell us to ask the patient as many pertinent questions as possible, particularly when it comes to drug history. In comparison, we were hardly asked any questions about his history at all.

The next blunder the hospital made was to put my nana on Moxifloxacin without inquiring about his history of allergies, for my nana was allergic to the Fluoroquinolone group of antibiotics. This mistake drained all the hope out of me, as I stared at the innocent face of my grandfather, who was fighting for his life with every breath. I then requested the staff to keep antihistamines ready, in case of an allergic reaction.

Four hours passed by, and the doctor hardly paid my nana a visit. The CCU is a special care unit, which is why the doctor has to monitor the patient's vitals every now and then. However, in this unit, things were quite the opposite. I was surprised to see this happen, even though I wasn't new to this. I saw it often. Only when my own loved one was suffering did I realise the real agony of having a deeply flawed healthcare system.

After a while, my nana's oxygen saturation began to stabilise, and we were finalising arrangements to shift him to a private hospital in Karachi. Like most things in life, this did not go as planned.

Suddenly, my nana's condition deteriorated again as he went into cardiac arrest, once again putting his life in the hands of these inept 'professionals'. The doctor proceeded to give CPR, but the bed my nana was lying on, in the CCU, had a defective crank and would not lower. We had to physically carry my nana to the bed next to him while the doctor was performing CPR simultaneously, and that was the moment we lost him.

The doctor kept on doing CPR and defibrillation, but my nana was gone.

With him, I lost my greatest inspiration.

Since his death, I find it hard to sleep, for I keep replaying the events of that day in my head. After all, is fixing a broken bed at a hospital really that hard? In cardiac emergencies, you cannot afford even a single minute of delay.

If the bed was not broken, would my nana still be alive?

Whenever you ask any medical student or doctor their reason for choosing this profession, they will enthusiastically tell you they want to serve humanity. Now, I have begun questioning our objective.

Looking at the current state of our hospitals, I do not think we are serving humanity at all! Not only that, we are growing increasingly apathetic about it all. Recently, the United Nations Children's Fund (UNICEF) reported that Pakistan possesses the highest infant mortality rate in the world, and no one bats an eye. Not a single statement was released from the Health Department.

Weeks after my nana's death, the National Institute of Cardiovascular Diseases (NICVD) was inaugurated in Nawabshah, alongside several centres in other parts of Sindh. The Pakistan Peoples Party (PPP) promises the hospital will provide state-of-the-art care without any cost.

Building new hospitals is well and good, and much needed, but what about existing healthcare? Why is no one interested in the state of our public hospitals? An Acute Emergency Care unit with no wheel chairs, very few working monitors, broken beds and smelly oxygen masks, which I am sure have been used by hundreds of patients without being cleaned.

His entire life, my nana took extra care of cleanliness. He used to boil water before drinking, and would take it with him wherever he went. Show him a dirty spot, and he would start cleaning it himself. That same man ended up dying in the dirtiest hospital in the country. Minutes before his death, his last image was of an overflowing dustbin and a stray cat sleeping by the side of his bed. He kept looking at me, as if wanting to complain. How uncomfortable was he in his last moments? Why did he deserve to go like this?

My grandmother keeps asking me,

"Did he get the right treatment?"

I reply in the affirmative, for I do not want her to live with the same regret I will live with for the rest of my life.

Medical negligence is a growing epidemic in Pakistan. Doctors fail to take detailed history from their patients, and make diagnosis without lab tests; prescribing antibiotics unnecessarily, or suggesting treatments without asking for all possible symptoms. To add to this, when you go to the hospital, the instruments are unsterilised, the floors are dirty, and the place is overcrowded and understaffed.

During our five years of medical education, we are not sensitised to our additional healthcare issues, or what we as future doctors can do to change it. Instead, we are expected to mingle in the same environment, and conduct the same ill practices. Not once in my three years as a student have I seen anyone raising their voice about our malfunctioned healthcare system. And even when someone does, it does not get the attention or awareness it deserves.

Seeing what hospitals are like from the perspective of someone bringing in a loved one, I have lost my faith in our medical education system. Doctors are converted into robots; to go on with our day, to work within this existing flawed system without complaining. If you are a future or a practicing doctor, at least try to play your part in improving the quality of Pakistan's healthcare system. No matter how tired, busy or desensitised you are, please do not neglect a patient. For you, they might just be another unwell human to fix, but to somebody else, they mean everything!
Facebook Conversations
COMMENTS (32)
Comments are moderated and generally will be posted if they are on-topic and not abusive.
For more information, please see our Comments FAQ