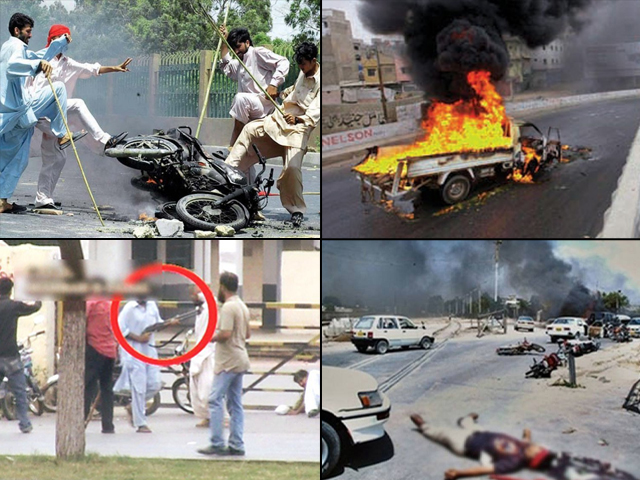 ---
The tale of May 12, 2007: He was ordered to "go for the kill" and "take no prisoners"
An hour before the violence, a van loaded with assault rifles, pump-action shot guns, handguns and cartridges arrived.
---
What started as a casual chat over tea amid the winter season, turned out to be quite a tumultuous tale of violence and mayhem that erupted on May 12, 2007 in Karachi, narrated by one of the perpetrators himself.

While sitting at roadside cafe in a dingy locality of Hyderabad and sipping tea with my friends, I somehow ended up chatting with this ordinary-looking chap (who would later identify himself as one of the perpetrators), a man who claimed to be distantly acquainted with one of my friends. The story he proceeded to narrate in a disdainful manner, as if sharing just another college prank gone haywire, was nothing short of a plot straight out of a Bollywood mafia noir.

On May 11, 2007, the perpetrator, along with seven other party workers, was summoned to reach Karachi from Hyderabad for an assignment. Subsequently, they reached Karachi during the late hours of May 11th. They were ordered to spend the night somewhere near Shahrah-e-Faisal, completely unaware of what was expected of them the next day. Of course, the only art they had an expertise in was creating mayhem in urban areas. Pelting stones, burning tires, and later "graduating" into full throttle arson attacks were all tricks ingrained in these men from an early age. All such nefarious activities were considered perfectly kosher, since they were sticking it out for the sake of an ideology they had pledged to uphold.

Slowly but gradually, their cell phones started to ring, and a horrific assignment was charged upon them. They were ordered to obstruct party workers supporting the deposed chief justice, Iftikhar Chaudhry, with the objective to prove he was not welcome in Karachi. To the majority of these men, this assignment seemed routine, but for some of them, it was like being confined inside a 'hurt locker'.

The incessant ringing of cell phones created a queer crescendo, perturbing some amongst the pack who were nervous. The voices from the other side of the receivers became frantic and brash, ordering the pack to "go for the kill" and to "take no prisoners".

By now, all the members of the group were having their own brainstorming session on how to go about the high and mighty "mission" they were about to carry out. A few men who had a morsel of conscience left in them were at a loss as to why such heavy-handed treatment was needed, and wished they could magically disappear. Or in the worst case, they prayed this "tour of duty" would be their last!

The next morning, as the group waited for the moment of action with bated breath, a speeding van came along, loaded with automatic assault rifles, pump-action shot guns, as well as handguns and cartridges stacked on the floor of the vehicle. This was just an hour before the action began.

Soon, the workers of the opposing political parties appeared on Shahrah-e-Faisal, chanting slogans while carrying welcoming banners or waving their respective party flags. When this pack received the order over the phone to aim and shoot, one of them retorted to his handler, informing him that the protestors had not threatened or attacked them in any way, since they were positioned on a flyover about 40-feet high. This was to no avail, for the man was told to shut up, leading one of his comrades to start shooting straight at the defenceless agitators, who were caught off guard by these men.



These shooters emptied hundreds of cartridges that day, slugging them out as if gathering booty would get them a medal of honour. A supply van appeared again after an hour or so with more weapons, and one of the goons inside patted the back of the man in charge of these shooters. Later, they returned unharmed to Hyderabad, with their commanders joyously lauding them over the phone.

I was at a loss for words as I heard this story, failing to believe my ears or grasp what just transpired. Knowing not much could be done, I quickly bid farewell to this ungodly gathering and made my way home.

However, I could not help dwelling on this incident, and how the events of that Black Saturday live on more than a decade later. As a commoner who has lived in Karachi his entire life and commutes to work every day, I had an inkling that the ruling party in Karachi back then was unwelcoming towards political opponents, but also took comfort in the fact that the violence of the 90's was over, and naively believed mass violence to be a thing of the past.

However, all such preconceived notions evaporated around midday on May 12th, as I witnessed violence of the worst kind near Guru Mandir, which was littered with empty cartridges, stones, burning vehicles and dozens of seemingly angry men running around and shooting straight, with any and all moving things being 'targets'.

May 12th was supposed to exhibit Karachi's solidarity with the deposed chief justice and against the tyranny of Pervez Musharraf's dictatorship, but those who were brave enough to come out and welcome justice were instead tormented with naked aggression.

Perhaps many political parties were there to gain political mileage, but there is no denying that in the aftermath of that day, social and political polarisation in Karachi increased manifold. I still remember living in fear, and avoiding transit through areas dominated by certain groups, for no apparent reason or rhyme; just the fear of facing violence.

Since then, a bloody trail of civilians attacked in targeted killings went on unabated and unaccounted for several years, until the Karachi Operation took place under the National Action Plan (NAP) and finally put an end to this pandemonium.

The recent clash between the Pakistan Tehreek-e-Insaf (PTI) and the Pakistan Peoples Party (PPP) over holding a jalsa at the same venue, in Karachi on May 12th, reopened the agonising wounds from 11 years ago. The age-old proverb "violence begets violence" still fails to get through the heads of these political bigwigs. The culture of violence and intolerance which has evolved in Karachi after decades of lawlessness has torn apart the cosmopolitan social fabric the city of lights was once known for. Further immaturity exhibited by the political parties who claim to have a strong following in Karachi may not bode well during the upcoming General Elections.

Eleven years after the Black Saturday, Karachiites still hope the relative peace and stability that has been achieved will continue in the future. There now lies a political vacuum after the fragmentation of the Muttahida Qaumi Movement (MQM), which is why any wrong step or hastiness shown by the PPP or PTI may result in the deterioration of the already delicately balanced law and order situation of Karachi. Volatility may be in Karachi's very nature, for violence is definitely easy to trigger, but Karachiites have had enough of this violent form of politics.
Facebook Conversations
COMMENTS (1)
Comments are moderated and generally will be posted if they are on-topic and not abusive.
For more information, please see our Comments FAQ